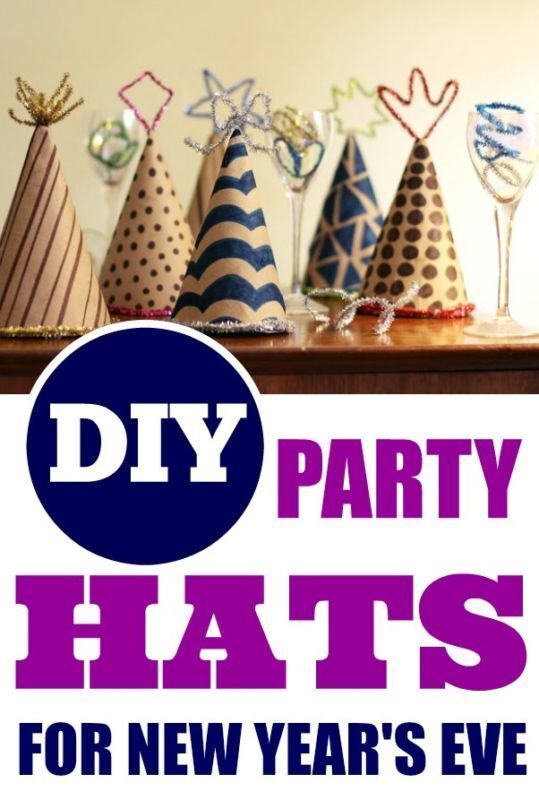 Ahhh the New Year is upon us and therefore we need some fabulous DIY ideas to get this party started in a BIG way! These DIY New Year's Eve Party hats are some that I designed to make your life a little easier. Simply re-purposed birthday party hats, these little lovelies are not only a smart idea (they save you time and are a green craft) but they look amazing too!
To get started making these you will need a few things:
old birthday party hats
hot glue gun and glue sticks
pva glue
permanent markers
metallic pipe cleaners
brown paper
Step One
Get the kids in on this step (any age can do this) and open out the party hats. To do this you just run your finger along the seam on the side of the hat. Trace the opened-out party hat onto brown paper with a marker. Draw a design on the shape you have traced.
Step Two
Cut out the shape you have traced on the brown paper and then glue it on to the opened out party hat. Allow the glue to dry.
Add a caption
Metallic pipe cleaners give these hats a finishing touch!
Step Three
Make the finials for the hats out of metallic pipe cleaners. We made all sorts of shapes for our hats.

Step Four
Insert the metallic pipe cleaner shape and reassemble the hat gluing along the seam and closing the seam. Return the party hat to it's original form.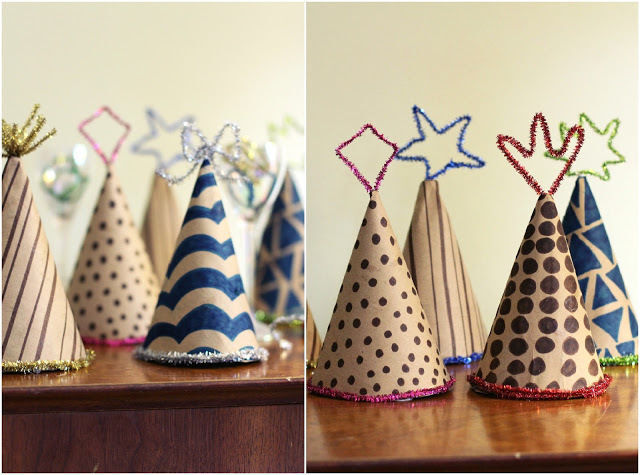 You are all set! The party hats are beautiful and ready for all of your guests! Hand them out at the party or before the party and they are sure to be a conversation starter. Afterwards, rest easy knowing you were gentle on the environment with this recycled craft. Happy New Year to all!