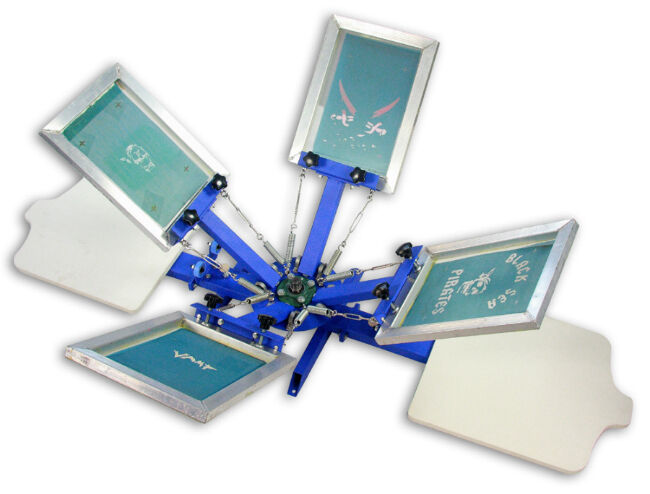 T-shirt printing is a fun way to create designs to show the world, and many people screen print shirts and other items for a living. Most screen prints are made with permanent, non-washable ink. These designs feature only one to three colours. DIY t-shirt printing as a craft project or the beginning of an artistic career generally requires silk screen printing supplies . Silk screen printing is simple, does not take up a lot of room, and is inexpensive. Most of the supplies for t-shirt printing are available through arts and craft shops, retailers, and online sellers through sites like eBay.
Tools for DIY T-shirt Printing
T-shirt printing can use a few different methods, but do-it-yourself positive screen printing is easy to complete with a silk screen printing frame and a few supplies. Plus, everything fits conveniently into a medium-sized portfolio bag for easy portability.
Equipment

Description

Brand

Two wood frames hinged together
Mesh fabric screen secured to one side
60 cm by 76 cm

Squeegee

Wide, flat piece of rubber
May have wood handle

Drawing Fluid

Paint onto mesh screen to create a positive area that screen filler cannot penetrate

Screen Filler

Squeegeed onto mesh screen
When it dries, it blocks ink from passing through

Ink

Fabric ink available in many colours
Permanent when dry

Spatula/Brushes

Thin-tipped brush or narrow spatula
Useful for applying drawing fluid or painting on fabric
These are just the essential supplies for screen printing. Other screen printing techniques may use photo emulsion and photo emulsion remover for light activated printing. Professional artists can also use full sized screen printing machines to print on several t-shirts at a time. Additional accessories, such as clamps, rubber gloves, clean cloths, and newsprint help keep the printing process from getting too messy.
DIY T-Shirt Printing Process
Before printing on a t-shirt, most DIYers start by drawing a simple design for the t-shirt on a piece of paper. DIYers may also be able to copy a copyright free design that they find online. Place the screen printing frame on top of the design, and outline it directly on the silk screen with a pencil. Set the paper aside. Use a small brush and drawing fluid to mask in the outlined design on the silk screen.
Applying Screen Filler
Pour a small amount of screen filler liquid on the top part of the silk screen. Place the squeegee firmly against the top of the silk screen and draw it downwards pulling the screen filler with it. One smooth stroke should cover the entire silk screen with screen filler, except the area masked with the drawing fluid. Do not repeatedly draw the squeegee over the silk screen as this can damage or dissolve the design. Allow the screen filler to dry for about two hours. Run cold water over the masked area of the screen, and lightly scrub with a brush to remove the dried drawing fluid. This creates an open space for the ink to pass through the mesh screen onto the t-shirt fabric.
Inking the T-shirt
Secure the t-shirt to a flat surface so that the front is snug and smooth. Clamp the silk printing screen over the t-shirt. The t-shirt should not move during this part of the printing process. Pour a small amount of ink over the top of the screen print. Place the squeegee against the top of the screen and firmly pull it down to the bottom of the screen. Draw the squeegee over the silk screen again as needed to ensure ink passes through to the fabric. Unclamp and remove the printed t-shirt from the screen frame. Set aside to dry.
Clean Up
Run the printing screen and printing supplies under cool water to wash away excess ink. When ready to remove the screen filler, clean the silk screen with Speed Clean or a mix of water and washing soda. This slowly peels up the screen filler and rinses it away leaving behind a clean screen.
How to Buy T-shirt Printing Supplies
You can find t-shirt printing supplies through eBay sellers in the form of silk screen printing frames, inks, and other tools. Using these supplies to create your own printed t-shirts is easy. The process takes a few hours to get set up and only a few moments to actually print the t-shirt. Screen filler printing is one of the simplest methods for printing a design on a t-shirt. To use this technique, you need screen filler and drawing fluid. Most of these supplies are produced by a couple of companies specialising in graphic design and art, such as Speedball or Royal. Use the eBay search engine to find branded supplies more quickly.