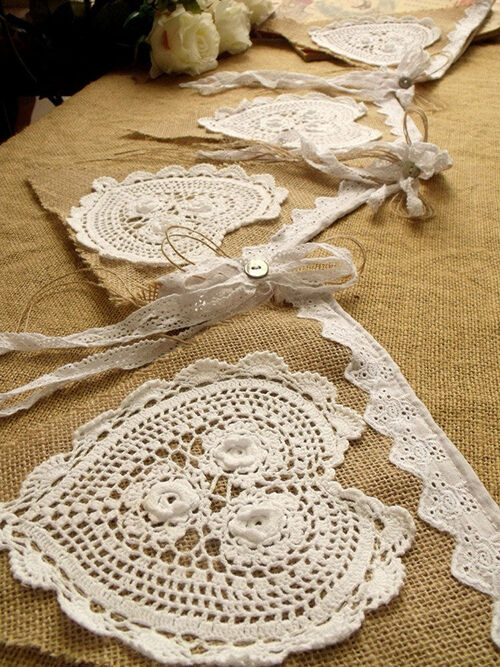 A vintage wedding brings a touch of old-world charm to that special day. However, creating a vintage wedding can be a costly affair, with professionals charging a premium for vintage-inspired items. Planning and creating a vintage wedding at home saves a huge amount of money, creates an entirely unique experience for the guests and the happy couple, and is a fulfilling endeavour. Consumers should select a single decade or era that they find the most appealing and build the wedding with items inspired only by that era for an authentic feel. Following the simple guide below can make a consumer's DIY vintage wedding substantially less stressful.
Wedding Invitations
Vintage wedding invitations set the tone for a beautiful, vintage wedding. There are many options for vintage wedding invitations,, depending on the overall theme of the wedding. For example, for a vintage wedding with an old Hollywood glamour theme, consider making lace-fronted invitations with gold script, ivory card stock, and striking black lace.. Save money and make the invitations at home rather than paying the often exorbitant prices of professionals. Making invitations at home is a pleasurable pastime and provides an exquisite, personal, and unique look guests adore. A simple invitation, made from antiqued or cream card stock, with an elegant, hand written font, embellished with cream string creates a fabulous rustic-style invitation. Alternatively, use vintage-themed backing paper over quality card stock to set a vintage feel.
Wedding Centrepieces
No wedding reception is complete without attractive centrepieces. To carry on with the vintage theme at the reception, vintage-style centrepieces work great. Save money by making beautiful yet inexpensive centrepieces at home. Use empty food cans, such as baked bean tins, remove the label, and wash and dry them thoroughly. Cover the cans in vintage-style scrapbook paper or backing papers,, then fill them with a little water and bouquets of fresh flowers. This is a simple idea that is quick to put together and affordable. Alternatively, take a vintage saucer and stack up mis-matched China cups.. Stack up to five cups and add a beautiful rose head to the top cup.
Reception Decorations
For a unique reception decoration, something that gets guests involved in the proceedings, and creates a special, lasting memory, create a spectacular vintage wedding guest book and keepsake box.. Using something like a box file, stick a piece of quality card about 1.5 cm bigger all the way around the front of the file, and another on the back. Cover the front, back, and spine in vintage-style scrapbooking paper, such as sheet music from an appropriate song such as " The Honeymoon Waltz&". On the front centre, stick a picture of the happy couple. Ideally, stage a vintage-style photo or use photo-editing software to give the picture a vintage feel. Add embellishments such as ribbon,, lace, or beadwork. Mask the top and bottom edge of the file with metallic gold paper,, and add fine lines to mimic the gilt edges of an old-fashioned book. Simply add ivory or antiqued vintage-style paper and traditional cartridge pens to each table and ask guests to write messages to or memories of, the bride and groom. Then place these inside the file book and the newlyweds have a beautiful keepsake to treasure for years to come.
Other simple decorations that are easy, inexpensive and give an authentic vintage flavour to a wedding are paper decorations. This includes papercraft decorations like bunting. Bunting is easy to make with string and triangles of paper. Cut out a triangle on stiff card to use as a template, choose vintage-style paper, such as ivory or cream, and draw around the template over and over again. Cut out the triangles and fold one edge to stick over the string, then hang the completed bunting when dry. Vintage paper decorations, such as paper chains, bunting, paper flowers, and paper hearts are most commonly made from cream, off-white, antiqued, or ivory paper.
Wedding Hair
For a full-on vintage wedding, complete with appropriate clothing and hair, consumers should choose a single decade and stick with it. This is particularly prominent with vintage hairstyles. A 50s dress paired with a 20s hairdo spoils the overall ensemble. The entire wedding should have a single theme in mind. Brides should have a clear idea of the type of hairstyle they want or which decade they wish to celebrate at their wedding.
Decade

Hairstyles

1920s

Bobbed hair with a full fringe

Shingle cut with a tapered back

1930s

Updo with hair swept away from the face

Worn with a large hairpiece

1940s

Side updo with waves through the front section of the hair

Old Hollywood glamour

1950s

Updo with birdcage veil

Short hair with pin curls

1960s

Glamourous beehive with small veil

1970s

Loose tousled waves

Lace veil or headband

1980s

Large hair with side sweep
Consumers should choose their hairstyle based on the decade or vintage era they are celebrating. For an authentic, well-flowing theme, everything, from hair, shoes, and clothes, to decorations, and tableware should be reminiscent of a particular era.
How to Buy Vintage Wedding Decorations
Vintage wedding decorations can be purchased ready made on eBay for those who have limited time. However, for consumers who wish to save money, have a little craft skill, and want to create a unique and personal wedding theme, eBay sellers offer everything you need, from cardstock to vintage-style hair accessories, wedding dresses, and centrepieces. Search for those perfect items from any eBay page and browse through the huge selection. Identify the items you require, check the seller feedback, complete your transaction, wait for your goodies to arrive, and get crafting for a vintage-inspired wedding. Make sure you have all your wedding preparations taken care of. Consider which vintage decade you truly love and plan the wedding around this decade, from the place settings to your hair style.