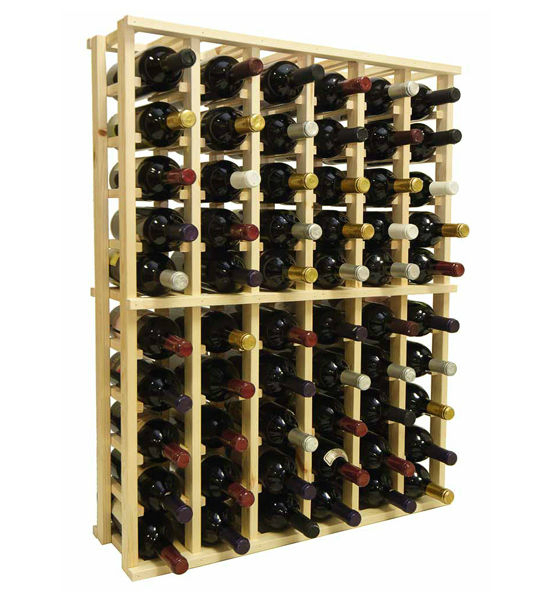 True oenophiles, or connoisseurs of wine, typically store their prized bottles in wine cellars or specifically designed, temperature-controlled rooms. However, casual wine enthusiasts with modest collections are more likely to store and display their bottles in wine racks. Wine racks come in a wide array of designs and styles to suit any interior design. For a truly unique storage space that fits perfectly into the home, many people choose to build their own wine racks. Making DIY wine racks is easy, even for those with little practical experience, by using materials found at DIY shops or online on eBay..
Wooden Plank Wine Rack
For a sleek and simple wooden wine rack, choose a type of wood with a naturally attractive grain. Cut a plank of wood so that it is 19 millimetres by 89 millimetres by 910 millimetres. Measure and mark places for holes along the centre of the board so that they are roughly 38 millimetres in diameter and spaced about 100 millimetres apart. Use a drill press with a 38 millimetre forstner bit to make holes at a 30 degree angle through the plank. If a drill press and forstner bit are not available, a power drill and 38 millimetre hole saw is another option. Secure the plank to the wall horizontally using L-brackets or pelican brackets. Turn wine bottles upside down and insert the necks into the holes.
Wooden Wine Rack with Hex Screws
For a more rustic look, make a wine rack using a thick plank of wood and 63 millimetre long hex screws. Cut the plank of wood so that it is 38 millimetres by 140 millimetres by 965 millimetres. Cut an additional five pieces measuring 38 millimetres by 89 millimetres by 25 millimetres. Drill two holes through each of the five pieces about 6 centimetres away from the edge and 10 centimetres apart for the hex screws.
Using the long plank of wood vertically as the back support, form the shelves by laying each of the short pieces on its edge perpendicular to the long plank and attaching it with wood screws; place one at the top, one at the bottom, and space out the remaining pieces evenly. Stain or paint the shelf and then insert a hex screw into each of the pre-drilled holes on the front of the shelves to create anchors for the wine bottles. Hang the wine rack and lay a wine bottle on its side across each shelf, securing it behind the hex screws.
PVC Pipe Wine Rack
PVC pipes are a great way to turn a cabinet or bookshelf into a simple and inexpensive wine rack. Measure several lengths of 100 millimetre diameter PVC pipes to fit the depth of the cabinet or shelf. Use a hacksaw or power saw to cut through the pipes. Sand the cut edges until they are smooth. Prepare the pipes by wiping them with acetone, spray them with a coat of primer, and finish with a coat of paint. Leave the pipes to dry thoroughly. Attach the pipes to the cabinet or shelf, and to each other, using industrial-strength adhesive velcro strips, stacking the pipes in layers to create a fun, modern look.
Recycled Tin Can Wine Rack
For an environmentally friendly solution, make a wine rack made from recycled tin cans. Collect 8 to 10 large tin cans of at least 75 millimetres diameter to accommodate the wine bottles. Remove any paper labels on the tins. Clean them thoroughly and smooth any rough edges. Apply several coats of spray paint, if desired, or leave the tins unpainted for an industrial look. Stack the tins in an irregular pyramid and secure them with a high quality epoxy or metal glue. Use clothes pegs to hold them in place while the glue dries.
How to Buy Materials for DIY Wine Racks on eBay
Global consumption of wine has surpassed 200 million hectolitres annually, so more consumers are looking for convenient storage solutions for their wine collections. DIY wine racks are a unique way to create attractive displays and can be made to fit into the home's existing interior design. Choose from vertical racks that mount on the wall or horizontal racks perfect for a table top. For a great selection of materials to build wine racks, visit eBay.. Enter keywords that describe the desired product into the search bar found on every page. Use the category filters to narrow down the results.