Most DVDs include codes that can be used to prevent playback of certain discs in certain geographical regions. Each player is given a code for the region in which it's sold. The player will refuse to play discs that are not coded for its region. This means that discs bought in one country may not play on players bought in another country. There are 8 regions. Players and discs are often identified by the region number superimposed on a world globe.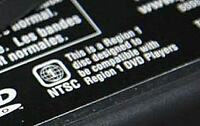 Region 1 Example

REGION 1
U.S. , Canada and U.S. Territories

REGION 2
United Kingdom, Europe, Japan, South Africa, and Middle East (including Egypt)

REGION 3
Southeast Asia and East Asia (including Hong Kong)

REGION 4
Australia, New Zealand, Pacific Islands, Central America, Mexico, South America, and the Caribbean

REGION 5
Eastern Europe (Former Soviet Union), Indian subcontinent, Africa, North Korea, and Mongolia

REGION 6
China

REGION 7
Reserved

REGION 8
Special international venues (airplanes, cruise ships etc)

REGION 0
Region Free. Playable on any system.
DVD DISC FORMATS EXPLAINED
In addition to region codes, there are also differences in discs for NTSC and PAL TV systems. All DVD players sold in PAL countries play both kinds of discs. These multi-standard players convert NTSC to PAL . Most NTSC players can't play PAL discs. Most TVs have the ability to convert and play both systems in the UK, but you will still need a multi region, or chipped player. Some players can easily be made multregion just by pressing a few buttons on the remote control...
So why would you want or need to buy a dvd from another region??? The answer to this is easy. USA customers would on the whole expect more from their dvds than ours.... A version released in the USA may have more extras, a different cover, or a Ltd Edition. They rate movies in the USA, but may also release the Unrated version as well. There is also the fact that other countries will get their release a month or two before UK and also with the internet it is very easy to purchase and find a supplier. Region 3 is also a very popular area as the DVDs tend to be cheaper and very often will include the superior DTS soundtrack that may not be on the UK or USA version.... A MULTIREGION PLAYER is simply a player that is able to play all regions.... IF YOU TRY TO PLAY THE WRONG REGION DVD IN THE WRONG DVD PLAYER IT WILL NOT WORK and you will just get a message that the disc is not from your zone....
HD-DVD is region free and was one of the reasons why film lovers prefered this to BLUray.....