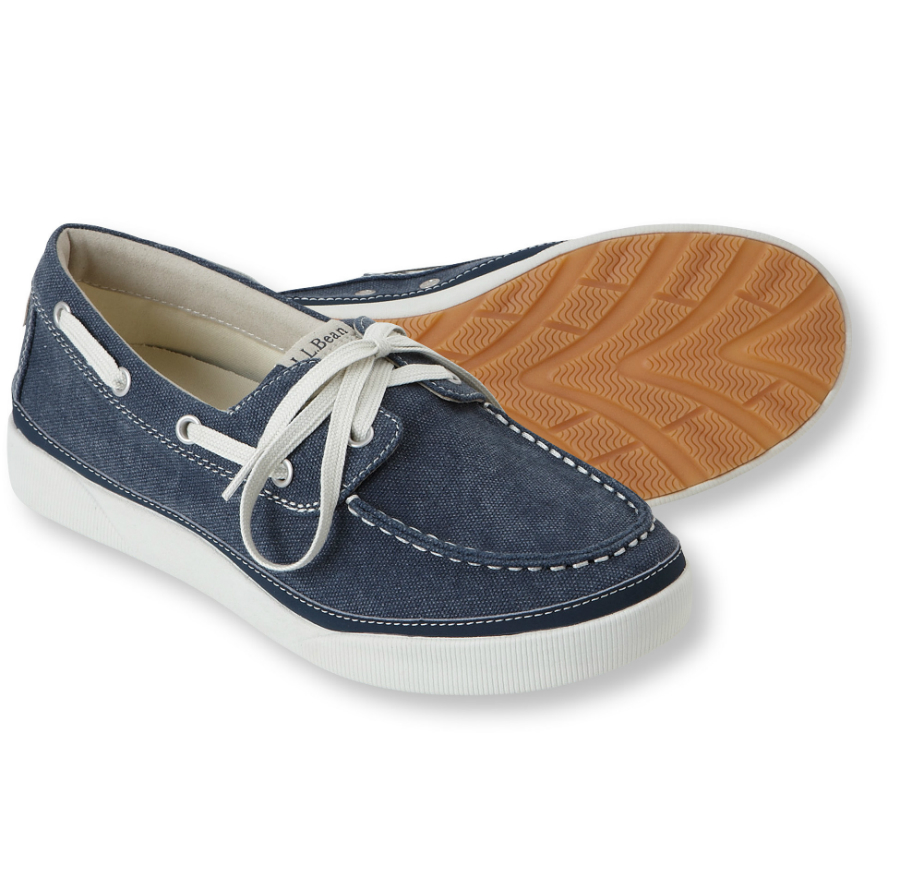 Although walking on the decks of boats was the original purpose of a deck or boat shoe, they became a fashion statement in the 1980s. Other names for deck shoes are boat sneaker, boat shoe, or topsider. Many companies make these shoes taking fashion, rather than comfort, into consideration. The ability to slip the shoes on and off, traction, and ankle height are some of the things that make a deck shoe different from a sneaker. True deck shoes do not come up over the ankle and are low profile.
To make a decision on which deck shoes to purchase, a buyer should look at the purpose of the shoe that they are buying, the material, the sole of the shoe, and the fit of the shoe. The purpose of the shoe often dictates from what the shoe and shoe sole is made. Most brands and varieties of deck shoe are unisex. Both men and women can wear deck shoes, depending on their size and style. Men's and women's sizes are often listed together when a simple leather deck shoe is being sold. Even with a unisex style, the fit of the boat shoe is important. A consumer should consider the purpose of the shoe and the fit of the shoe when selecting from the broad range of deck shoes at both brick and mortar stores and online sources, such as eBay.
The Purpose of a Deck Shoe
A buyer has to consider how they use the shoes before selecting a pair from an online retailer, such as eBay, or a brick and mortar store. Some buyers purchase deck shoes because they live or work on a boat, while others purchase them as a comfortable alternative to sneakers, still others buy them as a fashion accessory. Deck shoes for all purposes can come with or without laces. If the shoe has laces they are usually loose enough that a person can slip them on and off easily. The deck or boat shoes are the middle ground between casual and formal shoes. They can be functional or for show, stylish or plain, decorated or unadorned.
Deck Shoes for Boating
When a buyer wants deck shoes for boating, they choose a shoe made from durable material with thick tread and a good fit. The material used in making the shoes and tread becomes far more important when purchasing shoes for boating than when a buyer is purchasing them for other reasons. In boating, a buyer wants shoes made from leather or canvas because they suffer exposure to fresh or salt water on a regular basis. Leather can be waterproof and canvas dries quickly. Manufacturers sometimes treat these shoes specifically for salt water. The soles of true boat shoes create friction on almost any surface. A modern boat deck is most likely fibreglass and is smooth and slippery when wet. The friction allows a buyer to grip the deck with their shoes to reduce slipping. When the sole of the shoe is crosshatched leather it gives the shoe non-slip properties. When the sole is rubber it has a thick, deep tread that provides a buyer with stability on the slick surfaces of a boat deck.
Deck Shoes for Fashion
The material is less important when the purpose of the shoe is fashion, rather than functionality. The sole of the deck shoe may be flat or have a very slight tread pattern. In this case, personal style comes into play. The variety of deck shoes meant for fashion, rather than function, is almost endless. A buyer can find just about any colour, material, pattern, or style to suit their tastes. When the deck shoe is a fashion accessory, its slip resistance and tread pattern do not matter as much as they do when their use is for other purposes.
Deck Shoes for Everyday Use
When a buyer purchases a deck shoe for everyday use, he or she often looks at both fashion and comfort. Just like when a person purchases deck shoes for boating, the person needs to take into account the fit and durability of the material, as well as the tread and sole. A comfortable fit is very important in this case because the shoe is worn almost every day. A buyer has a broader selection of deck shoes for everyday use because waterproofing and drying time may not be a factor in their purchase even though fit and durability are. They are also climate appropriate. This means that the shoes may be of thicker or thinner material, lined or unlined, slip-resistant, or designed more like a sneaker or work shoe.
Deck Shoes Comparison Chart
Below is a chart that details the differences between various deck shoes, including the different materials, soles, and treads found in each variety.
Purpose

Material

Sole

Tread

Boating

Canvas or waterproof leather

Rubber or crosshatched leather

Thick tread that creates friction and grips slippery surfaces

Fashion

Made from any material

Any type of sole

Any type of tread

Everyday Use

Climate appropriate material, such as lined or unlined canvas, leather, or cloth

Climate appropriate soles, such as thick for colder climates or thin for warmer climates

Generally made from leather or rubber

Climate appropriate tread, such as crosshatched for conditions that are slippery or none for conditions that are not
Depending on how much a person plans to wear their deck shoes as well as what type of use they are looking to get out of them will determine which style will fit best.
The Fit of Deck Shoes
Regardless of the purpose for which a buyer is purchasing deck shoes, a comfortable fit is always preferable to one that is not. Ill-fitting shoes can chafe or cause blisters in almost any condition. This is especially important if the shoe gets wet because the water, particularly salt water, can increase the chance of chafing or rubbing.
To find the proper size, one can measure their feet by either placing their feet on a piece of paper or through the use of a ruler. When using paper, the person should stand on the paper and make a line in front of the longest toe and behind the heel of the foot. Then, he or she can measure the distance between the two lines and compare it to a sizing chart. They can also stand on a tailor's tape measure to find their length. A buyer uses this method by placing the foot with the end of the tape measure at his or her heel and measuring to the end of the longest toe. To measure the width of a foot, a buyer can use a tailor's tape measure and use it to circle the widest portion of the foot. Then they compare this measurement to a width chart to find out if they need a narrow or wide shoe. One last thing that a buyer should consider is that some materials, like leather, are prone to stretching when a wearer exposes them to water. This shrinking, or stretching, can reduce the comfort of the shoe as well as the complete aesthetics of the shoe.
Buying Deck Shoes on eBay
eBay is an excellent resource for both new and used deck shoes. It has a variety of listings for all types, sizes, styles, and colours of men's, women's, and children's deck shoes. Unlike the traditional shoe store, eBay, as an online auction house, is able to offer more of a variety of shoes. It can also offer a better selection of unusual sizes or styles than traditional stores.
To find deck shoes on eBay, one can simply go to the eBay website and input the search term "deck shoes" into the search box and then hit Search. You can be more specific in your search. By typing the words "canvas deck shoes" or adding the size to the search terms you can narrow your search down. By using more specific search terms, you come up with more detailed results. eBay also has a rating system for sellers, in which a trustworthy seller has a high rating and an untrustworthy seller is someone with a low rating. You can also peruse the reviews that others have written about the seller. Both the star rating and the reviews left by other buyers help you to choose whether or not to trust a seller. You can also email the seller with any questions that you have about the deck shoes, shipping, return policy, and the terms and conditions of the sale.
Conclusion
When purchasing deck shoes, it is important to know about the different purposes, fits, and styles in which they are available. A deck shoe that is made for aesthetic purposes may be impractical for the slippery decks of boats and exposure to water. A deck shoe specifically for use on a boat may not be as fashionable as those made for aesthetics, or the shoe may be a combination of both aesthetics and practicality. The many types of boat shoe offers consumers choices depending on their preferences. Paying attention to the tread and fit of the boat shoe is particularly important if the shoe is for its original purpose. Slipping on a wet boat deck cannot only be embarrassing, but it can also be extremely dangerous resulting in falls, including the possibility of falling overboard. The true deck shoe grips the boat deck while those made for fashion may not. Regardless of the purpose, eBay offers consumers a wide range of deck shoes from which to choose.