Decking around Hot Tubs must be hardwearing and durable, it takes a bit more effort than a stand alone deck but is worth it in the end.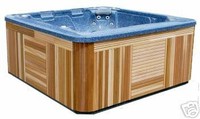 There are many different types of decking about, some are soft wood, some hardwood, plastic, composite and I am sure there are some that I have missed.
One of the big things at the moment is thermowood, this is a heat treated type of timber by Finn Forest and has a long life without chemical treatment.
We often use hardwood decking for decks around hot tubs as it is very hardwearing and usually complements the normal cedar or teak cabinets most spas have.
Composite boards such as correct deck and also Trox have very long life spans, require no maintainence but are usually expensive.
If you use timber remember to use a good decking cleaner on it as it can become slippery when it is getting regularly soaked. Also use a good timber preservative on it even if it is tanalised.
Use the right type of screws for the deck, this is important so that it does not rust. Timber Tite or similar screws such as ruspert screws have special coating to stop discolouring of the wood and the screws.
Even if you don't use pressure treated deck boards you should use pressure treated framing as you will not be able to get to treat them later.
Remember to leave access to the motor and pumps of the hot tub or spa, this can be a lift up panel or a section that needs to be unscrewed.
I hope this info helps if you need any more just ask.