The Degradamailer
is the first choice of mailing products, for
GREENMAGAZINES

on

Ebay UK

, for finding a solution to provide, eco environmentally friendly, recycled, recyclable, green packaging, reusable envelopes, plastic mailers, postal bags.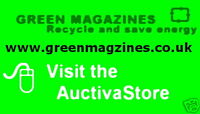 GreenMagazines
mail out a majority of its magazines in this registered trademark mailer. It provides the guarantee that it is made of at least 35% Recycled film, is 100% Recyclable, and can be used again, and resealed by the recipient of the GreenMagazine.
By using a waterproof strong mailer, that can be used again, and is itself fully Recyclable, protects the contents being shipped, and makes a contribution to a Greener Environment.
Description
It has a light colored write on panel, so printed labels are not needed, but if are used, documents enclosed holders, address labels, stickers, postal labels, and postage stamps adhere very securely.
Greenmagazines recommend to all on Ebay to use these environmentally friendly mailers, where brand new magazines, are mailed out securely, Greenly, and quickly.
Try one!
All GreenMagazines sent out enable their recipients to re use this Green Mailer, so why not give it a try! You can try one at our Auctiva Store where you can get your reusable
Degradamailer with every Magazine.