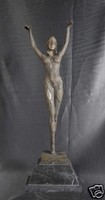 Demetre Chiparus is perhaps the most famous exponent of the art deco figurine in bronze. Chiparus (1886-1947) was Romanian-born but worked in Paris sculpting theatrical subjects as well as dancers from the stage in elegant poses and costumes. In the 1920's, his work was influenced by an interest in Egypt, after Pharaoh Tutankhamen's tomb was excavated. Dancers of the Russian Ballet, French theatre, and early motion pictures were among his more notable subjects and were typified by a long, slender, stylized appearance. He worked primarily with the Etling Foundry in Paris.
Indeed his study of the female form was a massive influence on the 1920s version of the ideal female form - all lithe athleticism, adorned in dainty, Egyptian inspired costumes, part flapper part Charlston dancing good time girls. Chiparus was also famous for his development of the chyrselephantine process which was the technique of amalgamating bronze with ivory for the heads, hands and feet of the deco figurines.
Some of the most famous Chiparus deco sculptures include Friends Forever (Eternal Friends), Innocence, Antinea, Thais, Semiramis and the Starfish Dancer. Original works command high fees.
Martin Worster