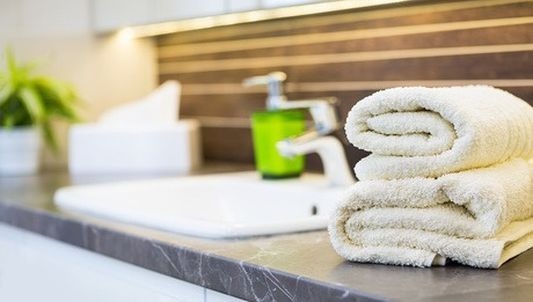 You do not have to spend a fortune in order to make your old bathroom look like a new one. There are some tricks that will enable you to transform the whole interior of your bathroom in a quick and cheap way.

A new glaze without removing the old tiles? Yes, it is possible. All you need is to paint it with a special glazed tile paint. Firstly, clean the areas of the tiles you want to paint to remove dirt and grease properly. Go over the tiles with sandpaper slightly and clean it again. Finally, use a roller to add a coat of primer and paint it properly after 12 hours.

Alternatively, you can use self-adhesive stickers for tiles or change colour of the grouts. Such a combination will create a perfect contrast solution. Nevertheless, if you like the colour of your current grouts, you might still want to refresh them with a special grout renovator.

New ceramic tiles can be adhered to the old ones. However, you need to remember about an appropriate preparation of the surface of the old ones. Make sure that the grouts are accurately cleaned and strong tile adhesive is used.

What is more, by changing the colour of your current bathroom walls, adhering waterproof stickers or painting decorative patterns you might also add a new character to your interior.

What if your old bath doesn't look as good as it used to? By using a new method called "bath in bathtub" you are able to insert a new acrylic bath fitter so that your bath looks like a new one.

Finally, accessories such as rugs, towels, mirrors or soap dispensers can boost and create an absolute new and fresh design in your bathroom. If the toilet does not seem to be homely enough make sure you invest in tiny details such as candles, plants or woven baskets for toiletries.