Whether he's a budding astronaut, mini footballer or super-hero in training, make your little boy's room his haven. We've put together 6 tips to help you create a room he'll love for years to come…
Kidproof. Adults remember - beds are for bouncing on and camping under, walls are for doodling and you can NEVER have too much storage for the growing toy mountain.
Easy to adapt. One day it's dragons, the next it's rockets so find accessories which you can change as fast as they change their minds. Wall stickers and murals are great temporary decorations. Keep the bigger-budget furniture neutral so it lasts longer.
Bunk up. Even if they're not ready for sleepovers yet, think ahead a few years – oh and it's a great use of space too.
Express themselves! Walls are no longer off limits with wallpaper that they can colour in themselves. Or try painting half a wall with blackboard paint.
Max play area and storage. Hooks on the back of doors, shelves, under-bed storage and benches are great for storing toys – just make sure it's all accessible.
A good night's sleep. To recover from all that play and re-charge for the next day's adventures, create a space that's easy and fun to sleep in. Gentle nightlights will soothe little monkeys to sleep and blackout blinds stop them waking (and waking you!) too early.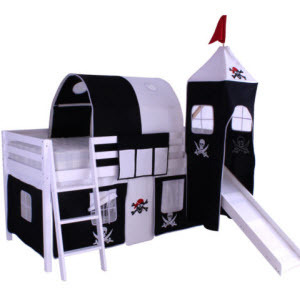 Price £219.95
Ship Ahoy! Sailing away into dreams of swashbuckling pirates, buried treasure and walking the plank, your Little Blackbeard will have adventures galore. Sleeping in his cabin, he can slide down to the deck and climb the rigging back up. There's plenty of storage below deck for treasure chests and prisoners too. The pirate decor can all be removed to leave you with a versatile white painted pine frame bunk bed.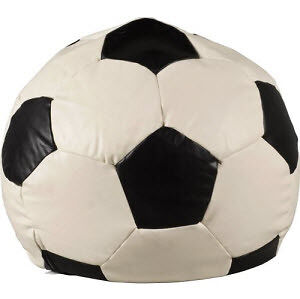 Price £39.99
Get comfy for a summer of football! This huge beanbag from Argos on eBay is big enough for friends to pile on, swap stickers and watch the matches together.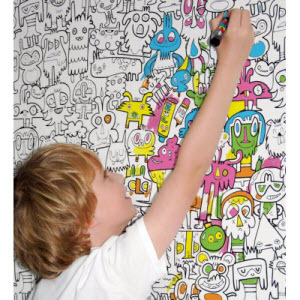 Price £21.49
Draw on the walls? Yes, sure, go ahead! This fabulous wallpaper from Burgerdoodles encorages your little one's creativity and imagination. Let them colour, paint and write all over the wall to create their very own unique piece of wall art. Is this how Banksy got started??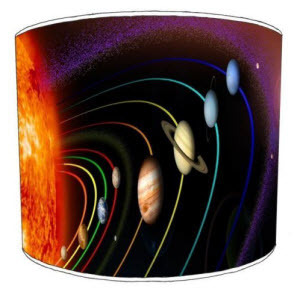 Price £28.99
Float off into space - this lovely lightshade is out of this world. It's available in different sizes and there's a selection of other starry designs too.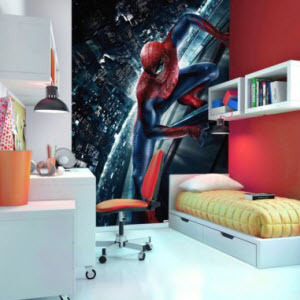 Price £29.99
Murals make a massive impact and can transform a room in minutes. Fortunately they can also be removed just as quickly, when the next fad arrives. As well as a vast choice of superheros you'll find jungle scenes, football stadium, underwater adventures, dinosaurs, dragons, space...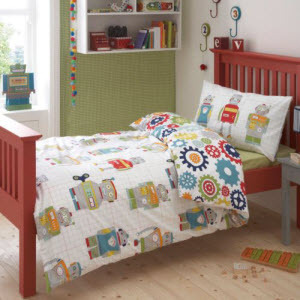 Price £20.00
This gorgeous single bedding set by Ben de Lisi for Designers at Debenhams is bright and fun. It's reversible too with a complimentary bright cog design when you fancy a change.