Jessica Simpson's Dessert Treats Tropical Treats Line
New For Spring 2006
This product is not being made any more!! If you buy it BEWARE they could be EXPIRED!!

The company went out of business nearly 2 years ago!! The stock has been sitting in a warehouse!!

By: Spoil Myself Today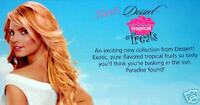 Hula Girls is an Exciting New line made by Dessert Treats!
Tropical Treats Has the following three items
Tropical Treats are NOT AVAILABLE IN THE UK or EUROPE!
ALL PHOTOS ARE TAKEN FROM THE DESSERT TREAT WEBSITE
Spoil Myself Today is not affiliated with Dessert Treats or Jessica Simpson we just love the products!
Hula Girls Mini Kissable Lip Shine Kit
Each Kit Has the following Flavours:
Coconut

Papaya

Mango

Kiwi

Pink Pineapple

Passion Fruit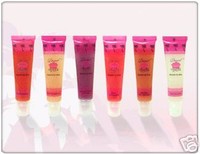 Large Size Tropical Treats Lip Gloss
These lip mini lip glosses are 3.54 mls just like the original dessert treats flavours. These Lip Glosses also come in a large size which is 5.9 mls each.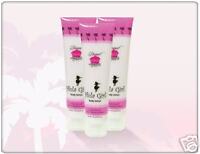 Tropical Treats Lotion This Thick n' creamy exotic blend of coconut, banana and mango dissolves instantly for deliciously dewy skin!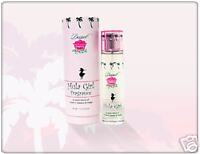 Tropical Treats Fragrance
29.5 mls
Spritz this mix of tasty tropical fruit and strut your stuff Hula Girls style! Mouth-watering and kissable, this exotic blend of coconut, banana, and mango will surely stir up an appetite for fun in the sun! Layer this with Hula Girls Body Lotion!
Recently I have been told by one of my suppliers that the Dessert Treats are no longer manufacturing their products. I don't know how true this is, or if the factory will continue to make these lucious treats. At Spoil Myself Today will always try to get you the latest in Dessert Treats. If you are going to buy Dessert Treats know the following:
Know your seller, do they sell dessert treats all the time? Are they reputable?
Check out the sellers Feedback score.
Know the product you are buying.
Ask your seller questions about the product an honest seller will always answer your questions.
Any questions please write me through ask seller a question through My Ebay.