Buyers Guide to: Jessica Simpson Dessert Treats line expired and no longer being made! I have only left this guide up to keep eBayer's informed of the risk's! From Buying expired cosmetics! BUY AT YOUR OWN RISK!!!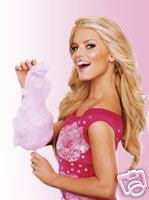 Last updated: March 27, 2008 1857 BST

Dessert Treats are a exciting flavored kissable collection of bath, body, and make up by the superstar Jessica Simpson. In 2005 Dessert Treats were launched with the tag line of: Wear it then Share it.
The Dessert Treat line consists of the following Original Six Flavous:
Cotton Candy-A perfect melody of pink sugar and candy.

Creamsicle-Refreshing orange and vanilla chilled to perfection.

Lollipop-A bold and passionate fruity blend.
Butterscotch Toffee-A sinfully decadent buttery caramel treat.

Bubble Gum-The perfectly pink juicy bubble gum (bubble not included)

Banana Split-An irresistible tropical treat.
These six flavous have been made into several luxury cosmetic items each smelling lush, and good enough to eat. The products retail from £8.00-£25.00 each. Many will go on Ebay for much less that that. I start my bidding on Dessert Treats between 0.01 pence for new additions and 0.99 pence. I have several Buy it Now items, and I sell the majority of the products listed below.
Certain Dessert Treats are hard to locate in the UK, and even wholesalers of the products have a difficult time obtaining certain flavous of the beauty line. At Spoil Myself Today our products come directly from the Dessert Treats factory in the Las Angles, USA from a verified wholesaler all of our Dessert Treats arrive in factory condition, we don't even remove the plastic to take the photo so you will know when buying from us that you will receive a high quality authentic Dessert Treats item. We do not sell FAKE Dessert Treats!
Dessert Treats are not yet available in the UK and are exclusive to the USA. In the following shops:
Sephora, Walgreens, Brooks Pharmacy, Eckerd Pharmacy,Longs Drugs, Ultra, and Claires USA However, may of these shops are not selling this product any more.
*Photos from the Dessert Treats website*
Whipped Body Cream with Candy Sprinkles: Smooth and creamy Dessert Treats deliciously kissable whipped cream is the perfect guilt free indulgence just sprinkle and share. Please note this is not food, and is only a novelty item.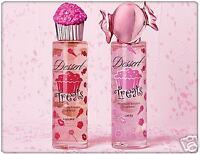 Cupcake and Candy Fragrance: are the perfect melody of sugar, and spice.
Sugar Shimmer: leaves your skin sparkling and shining with and all over deliciously kissable glow.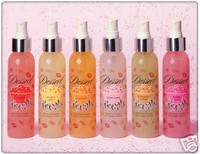 Shimmer Mist: spritz and shine your entire body including your hair for an all over shimmer.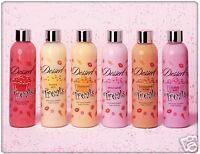 Body Frosting: is filled with nutrients that your skin will love. It's creamy, and irresistible.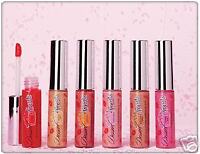 Lip Candy Lip-Gloss: Sweeten your kisses with this lip-gloss, it's sheer and radiant, your lips will tingle and plump up for that perfect pout.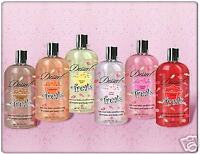 Hair and Body wash: Smell divine and mouth watering in the shower, Dessert Treats hair and body wash will condition and revitalize your hair while leaving your skin silky smooth for a perfect shimmer and shine.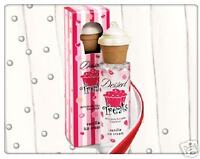 Limited Edition Vanilla Ice Cream Fragrance is a rich creamy vanilla and sweet sugar. This product was made for Christmas 2005
Limited Edition Cool Kisses Holiday Lip-Candy Lip-gloss- see my auctions for these lip glosses!
Vanilla Ice Cream- a soft vanilla indulgence.
Cinnamon Hearts- An irresistible combination of vanilla and cinnamon spice.
Peppermint Swirl-A perfect melody of sweet cherry and peppermint.
This set was made for Christmas 2005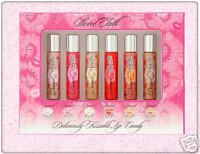 Lip-Candy Lip-Gloss 6 Pack
The four rules to buying Dessert Treats:
Know your product
Know your seller
Ask questions
Know the size you are bidding on. Dessert Treats lip-gloss comes in two sizes small 3.54 mls which has a RRP of $7.00! and Large 5.9 mls which has a RRP of around $14.00. Check out my other guide on how to tell the difference between the two.
I hope this buying guide has been helpful to you with your next purchase of Dessert Treats. I will be updating this guide as necessary, or when new products are introduced into the line.
Please see my new Guide on Dessert Treats!