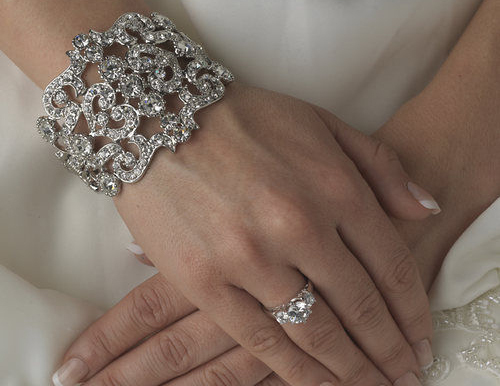 Filled with bling, Diamante cuff bracelets offer wearers a sense of sparkling style. Cuff bracelets in general get lots of notice thanks to their typically thick design that allows a wrist to stand out. However, some cuff bracelets feature a more delicate style that still gets noticed thanks to Diamante charms and embellishments. You can learn about different Diamante cuff bracelets to decide which ones suit your sense of style for both casual and formal occasions.
About Diamante
An alternative to diamonds, Diamante stones offer that same diamond chip look, but at a much lower price tag. You can find these stones outlining watch faces, on hoop earrings, on brooches, and on ankle bracelets, amongst other pieces of jewellery. Diamante stones come in a variety of shades, with clear being the most popular. You can even find Diamante stones lining some clothing, especially denim pockets and legs. When you crave a little bit of extra bling, Diamante is your source.
Thin Cuff Bracelets

Whether made from yellow gold, white gold, or sterling silver, cuff bracelets are easy to slip right on without needing to worry about a clasp breaking or not being able to close the clasp. You can choose a gold-plated thin cuff bracelet with a four-leaf clover made from small Diamante chips or don a cuff bracelet made from a combination of sterling silver and braided leather. It can feature hearts filled with Diamantes on top or a heart and sterling bauble charm. Pair this bracelet with an all-black or black and white outfit and watch it stand out from the crowd. A sleek silver design is the hallmark of an Austrian crystal bracelet featuring a blue stone and Diamante chips in a curved loop next to the blue crystal. A similar look comes with an Austrian crystal bracelet with a centre heart made from red stone. For a truly different look, choose an Austrian crystal thin cuff bracelet that offers a swan body filled in with Diamante chips, as well as pink and blue crystal.
Thick Cuff Bracelets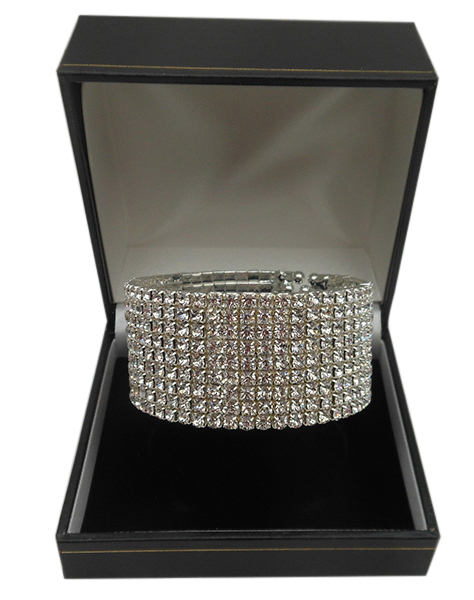 For a look that certainly turns heads, choose a thick cuff bracelet that onlookers will be sure features real diamonds throughout. You can find them with the sparkle and shine of the Diamante displayed in wavy horizontal lines throughout the bracelet to bring a wrist to life. Find a similar look with straight horizontal lines of bling throughout another thick cuff bracelet that slips on the wrist with ease and speed. Diamante with a blue hue adorns another bracelet with a like style. The Silver Lou Diamante cuff bracelet comes with a seashell design filled with Diamante and features an area to hang and display charms.