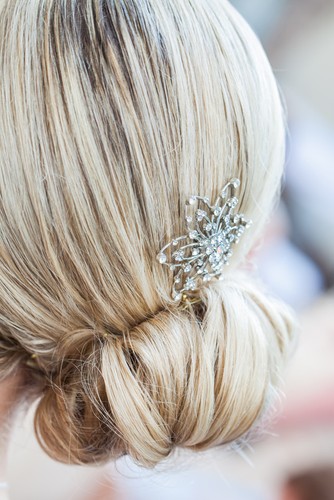 Diamante pins are a simple accessory that can add glitz and sparkle anywhere a straight pin or brooch is needed. A diamante pin has an ornate pinhead, and even though it is tiny, the addition of these pins can enhance the aesthetics of whatever they are paired with. There are many uses for diamante pins; the most common use for straight pins involves floral arrangements and corsages, but some women use the brooches to pin their scarves.
When selecting pins women must consider the length they need as pins come in several lengths. Moreover, it is best to have an idea of how many are needed. The pinheads come in a variety of widths and made from several materials. The most cost effective option is rhinestone diamante pins, but women who find authenticity important can opt for precious gemstones. Some of the more ornate models are shaped into delicate butterflies and flowers. Customers should have an idea of what style and size pinhead, total quantity, and pin length before choosing which diamante pins are right for them.
Choosing Diamante Pins
Despite it simple design, there are many options to consider when buying diamante pins. Many buyers first consider pinhead design before all else. Also, they must consider the total length of the pin as well as how many are needed. The following subsections expand on the various factors customers should consider before buying diamante pins.
Pinheads
Diamante pins come in an assortment of options, and buyers must decide the size and shape of the pin. Additionally, they must choose what the pinhead should be made of. Rhinestones are inexpensive and come in many colour options, while gemstones are more costly.
Size
Not all diamante pinheads are the same size. When selecting which pins are best suited for the occasion, buyers should take note of the width of the pinhead. Most manufacturers do not have list this size, so it is up to the consumer to do their homework. Buyers must consider how far away the diamante pins should be seen. If using for a bridal bouquet, the pinheads should be larger; however, if the pins are used in centrepieces, then the size of the pin can be much smaller.
Design
Most diamante pins are circular in shape, which makes them compatible with a wide range of designs. A few manufacturers have begun marketing diamante pins in a few shapes. Heart diamante pins, dragonfly pins, and butterfly pins are increasing in popularity, as are other designs. These shapes are typically a bit more expensive than rounded models but are well worth the extra money if buyers want a more customised look.
Materials
In addition to choosing size and shape, buyers must also determine what material they want their pinheads to be made from. While all pins are made of metal, the pinheads can be made from several materials. By far, the most common and cost effective material is the rhinestone. They are easy to come by and available in a myriad of sizes, shapes, and colours. Most are made from plastic, so if one was to break, the mistake would not be too costly. Rhinestone diamante pins can be used and reused several times over so long they are taken care of.
If buyers are looking for a diamante pin made from high end materials, they can find some made of precious gemstones, including but not limited to diamonds, emeralds, and pearls. Diamante pins made from precious gemstones are more expensive and often more difficult to find.
Colours
Many women choose diamante pins based on the colour. Clear is the most popular colour available. Crystal clear conveniently matches every colour and can play off of and complement any arrangement. Some women prefer to use coloured diamante pins for an alternative look. While there are pink, blue, and other transparent hues available, black rhinestones can look quite stunning when properly arranged. Pearls, real or synthetic are popular with people who want an opaque look.
Length
After customers have decided they style of diamante straight pin they want, the next step involves finding the appropriate length. Most diamante pins are available in 1.5 inch, 2 inch, and 2.5 inch options. While 1.5 to 2.5 inches is standard, other sizes may be available. Shoppers must remember to buy pins that are long enough to stick securely out of the arrangement, but they can also buy too long. Therefore, it is imperative to know the ideal length before shopping.
Quantity
Knowing the intended use for the diamante pins helps buyers know just how many to purchase. Just as there are various sizes and styles of pins, sellers have packages with different quantities. If a customer needs a few pins for a corsage, then customers can buy a small pack. Similarly, if the diamante pin is for a scarf, shoppers only need a single pin. On the opposite side of the spectrum are the consumers who need enough diamante pins to accommodate several bouquets or floral arrangements. Before purchasing diamante pins, buyers must approximate the number of pins needed per arrangement and then multiply it by number of arrangements. Additionally, since diamante pins are typically inexpensive, it is better to order more than to not have enough.
Uses for Diamante Pins
The simplicity of the diamante pin design makes them an elegant accessory, particularly in situations involving flowers. A single diamante pin can be used to decorate and pin a corsage. They also look divine when properly arranged within a bridal bouquet and other floral arrangements. Another use that does not involve flowers is to pin a scarf with a long, decorative pin. The sections below expand on the three most common uses for diamante pins.
Corsages
Diamante pins are a fun and easy way to bedazzle a corsage. Women can strategically place a few short pins within the corsage for some sparkle and shine. If the corsage is to be worn on the wrist, women must take special precautions to make sure the pins do not pierce the back of the corsage since the pins could also pierce the skin. If the corsage is designed to be pinned to an article of clothing, wearers can use a matching diamante pin to secure it in place; wearers should make sure the pin is long enough to be pushed through the arrangement and cloth.
Floral Arrangement
Diamante pins are most often used within floral arrangements. They are popular additions for bridal bouquets and centrepieces. Diamante pins add a little shine to floral arrangements when placed throughout the flowers. Women can place a diamante pin at the centre of some flowers, such as roses for an elegant look. Bridal bouquets bound with ribbon or cloth look stunning held together with diamante pins.
DIYers should follow a few tips when placing pins within floral arrangements. The head of the diamante pin should be visible, but not protrude too much since the pin easily could be knocked loose; the pin should not be placed too far down as it may puncture part of the arrangement or come out the other end.
Pinning Scarves
Ladies who wear scarves can attest what a nuisance they can be on blustery days. Instead of having the scarf wildly blown about, many women use a modified version of the diamante straight pin to keep it in place. These types of diamante pins often have ornate designs and have a mechanism to secure it in place.
Buying a Diamante Pin on eBay
eBay has a plethora of diamante pins available for sale, and in order to find exactly what you are looking for, you should employ the following search tips. Using keywords in an integral part of a successful search. If you have a specific type of pin in mind, when initiating your search and in addition to searching for "diamante pins", you can add in keywords to focus your results. Include the length, such as "1.5 inch diamante pins" or quantity, such as "100 diamante pins" to narrow down your options.
Another way to conduct your search involves starting with the broad search of "diamante pins" and then you can use filters to whittle down the results. With the aforementioned filters you can choose between new and used diamante pins, select the type or subtype, and other factors. You even have the opportunity to input an acceptable price range. Proper use of filters can truly narrow down a search and help buyers find exactly what they need.
Conclusion
Diamante pins can really put the finishing touches on floral arrangements, whether they are worn, carried, or centrepieces. Although clear pinheads can complement any arrangement, many rhinestone diamante pins are available in black, pinks, purples, and other colours. Buyers can opt out of the translucent look with pearl diamante pins. If the diamante pin is intended to be paired with a scarf, shoppers should consider the colours and style of the scarf to match.
Rhinestone diamante pins are inexpensive and affordable on all budgets. Pins with natural gemstones are much more expensive. If the diamante pins are intended to be used in bulk for bridal bouquets or floral centrepieces, buyers should purchase more than needed for emergencies. Diamante pins are delicate, and inexpensive models are easy to damage if not used properly. Having an idea of the style, size, and quantity beforehand allows customers to make a more informed decision about which diamante pin packages are right for them.