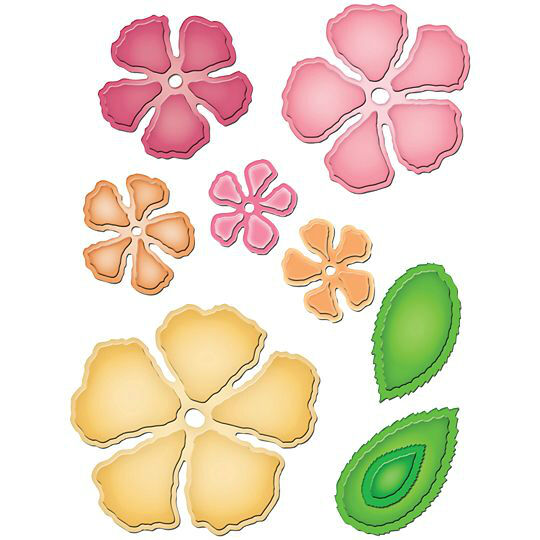 Die-cut shapes, or die-cuts, are widely used in scrapbooking and cardmaking. With these ready-to-use shapes, scrapbook and card makers can save a lot of time and effort when producing their craft. All they need to do to get a beautiful scrapbook or card is to choose the ready-made die-cut shapes that they want and paste them on their craftwork in any arrangement.
Crafters have been using die-cut shapes for a very long time, and some people like to design and cut out the shapes themselves, but this can be a time consuming activity. However, crafters have the option of buying already made die-cut shapes and use them straight away. Buyers have to keep in mind a few things when shopping for die-cut shapes, such as the theme of their craft project, as well as the colour, thickness, and size of the die-cuts they need. With die-cut shapes being so popular nowadays, buyers are likely to find what they need in almost any crafts store as well as on online stores.
What are Die-Cut Shapes?
Die-cut shapes various designs cut out from cardstock paper. They can come in just about any shape imaginable including letters, plants, flowers, and hearts. Pasting die-cut shapes on cards and scrapbooks is a great way for crafters to embellish their work and create unique designs that can have a lasting impression on anyone who sees their art. Besides their use in cardmaking and scrapbooking, die-cut shapes can also be used in other paper projects such as decorating posters.
Die-cut shapes are versatile materials as they can be used in any way that the owner wants. Crafters can use them as borders or centrepieces in their craft, or paste a few die-cut shapes together to create a larger, more expressive image than the one of a single shape. It is very easy to buy virtually any shape that one wants. Die-cut shapes are often packed according to their themes, in a single-shaped lot, in mixed lots, or sold as individual pieces.
Buying Die-Cut Shapes
Die-cut shapes are essential for any scrapbook or card maker as they make the crafting process easy and fun. Some things to consider when buying die-cut shapes are their weight, shape, colour, and also price. Besides getting ready-made die-cut shapes, one can also choose to buy die-cutting machines, which can cut out any shape that one wants.
Buying Die-Cut Shapes vs. Investing in a Die-Cutting Machine
Many people may be wondering if they should get a die-cutting machine rather than buying die-cut shapes. Although these machines are gaining popularity among paper crafters, they are quite pricey and bulky. Plus, crafters would need to purchase dies as templates if they plan to use a machine to produce their die-cuts. For most crafters who only need a few pieces of one type of die-cut shape, buying a die-cutting machine may not be necessary. However, for serious crafters who work with die-cuts regularly, getting a die-cutting machine can be a worthwhile investment as the machine can save them time and money compared to shopping for die-cuts. On the other hand, people who enjoy cardmaking and scrapbooking as a hobby should probably stick to buying die-cut shapes as it is much more cost efficient than investing in a die-cutting machine that is rarely used.
Choosing the Size and Thickness of Die-Cut Shapes
Die-cut shapes come in various shapes and sizes. To choose shapes of the correct size for their project, crafters should be aware of the space that they have on their scrapbook or card. scrapbook makers can afford to buy larger-sized shapes whereas cardmakers usually do not have a lot of space to work with and therefore need smaller die-cut shapes. Therefore, one should always keep in mind the size of the craftwork before choosing the size of the die-cut shapes. Besides deciding on the size of the shapes, crafters should also know that some die-cuts can be thicker than others. The thickness of the cardstock used to make a die-cut shape is represented by its weight in grams per square metre (gsm).
| Cardstock Grade | Weight (gsm) |
| --- | --- |
| Light | 100-120 |
| Regular | 120-150 |
| Heavy | 150-200 |
| Super Heavy | Above 200 |
Although most die-cut shapes have a standard thickness, some can be thicker or thinner and may not be very suitable for certain projects. For example, it is not a good idea for a crafter who is making a birthday card to use very thick and heavy die-cut shapes as the card can end up feeling too bulky in one's hands. Although scrapbooks, which are bigger than cards, can handle thick die-cuts, they may look too bulky if only thick die-cut shapes are pasted. Therefore, when possible, crafters should check the thickness of the die-cut shapes before buying them.
Choosing the Design, Finish, and Texture of Die-Cut Shapes
Die-cut shapes are available in a wide range of designs from simple, basic shapes such as stars and hearts, to more intricate ones. It is always a good idea to have a few shapes at hand to add some variety in a craft project. However, it does not mean that crafters have to buy any die-cut shape that catches their eye. For those who are not avid crafters, buying large quantities of die-cut shapes would be wasteful. A wise thing to do when shopping for die-cut shapes is for buyers to decide on the theme that they plan to use in their project and buy shapes that match the theme. If buyers tend to favour certain kinds of shapes in their craft, it is also a good idea to buy more of those shapes for future use.
Besides choosing the shape of their die-cut shapes, crafters can also decide on the finish of the shapes before buying them. Common finishes on die-cuts include matte and various kinds of glossy finishes, such as metallic or pearly. Since the finish on a die-cut shape can give it more character, crafters can consider the various kinds of finishes available for die-cut shapes. Many die-cut shapes also have different kinds of textures, such as linen and embossed. Shapes with a linen texture feel like linen to the touch, whereas embossed ones have raised bumps and grooves in all kinds of patterns. By choosing die-cuts in varying finishes and texture, one can further personalise a craftwork and make it more elaborate.
Tips for Buying and Using Die-Cut Shapes
Those who plan to keep their craftwork for a long time should make sure that their die-cut shapes are made from archival-safe cardstocks. This means that the die-cuts do not have acids and does not leak any acid when stored for a long time. Getting archival-safe die-cuts is necessary especially for scrapbooking. Also, if one is buying the shapes for children's use, it is a good idea to get smaller sized ones so the kids can easily paste them on their artwork. Although die-cut shapes are often made ready-to-use, some may still need to be cut or trimmed a little. If this is the case, adults should always supervise children when they are crafting.
Buying Die-Cut Shapes on eBay
eBay has a very large selection of die-cut shapes to choose from, and all you need to do to find the shapes that you want is to search for them. Start on the eBay home page and simply type your keyword into the search bar provided, and you are presented with all related products. Some keywords that you can use are 'die-cut shapes' and 'wedding die-cut shapes'. On the product listings page, you can also further refine your search by using the category filter to select certain criteria such as the brand and shape of your die-cuts.
When browsing through the list of products, look at the item description, price, and shipping fee. Sometimes if you buy from eBay sellers close to your location, you may not even be charged for the shipping. After selecting the item that you like, you can view even more information on the product page. Important details you should read are the full description of the item, estimated delivery period, and return policy. It is also wise to look at the seller's feedback score to see how his or her customers have rated the seller.
Conclusion
Scrapbooking and cardmaking are fun activities that anyone can do as they allow people to record valuable memories and celebrate special occasions in a creative way. Each scrapbook and card is special since they always have some personal significance to the crafter or the person they are intended for. Die-cut shapes are often made of cardstock and are available in many shapes and colours. When choosing a die-cut shape for a certain project, one should consider the type of shape, size, thickness, finish, and also texture of the shape. Since die-cuts can have variations in so many criteria, it is easy for anyone to create a truly unique craftwork.
When buying die-cut shapes for scrapbooks or for any craftwork that one plans to keep for a long time, it is important to find die-cuts that are archival-safe so they can be stored without damaging the craftwork. Buyers can find die-cut shapes quite easily in local craft supplies stores and online, and eBay is a good example as it has a wide range of die-cuts for sale.