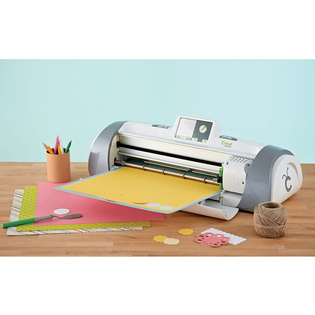 For consumers who enjoy scrapbooking, creating handmade cards, or creating other types of paper crafts, die-cuts are a necessity for embellishing all types of these crafts. Die-cuts are essentially cut out shapes of a variety of items, from animals to hearts or letters. They come in many different sizes and colours and are easy to decorate for whatever purpose consumers are using them for.
Though die-cuts can be purchased pre-cut, some buyers choose to create their own die-cuts with the use of machines or special tools in order to achieve the exact type and style of die-cuts they want. Die-cuts are made out of cardstock that is thick enough to be glued and decorated and hold up well when used for holiday crafts such as ornaments, candy boxes, party favours, and centrepieces. Buyers can purchase a wide variety of die-cutting supplies on eBay depending on if they want to create their own die-cuts, or purchase die-cuts that are already ready to use.
There are several different types of supplies buyers can purchase to create handmade crafts using die-cuts. There are also additional items that can be used to make one-of-a-kind crafts that consumers might be interesting in purchasing along with the die-cutting supplies.
Types of Die-Cuts
Pre-cut die-cuts are a time saving way to create paper crafts without having to go to the trouble of creating die-cuts from tools or a machine. Some consumers may appreciate the convenience of using pre-cut shapes as opposed to making their own die-cuts.
Pre-Cut Die-Cuts
Pre-cut die-cut shapes are available in a wide variety of styles and shapes as well as colours. Many sellers offer die-cuts in batches, which is an affordable way to purchase pre-cut die-cuts. Die-cuts are sold by theme, such as Christmas die-cuts or baby die-cuts, or by brand, such as Ellison or Sizzix.
Some die-cuts are more elaborate than others, with filigree designs which are intricate, and others are shaped like banners, frames, silhouettes of nature or people, or special designs for weddings or holidays. Die-cuts also include gift tags and larger pieces that are used for cardmaking. Though most die-cuts are created from card stock, buyers may run across die-cuts made of felt, chipboard, foam, or a type of die-cut called iron-on nailhead, which is shiny silver or gold.
Punchies
Punchies are miniature die-cuts that are created with a die-cut punch tool. The resulting die-cuts are punchies. Punchies are typically sold in large batches and come in many shapes and colours. Some commonly seen punchies are shaped like hearts, butterflies, flowers, and stars. Punchies make festive confetti, card decorations, or scrapbook embellishments.
Die-Cutters
For buyers who would rather create their own die-cuts than buy pre-cut designs, there are a couple of different ways to craft die-cut shapes at home. Die-cutters make shapes by cutting the card stock or chipboard with a special device that is used solely for making die-cuts.
Die-Cut Machines
Special machines used to create die-cuts are a popular item for buyers who use die-cuts often and scrapbook or make cards frequently. Some common brands of die-cutting machines are Sizzix and Cricut. The machines use cutting dies, stencils, and cartridges which are purchased separately to create customised die-cuts out of a variety of materials.
This is an easy and convenient way to create die-cuts and it can also be used for embossing, which aids consumers in many paper crafts such as cardmaking. Various other items may need to be purchased based on what types of crafts the consumers are making, such as templates, embossing folders, and cutting pads or mats. Some die-cutting machines work in conjunction with computers to create customised designs.
Cutting Dies
Nesting die-cuts are a common type of cutting dies that are used in die-cutting machines. They are stencils that are all the same size, but they generally come in a set that includes die-cuts which vary in size by only a small amount, so they fit together. They are also called frames. Nesting die-cuts are frequently used in scrapbooking and cardmaking, because they are very versatile. Other types of cutting dies include alphabet dies, animals, greenery, and lace style dies for cardmaking embellishments.
Die-Cut Punches
Another easy way to create die-cuts at home is to use die-cut punching tools. A die-cut punch looks and works similar to a standard hole punch, but the resulting punch is a die-cut, also called a punchie. These tools come in many sizes and shapes and create a multitude of die-cuts suitable for confetti, gift packaging, cardmaking, or scrapbooking. They are a good option to use in addition to die-cut machines for die-cut enthusiasts.
Die-cut punches can be used on cardstock, chipboard, and even thin foam or other materials which are not too thick. Punches can also be used to create borders for cards or scrapbook pages, to embellish ornaments or gift tags, or to create pictures frames or gift bags.
Other Die-Cut Crafting Supplies
For consumers who are ready to get started with die-cut crafts, there are a few basic supplies to purchase. Consumers interested in scrapbooking may want to purchase scrapbooks, scrapbook pages, scrapbooking glue, and either pre-cut die-cuts or die-cutting tools or machines, along with cardstock to create die-cuts. Although, there are many other types of crafts which can be created with die-cutting supplies, cards and scrapbooks are just the beginning for dedicated and creative crafters.
Craft

Die-Cutting Supplies Needed

Additional Supplies

Purpose

Greeting cards

Stationary

Invitations

- Die-cutting machine;
- Die-cutting punches or pre-cut die-cuts;
- Foam, cardstock, or chipboard;
- Stencils or cartridges
Craft glue;
Card embellishments such as stickers, gemstones, ribbons, lace, or adhesive letters

Birthdays, holidays, party invitations, weddings, baby showers

Die-cutting machine or tools
Pre-cut die-cuts

Basic scrapbook album
Scrapbook pages
Scrapbook glue or tape
Stickers and other scrapbook decorations
Photographs

Memory books
Gifts
Fun hobby

Thick cardstock
Die-cutting machine or tools

Hole punch
Thread, yarn, or cording
Other decorations such as stickers, felt, or foam
Glue

Centrepieces

Wall decorations

Die-cutting machine
Cartridges
Thick cardstock or chipboard so centrepieces will stand

Glue
Other decorations for centrepieces

Special occasions
Parties
Proms
Weddings

Thick cardstock or chipboard
Die-cuts or die-cutting tools

Stickers
Other decorations and embellishments for boxes

Party favours or wedding/shower favours

Die-cuts or die-cutting tools
Felt, foam, or cardstock

Wooden, plastic, or acrylic frames
Glue
Other decorations for frames
Photographs

Die-cutting machine
Felt or cloth

Needle and thread
Clothing to be embellished

Add pizzazz to any type of clothing or apron
Gift ideas
Text for cards and invitations can be created by hand or by using computer software that sometimes comes with die-cutting machines. There is really no limit to what consumers are able to do with die-cutting supplies. From home decoration to handmade invitations, die-cuts can be used to embellish just about everything in a home or for a party or special occasion.
How to Buy Die-Cutting Supplies on eBay
Get creative with the die-cuts and die-cut supplies that are available on eBay. Even for first-time buyers, using eBay's search engine is simple and fun. Navigate to die-cuts and you can select the options you desire, such as die-cutters or die-cut shapes. Narrow the search down by the shape of die-cuts you want, the theme of the die-cuts, or some of the brands of shapes, such as Accucut.
If you are purchasing a die-cut machine, communicate with the seller about what is included with the purchase by clicking "Ask a Question" on the seller's page. Some machines offer cardstock or cartridges to help get you started with die-cutting crafts. Since machines tend to weigh a lot, look for a local seller so you can pick up your die-cutting machine in person and not worry about extra postage or shipping costs.
Once you have received your die-cutting supplies or pre-cut die-cuts, go back to the seller's page and leave feedback to help the seller continually improve the buying process. Leaving feedback is also helpful for other buyers looking to make wise purchasing decisions on eBay.
Conclusion
Creating handmade crafts is not only more affordable than buying items at retail prices, but it is also satisfying and fun for consumers who like being creative with their hands. Die-cuts have many uses and can be decorated with stickers, gems, ribbons, and other items to create one-of-a-kind, eye-catching cards, gift tags and bags, scrapbook pages, and other crafts that look three-dimensional.
Paper crafts are perfect for holidays, baby showers, weddings, and parties, and making invitations by hand ensures they are one-of-a-kind and unique. Paper is not the only material that is used to create die-cuts, and buyers can make even more unique designs out of foam, fabric, and felt to create fun items.
Die-cuts come in a variety of sizes and shapes for versatile crafting purposes, and some are made with interesting materials such as felt, to create cards and crafts that look more expensive than they really are. Instead of spending money on elaborate paper crafts, buyers can easily create and customise their own for a fraction of the price, and hone their own creative skills at the same time.