Are all Diet Diaries "safe to follow" to Lose Weight?
You are probably starting on your journey of losing excess Weight. Congratulations! This is a big step on the start of your personal journey to being Healthier for Life.
I too have experienced this journey, and it took me nearly two years to achieve my weight loss of six and half stones.
http://stores.ebay.co.uk/healthier-4-life
For me I found using a diary really helped me keep track of the food I ate. There was no cheating if honest and counted everything. Over the time I created a genuine diary page that worked for me. It is suitable for all the most popular diets too! Unique and proven to work.
I created this with James, my partner, and decided to share the knowledge on Ebay. My aim was to build a community of fellow dieters who like me wanted to change their life and be healthier for life. My user name on eBay is this healthier-4-life
http://stores.ebay.co.uk/healthier-4-life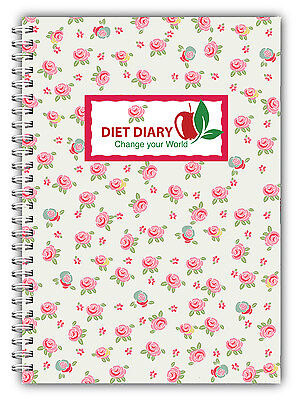 One of my diaries.
The pages inside are designed in A5 format and have quick reference checks to all important daily needs. Track your water intake, Fruit & Vegetables and your Exercise Level.
Most important, a mood checker, I found my moods to be tracked into the level of exercise I carried out. The more exercise the happier I was!
Are all Diet Diaries the same?
No! It became very quickly noticable how many there were out there that did not show how to gain a safe weight loss. Some showed you had to drink 12 glasses of water a day! (This is VERY dangerous). Others showed you had to eat 12 portions of Fruit and 12 portions of Vegetables each day. One showed you had to exercise for SIX hours a day!!! And worst of all a Diary Page that showed all of the three together!!! Imagine that?
While you were not eating more vegetables than a rabbit you were having to exercise more than a top Olympic athlete :-) And I assume continue your every day life, of housework, working, cooking, child care etc etc - you would be exhausted!!
I should imagine that you would very soon, want to GIVE UP on your Diet.
Personal Experience
I am talking from my own personal experience as I know how hard the journey to losing excess weight can be. You do need something to help you and many join Slimming Clubs up and down the country, paying our lots of money for the need for a partner.
Simply I did not have enough money to do this, although I have had many experiences of joining these well known clubs throughout my lifetime. Along the way things "sunk in" and I utilised this knowledge.
I have a Facebook page for customers who purchase one of the Diaries to join. Here I hope we can all be "friends" and help one another. Mutual support when we have down days do help!
My diaries are not like others you can find on eBay. Please do be aware that all Diaries are not the same. Some are "cobbled" together off a home printer. Some just blindly copy the well known Diets out there. Copyrighted material that you are purchasing is in breach of ebay and I am sure if the Diet companies found out, the Sellers would be in a lot of bother!
I am pleased to say that My Diaries are printed on high quality paper from a printers, ring bound and Quality covers to match. These will be easy to follow and a pleasure to be with you every day! Your own partner in losing weight. Please see my product, and if you have any questions I am more than happy to explain why I believe that a safe Diet Diary is the key to be Healthier4Life.
Thank you for reading, and I hope you experience the delight of losing weight and gaining back the control of YOU. Losing weight really does get you Healthier for Life.