Tyvek event wristbands are bracelets that can be used for a number of different solutions. They are often referred to as paper wristbands because they are so light but they are made of Tyvek which is a much stronger material then plain old paper.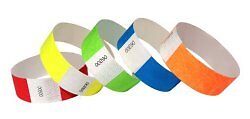 People often label them as bracelets. They are considered disposable or throwaway as they are really only good for one-day use.
You'll typically see these used at a bar to show that a patron (who's I.D. has already been verified) is old enough to be served alcohol, but you'll also see wristbands used to allow entry to a VIP section at a concert or in a nightclub.
Tyvek event wristbands are usually 3/4" or 1" wide and around 10" long. One size fits all. You don't need to purchase different sizes for different customers.
3/4" wristbands are the most popular as they are considered the most comfortable. 1" wide wristbands are not quite as comfortable.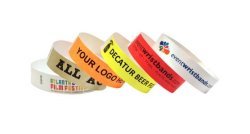 Tyvek wristbands are easy to use. Simply remove the small tab at one end covering the adhesive patch, wrap the wristband around your customer's wrist and secure. There are small cuts at the end of the band that easily tear so one the wristband is on, it's almost impossible to take off and transfer to another patron.
All wristbands are numbered so it's simple to keep track of your inventory.
Tyvek wristbands are water-proof, stretch-proof and they won't tear.
Most are available in many neon colors. Yellow, Orange, Blue and Pink are very popular because they show up under low light, or a fluorescent light in a nightclub or at night.
A more environmentally friendly type of Tyvek wristband is the litter-free wristband or a tab-free wristband. Instead of removing the little white square that covers the adhesive pad, it stays attached to the wristband. This eliminates any mess at your event because nobody likes to see those little white squares everywhere!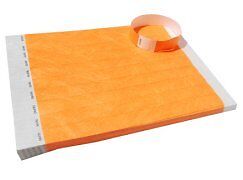 Stock wristbands can be shipped immediately, or for a little more you can customize your wristband by printing logos, images or text on them to create a custom wristband. Expect a little longer turnaround time for custom wristbands.
Some possible uses of wristbands including age verification at an event for alcohol consumption or entry, allergy alert or medical information or identification.

Wristbands are used at clubs, pubs, bars, festivals, rodeos, schools, construction sites, hospitals, picnics, church outings, school trips, casinos, resorts, nightclubs, by sports teams, at block parties, birthday parties, fairs, carnivals, amusement parks, water parks, banquets, weddings, showers, on New Year's Event, on a cruise, at class reunions, family fun centers, trampoline parks and conferences.