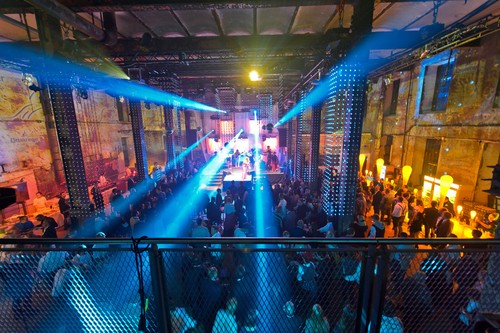 One thing that a DJ or entertainer needs is good lighting to set the mood for dancing. Many of these types of lights are considered to be disco lights. There are a lot of different types, sizes, and styles of disco lighting. Disco lighting has a long history; it started in 1942 when the mirror ball was used in the movie "Casablanca". The true disco lighting was invented in 1968 when the lighting of a room or event was controlled by a transmitter or cable.
It all started with the invention of light-to-music capabilities in which a light would flash in time with treble, bass, or other musical components. This started a national craze for disco lighting, mirror balls, and eventually the computer-controlled lighting of today. There are quite a few different types of disco lights. Disco lights for DJs and entertainers may be purchased from electronics shops and through the online auction website, eBay. When choosing a set of disco lights, DJs and entertainers need to remember several things. DJs and entertainers normally travel frequently, so portability is very important. Before purchasing disco lights, there are a few things to consider, such as matching the disco lights to the type of lighting effects needed, the variety of music, and ease of use.
Types of Disco Lights
There are quite a few different disco effects that can be accomplished with different disco lights. These lighting effects dictate which light to use and how to use it. Many of these lights were around for a long time before being used as club or entertainment lighting.
Lighting Type

Overall Effect

Police lights

Blue and red light

Circular motion

Sometimes accompanied by sirens

Scanners

Arrays of light

Move back and forth and up and down

Can be white or coloured

Centrepiece

Central on the light bar

Surrounded by mirrors

Throw coloured or white light in spots around a room

Spins

Beams

Single beam

White or coloured light

Moves in all directions

Flower effect

Produces a coloured or white array

Can move or remain static

Usually low-mounted

Colour changer

Changes the colour of the light

Older technology

Different lens covers create different effects

Moving yoke

Changes colour

Can track a band or person

Moves horizontally through a crowd
All of these effects can be computer programmed to operate with music, operate randomly, or operate manually. The more advanced lighting effects are usually computer-controlled and use a tracking chip. For spotlights, these chips beam on the entertainer, DJ, or band members so the light can track them through a crowd. Most of these lighting effects work with both large and small venues.
Most of the lights are similar in look with a few minor details changed. A mirror or two can be added, or several lights can be placed together to create a desired effect. When a lighting system is computer-controlled the possibilities are almost endless. Each lighting brand has a different name for the type of light that produces each effect. Most of the time, lights are named similar to the effect it creates. All of the lighting effects mentioned are portable, although some, like the moving yoke, are relatively heavy and may damage easily.
Music Type and Lighting
Most musicians and DJs play a specific type of music. If a slower song is playing, a DJ does not want strobes or flickering lights. If a faster type of music is playing, then a flower effect does not correspond with the music. A DJ or entertainer must plan their light show as well as the music they are playing. By choosing the music and then the lighting effects, an entertainer or DJ can bring only what they need to an engagement.
Although many DJs are well versed in lighting, a new DJ or entertainer may need to experiment with lighting before actually using it. In modern entertainment, the majority of the lights and lighting effects are computer-controlled. Many DJs and entertainers use music-controlled lights so that they do not have to worry about the different lights. In large venues that use concert lighting, it is easier for an entertainer or lighting specialist to use a computer.
When using music-controlled lighting, there is a microphone on the light that is used to control the light. The lights can be controlled by treble, bass, high frequency or low frequency sounds. When the music level is too low to pick up, the light remains static, remains on, or runs through a test sequence.
Music with lighting is extremely important. The lighting effects that are timed with music produce a more intense experience for people dancing or singing to it. It is important to think of the type of music when selecting lighting; this keeps the lights from being too strong or too soft for the occasion.
Ease of Use
Many DJs and entertainers work in single-person operations. This is what makes needing a system that is easy to set up and break down imperative. Each portion of the system must not only function independently but also hook together easily; most of the components in today's market make this possible for DJs and entertainers. A DJ or entertainer needs practice setting up and breaking down a lighting system in order to be able to do it efficiently once they are on site. A DJ never wants to have more than he needs in order to light a room. Often both DJs and entertainers wander a room where they are to set up to find where they can place their lighting and where they can plug in their system.
Scouting a location is key when making sure that using lighting is easy. The key to being able to do this is knowing the lighting equipment that is needed and comparing it to the lighting equipment one already has. Each of the different lighting situations call for a different set of lights. This is why the ability to mix and match the different lights easily is important. Knowing the equipment makes setup and takedown much easier to do. It also reduces the stress on DJs and entertainers.
Many of the different lighting systems hook together or hook to a computer or soundboard. A DJ or entertainer needs to know which lights correspond with which plug. It can be confusing for someone just starting out in the DJ or entertainment business. Most of the industrial lighting supply shops as well as online retailers, such as eBay, have lighting packages that DJs know complement each other and are compatible with the computer system that they already use.
If for some reason they are not compatible, accessories are sold to help make them so. When looking for lighting, make sure that each light can be used with the others and with the control system, whether that is a computer or a soundboard.
Buying Disco Lights for DJs and Entertainers on eBay
When purchasing disco lighting, a good place to start a search is eBay, the popular online auction house. eBay sells lights separately as well as in lighting kits. The first thing that you have to do is enter the search terms for the light that you desire into the search bar, and then click search. This brings up a list of all of the relevant items to that search term. If you do not find what you are looking for, then you may have to narrow your search terms.
Once a listing that looks promising is found, click on that listing and read the description. Also, take note of the seller's return and shipping policies. If the description does not tell you all that you need to know, there is a link to ask the seller a question. If you need to ask a question, it is a good idea to do it before bidding or purchasing the item.
The online auction house, eBay, also has a feedback section for every seller on the site. The seller's feedback and star rating tell you exactly how that seller has dealt with buyers in the past.
Conclusion
Purchasing disco lighting should not be difficult for a DJ or entertainment professional. They need to recognise which type of lighting they need, and scout the venue to make sure that they bring what they need to do their job. Making sure that the lights are suited to the music also helps to establish the mood that the DJ or entertainer wants. Many times mood is dictated by the event, but other times it is up to the DJ to create. Even though disco lighting started small, it gradually grew from a single mirror ball to several different types of lights and the ability to control them by computer. Many of the lights today are designed to fit together with little or no changes. This makes setup and takedown easier for the DJ or entertainer. When purchasing a lighting system, mixing and matching the lights is not difficult, particularly when shopping at an online auction, such as eBay. They often have brand name and off-brand lighting systems for purchase.