All discontinued and obsolete colour bathroom items are now available via plumbrice.com or our ebay shop tbs-bathrooms.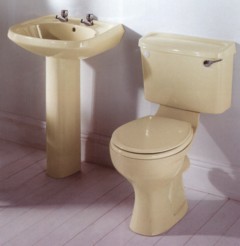 4-Piece pottery sets inc seat, Baths and panels, Shower trays, Bidets, Cloakroom basins, Semi
Recessed Basins,Corner basins, Toilet seats, Steel Baths & Corner Baths.
Most items can be delivered in 3-4 working days.
We are now able to supply any of our entire bathroom range in discontinued colours please call for prices.
All items available separately.
Please call our sales office on 0800 0432419 for a price on any discontinued colour item.
Standard Colours available include:
Avocado
Burgundy
Champagne
Ivory (also Indian Ivory)
Misty Peach
Pampas
Pergamon
Peach
Primrose
Sky Blue
Turquoise
Whisper Grey
Whisper Pink
Whisper Peach
Wild Rose
Wild Sage
All other colours available if required, please give us a call on 01246 550199 for more info.
We also supply colours including: alpine blue, autumn tan, bamboo, bermuda blue, black, cameo pink, chiffon pink, damask, flamingo pink, heather, harvest gold, honeysuckle, kashmir biege, melba, mink, misty peach, oyster, pacific blue, sandalwood, savanah, sepia, silvre cloud, sorbet, light green, sunking, twilight jade, twilight pebble, twilight slate, whisper apricot and whiskey.
Delivery to Ireland or EU Countries will include a delivery cost, please call or email us at tbsl@live.co.uk for price.
If you are unsure of the colour you require please feel free to send us something the same colour (broken piece of the old one, matching paint sample etc).
Total Bathroom Supplies Ltd
477a Chatsworth rd
Chesterfield
Derbyshire
S40 3AD
01246 550199