This guide is to help tourists discover a fantastic region of France, the Pyrenees-Atlantiques, department 64. This area is relatively unknown to the Brits, being a popular tourist area to the Parisiens and Spanish, but now having regular flights from London, Stansted, Dublin, Bristol, Birmingham and Amsterdam it is becoming more known and appreciated for its natural beauty.
WHERE TO STAY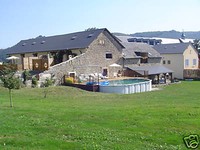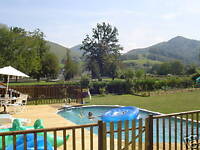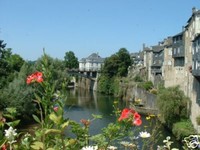 Les Granges, self-contained holiday gites have been recently renovated to a high standard, to provide accommodation for up to 16 people. Individually, there are 3 gites - 1 bed, 2 bed and 3 bed, sleeping 2/4, 4/5 and 6/8 respecitively. Each has its own private terrace or balcony, parking, etc with stunning views of the mountains. There is a pool and large enclosed garden, which is shared with the owners and other gite guests. Les Granges is situated in a small rural village, about 10 minutes drive from Oloron Ste Marie and 45 minutes drive from Pau. It is an ideal base for exploring this beautiful, unspoilt region.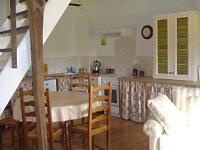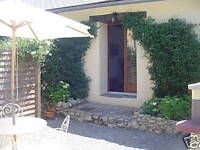 La Petite Grange is ideal for a couple having a private terrace with BBQ overlooking the mountains.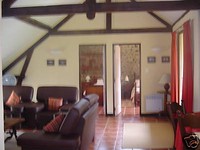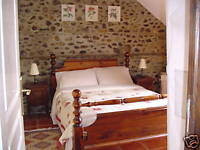 La Grange sleeps 4/5 having a double and twin room and bathroom/WC with shower. Private balcony having stunning views across the Pyrenees.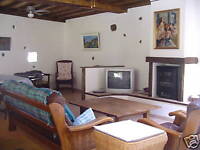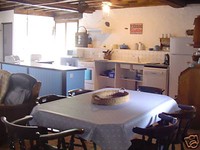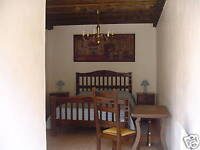 La Belle Grange is our biggest gite having 3 double bedrooms, the main bedroom with en suite shower/WC is on the ground floor and the further 2 bedrooms are on the first floor with bathroom/WC and shower. There is a private terrace with BBQ and stunning views of the countryside.
Rental prices start from £50 per night, per gite.
LOTS TO SEE AND DO
There is lots to see and do in this area, and further afield, as you are about an hour's drive from Pau (having the oldest golf course in mainland Europe), Spain, Lourdes, Biarritz and there are many activities close by including cycling (bike hire only 5 mins from Les Granges), walking (many routed walks around the local countryside and mountains), fishing (close to the Gaves d'Oloron, d'Aspe and d'Ossau for great salmon and trout fishing), skiing (in winter there are the resorts of La Pierre St Martin, only 30 mins from Les Granges and further afield Gourette, Artouste, Astun in the Spanish Pyrenees and Candandchu), rafting (you can try it for a half-day or full day), quad-biking, climbing, parapenting and horse riding. For children, there are all these activities and a water park (ony 20 mins away at Aquabearn, great for all ages), adventure parks, where you can climb through the trees, an animal centre where you can see brown bears or, like the local kids they can just splash around in the rivers. There are always the French markets to visit offering local crafts and fresh produce and lots of restaurants to try out for their 'plat du jour', usually a 3 course meal with wine from only 10€! An area of outstanding natural beauty with the mountains, trees, waterfalls, rivers and gorges, you never tire of the scenery and each season offers a different view.
FOR THE CYCLIST AND WALKER
Cyclists can enjoy many routes of the Tour de France. Here is a great base for pursuing the Cols de La Pierre St Martin, Ichere, Marie Blanque and Tourmalet. For walkers there are many routes along mountain paths to discover, taking in the beauty of the peaks and waterfalls and the birds of prey soaring the skies. Visit the Cirque de Lescun, the Plateau de Benou or the Gorge of Kakouetta.
Mountain Biking is huge in this area, so we have teamed up with a local guide to offer bespoke trips to suit groups of all abilities. A package deal, we will provide you with a gite, suitable for 6 people, with individual beds with all bed linen and towels. We will provide you with breakfast and lunch and have a 3 course meal prepared for you in your gite. We will include bike hire, safety gear and 2 guided tours in the mountains with full mechanical support, all for only £295 per person. Contact us for availability.
SKIING IN THE PYRENEES
Skiing in winter is also an eye-opener, being within an hour's drive of many resorts. La Pierre St Martin is great for all abilities and ages and is situated just 30 minutes drive away from Les Granges. There are stunning views across the Vallee de Baretous and of the Pic du Midi, it offers a variety of runs and cross country skiing at Braca. Further afield is Gourette and Artouste and heading over the border into Spain, first taking an awesome drive through the Vallee d'Aspe, there are the resorts at Astun and Candanchu, offering some great wide slopes with breathtaking views of the mountain range.
HOW TO GET HERE
There are so many different options to get to this area as the budget airlines are opening more and more routes, although some only seasonal. Ryanair offers the greatest choice with London flights from Stansted to Pau, Biarritz, Saragosse, Bordeaux, car hire is essential. Ryanair also fly from Bristol to Pau and Dublin to Biarritz. Bmi go from Birmingham to Biarritz, or Easyjet from Gatwick to Toulouse. Don't forget to do a route planner, just to check distances from airports to accommodation.
WHY COME HERE?
Because it's beautiful! It's not going to suit everyone, those wanting a bit of nightlife would be disappointed, but those who want to explore a stunning region will be completely satisfied.
Thank you for reading our guide, we hope it has been useful and opened your eyes to an area that you would like to discover.