Do you know what you're paying for?
This guide is written by independent vehicle specialists Whiteman Motors to help you understand hidden costs on a main dealer invoice.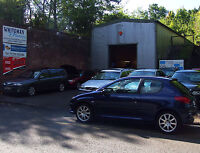 Its that time of year when the car is due a service. You book it in at your main dealer as you think you will get a better service and that radio commercial of low prices sounds too tempting. Truth be told the end price is a bit different to what your expected. Yes you can expect to pay higher labour costs and yes the parts are O/E meaning they will cost more, but what the hell is sundries? When you look at the finished invoice a random figure appears as 'sundries' which we are expected to pay. This could be anything from WD40, brake cleaner to cable ties and service lubricant. We at Whiteman Motors and many local garages don't really think sundries should be added. Surely these sundries should be part of the labour costs and not included separately on the final invoice? Next time you book in and get a free valet, a cup of tea and your vehicle driven to you have a little thought that actually you are paying for it. I hope this helps and if you have any question please contact us, as you can guarantee we won't charge separately for sundries. Best wishes from the team at Whiteman Motors.