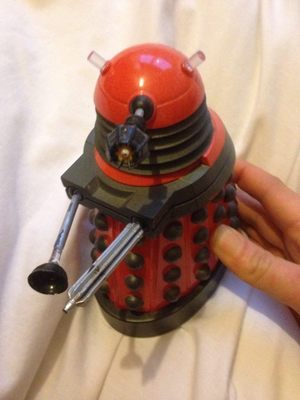 Add a caption
Timeless classic but make sure the parts are all there.
Choose a Favorite Doctor.
My daughter is a mad Doctor Who fan and over the years has collected a lot of different items. To be honest some of it has been complete tat. When choosing what to collect I suggest you go for a particular Time Lord and buy items from that particular series.
When buying on eBay don't forget to ask if things are battery operated and if so do they work? I have purchased a couple of remote control Daleks only to find the stem missing therefore being unusable and a waste of my money. Oh and one upset kid! Also with these items make sure all the stalks are there this is another thing that is missing with the items if you search them out at Boot sales.
Also remember some of these play sets are huge so if you don't have a big display area in the child's bedroom don't buy dust traps like the TARDIS inside!
There are some lovely items to collect but start of with the simple toys that will bring your kids many years of enjoyment and remember keep the boxes so they can transport these items and pass down to their children too!
Enjoy and have fun. (Bzz agent campaign #lolotoo Bzz eBay Guides).