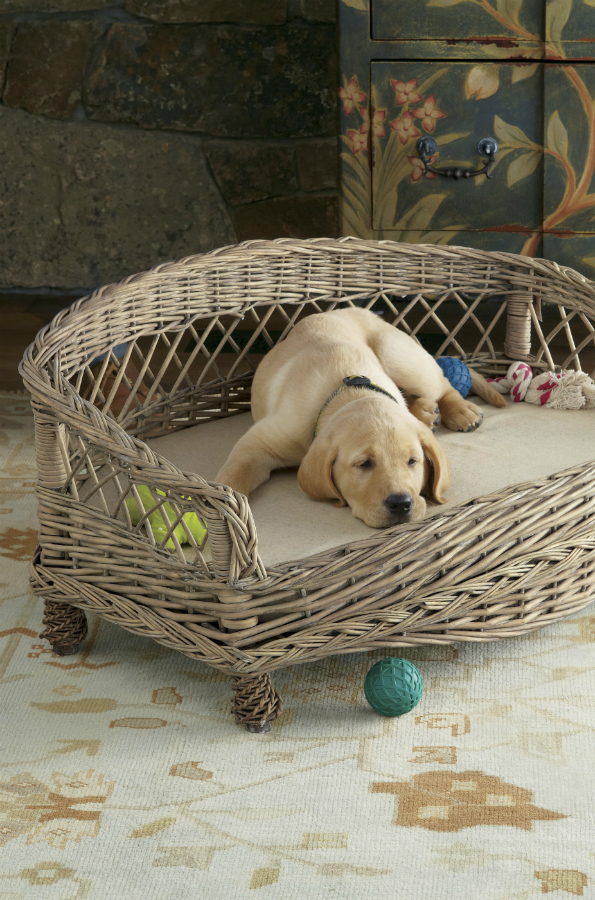 When looking into buying a bed for a dog, there are many factors to consider. The first thing is to plan where the dog bed will be used, the dog's size and age, and other special needs and requirements that the dog may require. eBay has many types of dog beds available to buy easily and quickly online. More than one bed may be required as it depends on the dog's lifestyle, their likes, where they feel comfortable.
Where Will the Dog Bed be Used?
Outside dog beds can end to get dirty quite quickly, so it's important to check whether the cover comes off, whether the filler can be easily machine washed, and whether it can be tumble dried. Outdoor beds may also need to be insulated to provide warmth in cold weather. Some dog beds come with heaters, so when considering a purchase, make sure the heater can be regulated for the best level of heat and can be turned off or removed in mild weather. Check to ensure that the heating element is well insulated to protect a dog. There are also heated pet throws on the marketplace which add extra warmth to a regular dog bed.
Dog owners living in a humid climate may want to make sure the cover and fill are both water and mildew-resistant. If a dog will be mat trained, consider choosing a light-weight but comfortable mat which can be rolled up and taken out and about.
If a dog rides in the car and makes regular journeys, it may be necessary to protect the car seats. In this instance, a bed that is thin but sturdy, has a non-skid bottom, and can be tucked under the seat back. A regular bed can also be put in the back of a large car if placed on a non-skid mat or otherwise anchored. Some manufacturers make dog car seats as well, complete with seat belts which can be useful as a travelling bed. Alternatively, if a dog is the right size, it may be comfortable riding in a regular dog bed placed on the floor of the car.
What Kind of Needs Does the Dog Have?
Every dog is unique, with a special blend of personality, physical needs, and quirks. These all play a part in a dog bed buying decision. For example:
A dog that sheds will need bedding that is easy to vacuum in between washings.
An older dog may need a firmer, thicker bed for the comfortable support of ageing joints and muscles. Medical-grade memory foam is best for arthritis and stiff joints. Some older dogs have trouble wetting the bed. If the dog does, be sure the bedding is easily washed and is stain-resistant.
Does the dog chew? This may mean that a bed made of tough material, such as a braided nylon blend, and a cover without any tempting zippers or buttons to tempt the dog to gnaw, is needed. Some beds have alternative closures, such as Velcro strips, so that the covers can be removed for cleaning. It's also possible to spray the bed with bitter apple spray, a pet chewing deterrent, which discourages some dogs from chewing.
If the dog has large toenails or one that likes to dig, make sure the bedding can stand up to the scratching most dogs do before they lie down in their special spot.
If the dog is taking on mat training, then the best thing to get is a flat, thin mat with a non-skid bottom.
Does the dog suffer from allergies? If so, then the best option is to use hypo-allergenic and the bedding should be clearly labelled as such.
When buying for a puppy, get a bed that will be big enough for them when they grows up.
What Sort of Materials are Available for Bedding?
Dog beds are made from all sorts of materials.
Berber fleece is a particularly popular material. Fleece is a man made, synthetic material and is easily washed and cared for.
Eco-friendly materials are used in many dog beds. "Eco-friendly" can mean bedding materials made from recycled or natural materials that will bio-degrade over time. It can also mean beds that have not been treated with chemicals. Natural and untreated bedding is a good choice for a dog that has health issues.
Size and Shape Matters
Not only does the size of the bed need to match the dog's size, it also needs to fit the space where the bed will be used. While it's great to have a larger bed that allows a dog to sprawl, a bed that stays in the car will need to be more compact. Dog beds come in all shapes and sizes: round, square, rectangular; thick and fluffy, medium-weight, and thin thicknesses; high backs and flat pads, and many more besides.
Measure the space and then size the bed to the space. Remember that for sleeping (as opposed to being mat trained or riding for a while in the car) a dog needs to be able to stretch out and relax. Bolster beds are great for dogs that like to lie against a support (the couch, legs, the wall) or who like to prop their heads up while napping or resting.
Finding the Perfect Dog Bed
An enormous selection of styles, materials, features, and prices can be found on eBay. As there are so many styles of merchandise to choose from, it's useful to make a list of "must have" features so that it's easy to find the right option.
When making the purchase be sure to find and review the seller's return policy. If buying, find out if the bed is guaranteed, how long for, and if there are conditions for its return.
What if the Dog Doesn't Like the Bed?
Sometimes a dog may not take to a bed immediately, but there are some tricks to help convince a dog that his bed is a great place to be.
Let the bed pick up someone's scent that he's comfortable with, this can be done by rubbing it on their bare skin. The idea behind this is that the dog likes them and because of this they'll love the idea that this person's scent is on the bed. It will make the bed feel cosy to the dog. If the bed is replacing one that the dog liked, another option is to take the cover off and put it on the new bed; and put the new bed where the old one used to be.
Put the dog's toys in the bed. If the dog plays fetch, get them to retrieve their toy or ball from the new bed.
A further option is to put the dog gently into the new bed or lead them onto the bed with a treat and then praise them lavishly and give them a treat. This can work at anytime so when they get near the bed, praise him. Entice them onto the bed by patting it and invite them to step on it. When given a treat each time they steps on the bed, and by making them come further forward for the treat each time, they'll soon become accustomed to the bed and begin using it.
Place the bed in the place the dog loves to sleep, and make sure that it is free from foot traffic, noise, drafts, etc. The idea is that the dog will feel cosy and safe in his bed.
Don't scold the dog or punish him for not using the bed; as otherwise they can draw unwelcome associations with the bed rather than associating it with good scents, good feelings, praise, treats, etc.
Something like this should be approached with patience; it can take a week or more for the dog to become accustomed to their new bed.
How to Buy a Dog Bed on eBay
eBay has plenty of choice when it comes to buying dog beds, with options from bolster beds and crate beds to additional accessories. On eBay, sellers are renowned for their competitive pricing and wide range of products, coupled with the flexible payment options available.. Additionally, eBay can offer a much wider range ofdog beds than many of the high street competitors.
When considering a second hand item, be sure to check the listing thoroughly. Owners may sell beds for a range of reasons and it is possible to find a very reasonably priced bed that has been pre-used by searching on eBay. The best place to start looking for dog beds in the Pet Supplies section, in the Dogs category,which you can access from the main page.
Alternatively, type in specific search terms into the search box provided on every page. Using specific searches such as "Fleece Dog Bed" or "Eco Dog bed" or similar terms around what's required will help locate the desired item.
When an item of interest has been found, make sure to thoroughly look through the listing and read all the available information. Do the research, and make sure the item listed matches what's required for the dog. If there are few photos, or low quality photos, contact the seller for a clearer photo to make sure that it's clear what's being offered. It's also possible to check their feedback to make sure they have a good reputation and feedback. Finally, remember that the seller can be contacted with any questions.
When looking to buy an item use the Bid on it, Buy It Now or put in your Best Offer options. The availability of these will depend on whether the seller offers them, and most sellers will offer the option to pay with PayPal, to make sure the purchase goes smoothly. Remember - eBay users are protected by the Buyer Protection Program.
Conclusion
Dog beds come in a range of styles and designs which will be appropriate for different dogs depending on their age, needs, and the intended location of the dog bed.
May types of beds are easily found and bought on eBay, and can be found online by searching for specific terms or by browsing the product category.