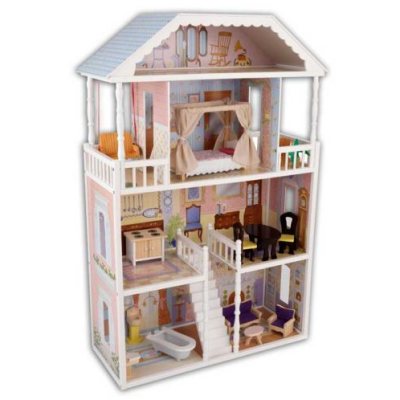 Dolls houses are toys as well as collectable items, and collectors will furnish their houses from top to bottom with the most detailed items and accessories. Finding the perfect doll's house might appear daunting, but with this helpful guide, finding the dream dolls house on eBay will be a breeze.
A Brief History of the Doll House
Miniatures of people and animals have been found in ancient Egyptian tombs dating back nearly 5000 years. The first doll's house came about in the late 16th century in Europe.
Originally, these richly decorated rooms in miniature were toys for adults rather than children. Doll's houses quickly became a status of wealth across Europe during the 17th and 18th century. It was only until the industrial revolution which allowed the mass production of pieces that doll's houses became toys for children.
Types of Dolls Houses
Doll Houses come in a variety of period styles as well as sizes. As a general rule, doll houses come in a 1/12th scale. This means that one inch equals one foot (12 inches), so when choosing accessories or parts for a doll house this needs to be kept in mind so the piece will fit the scale of the doll house. Traditionally dolls houses were made in 1/16th scale but the 1/12th scale is more popular. But there are dolls houses in the 1/24th scale, but this scale is rare and accessories in this scale are more difficult to find.
Doll houses are modelled after popular periods of architecture:
Tudor
Georgian
Victorian
Vintage/antique
Edwardian
These are the most common types of doll houses to find. The next decision when buying a doll house is who it is for. If buying a doll house for a younger child then a doll house will simple pieces of furniture and dolls is ideal, as the child can't be presented with anything that could be a choking hazard.
Dolls Houses can be made from a range of materials, from wood to plastic. Modern dolls houses tend to be made from plywood which is a light and practical material. Some dolls houses are generic sizes but some are especially designed to be used with popular dolls such as Barbie. These types of dolls houses will be taller and deeper so the dolls can fit inside the house.
Dolls house users can be placed into two main categories:
Children: for children, the doll house will be in bright colours and have basic furniture to play with. The older the child, the more pieces can be included.
Doll house hobbyist: these people are most likely to build a doll house and have it as a collectable piece than have any intention of playing with the house.
Finished Doll House vs. Doll House Kit
A finished doll's house comes complete and won't need anything doing to it. On the other hand a doll's house kit comprises of everything the hobbyist needs to create a family heirloom. If the recipient of the doll's house is happy to wait for the hand finished item, then a doll's house kit is a perfect option for the more experienced hobbyist. If the doll's house is for a child then a completed doll's house is the more suitable option.
If buying a doll's house kit, the hobbyist has a wide range of materials to decorate the house with, from roof tiles, to wall paper and even carpet. There are many items to be found on eBay to make the doll's house as personal at the hobbyist's own home.
Other aspects to consider before making a purchasing decision are the condition of the house. There are many new doll's houses to be found on eBay and these can range in prices. The other option is for the buyer to select a used doll's house, but with this they would have to consider the condition of the item such as any dents or broken pieces. If the buyer is confident they can restore a doll's house, then a doll's house in used condition would be a perfect buying option.
Before the buyer decides to purchase a doll's house, another aspect to think about is the space available to place the doll's house. Some doll's houses in a used condition may also have lights wired in, so an energy source nearby might be needed.
How to Buy a Doll House on eBay
To begin looking for a Doll's House, go to the eBay home portal: www.ebay.co.uk and select the Dolls & Bears category. From there select the Dolls' Houses portal. The different sized houses are listed as subcategories such House or Mansion, the buyer can select which one they prefer based on the intended use of the doll house or the size they wish to purchase.
When looking to purchase a doll's house the buyer will want to consider some of the following points:
Condition- Doll's Houses will come in several conditions and this will depend on the buyer's preference. For example they are happy with purchasing a used doll's house; they can add this option to their search by selecting the 'used' option. This similarly can be done for doll's house in a new condition. Some sellers may not have specified the condition of the doll's house they are selling; this will come under 'not specified' category.
Price- the price will vary greatly depending on the brand, condition and age of the doll's house. A buyer can expect to pay more for an old/vintage doll's house, or less for a modern doll's. The buyer can also search for listings between specific values, for example to look for listings between £5-£50.
Postage-some Top Rated Sellers offer free postage/delivery. It is common for doll's house that have been previously assembled that they will be difficult to break down for postage, and therefore maybe listed as collection only. The buyer will need to consider the distance of travel to collect the doll's house.
Once the above aspects have been considered and a listing has been found, the next step is to look at the listing in closer detail. When looking to purchase a doll's house there are some questions to consider with the listing:
If the doll's house is used, what is the condition and are these clearly described in the listing.
Does the seller include lots of pictures of the Doll's House from different angles?
Are any extra accessoriesincluded? New listings may show the doll's house with furniture and dolls in it, but the listing may only be the doll's house. Read the description carefully to avoid confusion.
The buyer should not hesitate to contact the seller about the listing, they will be more than happy to answer any enquiries.
The two main ways of making a purchase on eBay are the 'Auction' and 'Buy it Now' options. The auction option is advantageous as it allows the buyer to put in a price they wish to pay for the item. Doll's Houses with 'Buy it now' options are more likely to be modern, flat pack houses and therefore a perfect item for the busy parent with children.
eBay offers the option to find some of the most popular sellers on eBay. This is advantageous for the buyer as they will not need to worry about looking at feedback as the seller will have a history of satisfied buyers. To narrow down the range of listings to business sellers on eBay, simply select the 'Top Rated eBay Sellers' on the left hand side.
When a buyer has won their perfect Doll's House the next matter is payment. Most payment transactions are carried out through PayPal which is a secure payment system. If the buyer is asked to complete the transaction outside of eBay then they must not do so, unless the seller has specifically stated cash on arrival for the Doll's House.
Doll's House furniture can be found in themed sets such as 'wooden doll house furniture set', these are a popular option for younger children as the pieces have no choking hazards and small pieces that can be broken off.
For the hobbyist wishing to furnish a doll house in a certain period style, they can purchase a range of accessories. Accessories will have a stated scale size so the buyer must be sure of the scale of their doll house before purchasing accessories.
Looking after a Doll's House
A doll's house which is well-made should last for many years and need little repair work, but should this occur the buyer can take some measures to ensure the doll's house stays in perfect condition.
Avoid putting heavy weights on the doll's house or letting children lean on it as they play.
Avoid moving it about too much, or if must be moved, do so carefully with the help of another person
Regular dusting and airing out with allow the inside to stay clean and fresh. To clean smaller pieces of furniture use a damp cloth to wipe off any excess dirt and dust. Avoid using strong chemicals on the wood and paper in the doll's house.
Avoid leaving it in direct sunlight; this will help prevent the insides from fading.
Conclusion
There is a doll's house to suit every budget and need on eBay thanks to the way listings are categorised. Through a little research of period style doll's houses and the materials they are made from, the perfect doll's house is within easy reach of the hobbyist. With easy ways to search for items and accessories, the hobbyist's dream Doll's House can be found on eBay.