Dolls House Exterior Finishing
People often overlook the outside of the dolls house, preferring to concentrate on the interior, but this is a shame as it's the dolls house exterior that's on show most of the time. There are many different ways to finish the outside of a dolls house ranging from a simple painted finish to authentic brick and stone finishes which can make a dolls house look very authentic indeed.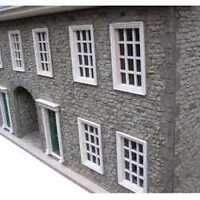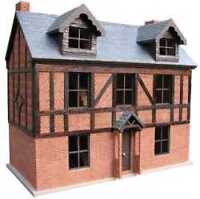 Brick and Stone finishes created using Realistic Brick Compound From Bromley Craft Products
This is a stencil applied finish which is relatively quick and easy to apply.
Choosing the Dolls House Finish
There are several factors to consider when choosing the exterior finish for your dolls house. These include the style and period of the dolls house, the amount of time and money you're prepared to spend on it, and most importantly your own personal taste and preference. If the dolls house is for a young child a painted or wallpapered finish is probably most suitable.
Painted Finishes
The simplest and cheapest way to decorate the outside of your dolls house is a painted finish. Ordinary household emulsion paint is suitable for most areas. Vinyl silk or matt emulsion can be used, but the vinyl silk would be preferable for a childs dolls house as it is more durable and can be wiped clean more easily. If a textured finish is required you can use Sandtex paint or experiment by mixing some sand with emulsion paint. Gloss paint is seldom used on dolls houses, apart from the front door, as it tends to look too shiny on a 1:12 scale dolls house. Window frames are usually painted with vinyl silk emulsion. Most DIY stores sell small sample pots of emulsion paint which are ideal for dolls house decorating and they can usually mix these to any colour desired.
Wall Paper Finishes
A wide variety of wall papers are available for dolls house exteriors with printed brick, stone and roof tile designs. No matter how good the wallpaper is it will always look like wallpaper rather than real brick or stone and therefore we do not recommend using it.
Realistic Brick and Stone effects
For a more authentic brick or stone finish there are a variety of products to choose from which include individual or mesh mounted brick slips, moulded fibreglass brick sheets, stencil applied brick compound and real miniature bricks. It's a good idea to look at all the options first as the quality of the finishes varies greatly as does the cost and the time and skill required to apply them. For example brick slips may look reasonably cheap at first, but if you work out the quantity required to cover an average dolls house the cost is likely to be considerable, as is the time required to apply them all. Another important point when considering brick slips or real slate roof tiles is the dramatically increased weight of the dolls house when finished which can be a problem.
Our Recommendation
Stencil applied Realistic Brick Compound (our own product) is now one of the most popular realistic finishes for dolls houses. It is relatively economical, lightweight, quick and easy to apply and can be used to create a wide variety of brick, stone and roof tile effects. This finish feels as real as it looks.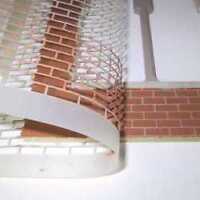 This picture shows Realistic Brick Compound being applied to a dolls house using a stencil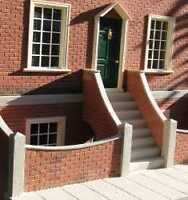 A 1:12 scale dolls house finished with Re3alistic Brick Compound
(All brickwork, paving and steps)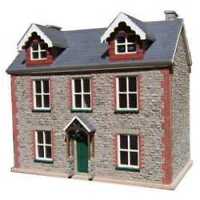 A 1:24 scale dolls house finished with Realistic Brick Compound
(Rough Stone and Brick Quoin effects)
Realistic Brick Compound and Stencils are available to purchase here on Ebay. We also stock a wide range of other realistic finishing products including Roof Tiles, Floorboards, Lead Flashing etc. Please see our ebay shop listings.
If you have any questions please contact us.
If you have found this guide helpful please increase my score by clicking below as this will help others to find it too.
E&OE