Dont Buy PS3 eye create Software! Its free on PSN!
If you are after the PS3 eye create software to use with your PS3 Eye camera - don't buy it! You can get it free from the Playstation store!
They used to give it away with the PS3 Eye as a boxed disk like below: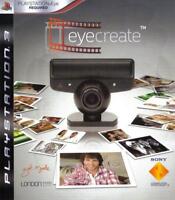 But as its such a basic program they are now giving it away FREE! All you do is go into the Playstation Store and search - it will be downloaded and installed onto your PS3 hard drive ready for you to use within minutes.
After I saw it free on PSN I sold my disc copy as its exactly the same!