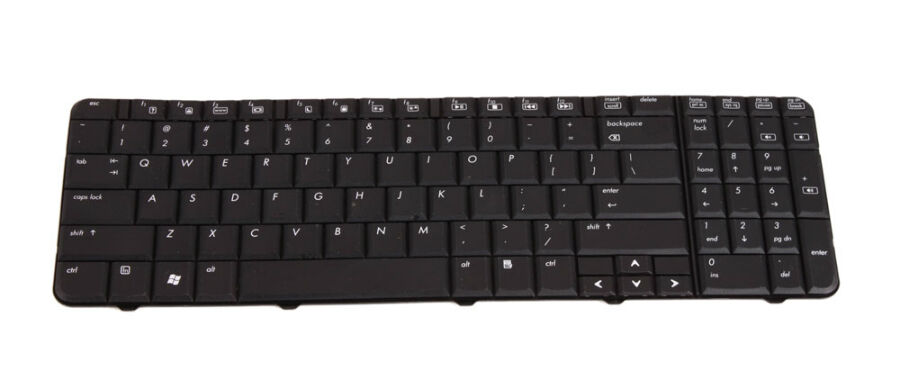 A keyboard is a vital part of any laptop. When a keyboard does not work properly, it can be very frustrating for the user. When this happens, it can be a good idea to simply replace the keyboard as opposed to purchasing an entirely new laptop. Laptop keyboards are relatively inexpensive, especially if one knows where to shop. Replacing a laptop keyboard is also quite simple to achieve.
Consumers have the choice of buying laptop keyboards from various specialty computer stores, computer reseller stores, and various electronics stores. They can also head online to find laptop keyboards for sale. eBay offers a great selection of all types of laptop keyboards for sale at very reasonable prices.
It is important buyers make an informed purchase decision when it comes to purchasing laptop keyboards. To ensure this, it helps if consumers have some understanding of the common do's and don'ts of buying laptop keyboards.
Why Buy a New Laptop Keyboard
Any major branded laptop comes with the ability to replace the keyboard or separate keys. Consumers may choose to replace their laptop keyboard for several reasons. It may be that the laptop owner has spilled coffee on the keyboard and the keys no longer work, or it may be the laptop is an older model and some of the heavily used keys are wearing out or not working at all.
Some people like to replace their laptop keyboard because the keys have begun to stick or the lettering has worn off. Whatever the reason, buying a new laptop keyboard tends to be far less expensive than replacing the entire laptop. If the rest of the laptop is in good working order, choosing to replace the keyboard offers the consumer better value for money.
The Do's of Buying Laptop Keyboards
Choosing to buy a laptop keyboard can be a good option for many consumers, as they are relatively inexpensive and easy to install. When looking to purchase laptop keyboards, there are a few things consumers can do in order to buy the right type of keyboard the first time, ensuring they get good value for their money.
Do Consider Full Keyboards or Replacement Keys
Consumers have the option of choosing to replace just one or two keys, or they can replace the entire keyboard. Replacing separate keys tends to be less expensive than replacing the entire keyboard. Buyers are able to buy replacement laptop keys for any keyboard symbols, including the spacebar, numbers, and other symbols.
For those whose laptop has more than just a few keys that need replacing, a completely new replacement keyboard is recommended. Although these cost more than buying a few separate keys, users can rest assured that their replacement keyboard should last a long time before any problems arise again.
Do Consider the Laptop Keyboard Layout
Laptops come in a range of layouts. These different layouts are designed to make them user-friendly for various industry uses. For example, some keyboards are designed for accounting, mathematical use, or for computer programming.
QWERTY Layout
The most popular layout is a QWERTY layout. A QWERTY laptop keyboard is also referred to as a standard keyboard. The term QWERTY refers to the first six letters on the keyboard, starting at the top left-hand row of letters.
QWERTZ Layout
Another keyboard type is the QWERTZ layout. A QWERTZ laptop keyboard is commonly used in Germany and Central Europe. The significant difference between QWERTY and QWERTZ keyboard layouts is the position of the letters Y and Z.
AZERTY Layout
AZERTY is another laptop layout buyers can choose from for their laptop. The AZERTY keyboard layout is popular in France and Belgium as well as in some African countries. The difference between QWERTY and AZERTY is the positioning of the letters A and Q, Z and W, M sits to the right of L, and numbers require the Shift key to be used, as they are shared with accented characters.
Do Ensure the Laptop Keyboard Is Compatible
It is important that consumers ensure their new laptop keyboard is compatible with the brand and model of their laptop. Buyers have the option of buying a laptop keyboard from the same manufacturers as their laptop, or they may decide to purchase a laptop keyboard made for their brand of laptop. Buying brand-made laptop keyboards is often more expensive than purchasing non-branded models. However, it can give consumers greater peace of mind if they choose to buy from the laptop's manufacturer. Keyboards are available for all the major brands of laptop, including Acer, Apple, Dell, Toshiba, ASUS, and Sony.
The Don'ts of Buying Laptop Keyboards
As with buying any type of computing equipment, quality and performance is important. Therefore, it is important for consumers to be aware of the things they should not do when it comes to buying a laptop keyboard.
Don't Buy Purely on Price
Although it is relatively easy to purchase an inexpensive laptop keyboard, buyers should not buy the least expensive keyboard they can find. If the laptop is used often, as many are, users need to be able to rely on their keyboard lasting the wear and tear it gets put through. Inexpensive, non-branded keyboards are often made of less durable plastic. Keys can stick, fall off, or the keyboard itself may not fit correctly or securely into position.
For those on a tight budget, they should research carefully any keyboard they are looking to purchase, checking it for quality and durability. If the budget can stretch, it is recommended to purchase a branded keyboard, the same as the laptop. Buyers always have the option to purchase good quality used keyboards, or they can also purchase manufacturer refurbished keyboards or even seller refurbished keyboards.
Don't Buy Based on Look
The look of a laptop keyboard should not be a significant deciding factor when choosing which keyboard to purchase. For comfort and ease of use, a keyboard needs to be properly laid out, with keys not spaced too close together or positioned awkwardly. Consumers should always be happy with the layout of the keys, and it pays to stick with the layout that is most familiar. Changing keyboard layouts can be quite frustrating, with users having to learn all over again where each key is positioned.
Don't Rule Out Separate Laptop Keyboards
Some consumers choose to purchase separate laptop keyboards. People who use their laptop predominantly in the one position on the desk, as one does with a desktop computer, may prefer to purchase a separate keyboard that they use with their laptop.
One of the main reasons for this is that laptop keyboards are usually smaller, with keys spaced closer together. Many laptop keyboards do not feature the number keypad like most desktop keyboards do, and consumers who use number keys a lot often like to use the number keypad instead of the numbers running along the top row above the letter symbols. Consumers have the option of purchasing keyboards they can plug into their laptop or keyboards that work wirelessly with their laptop. Keyboards are also available specifically designed for different uses. Buyers can purchase gaming keyboards, ergonomic keyboards, or even flexible keyboards.
Wired Laptop Keyboards
A wired keyboard is one that plugs into the laptop. The majority of wired keyboards today use a USB connection. They are useful for those who plan to use their laptop in just the one position on the desk, without wanting to move it around too much. The benefit of a wired laptop keyboard is that it does not require batteries to power it.
Wireless Laptop Keyboards
Wireless laptop keyboards are often more expensive to buy but do offer greater flexibility for transporting the laptop and keyboard around. They are more user-friendly as they do not have any wire attached to the laptop. The user is free to position the keyboard anywhere he or she wants in relation to the laptop without being restricted by a connecting cord. The disadvantage of a wireless keyboard is that it requires batteries to power it, so consumers need to keep replacing or recharging the batteries every so often.
How to Buy Laptop Keyboards on eBay
If you want to purchase a laptop keyboard on eBay, the easiest way to search is by typing "laptop keyboards" into the search bar found on eBay's home page. In this way you can get an overall idea of what types of keyboards are available and their price ranges. If you would prefer to search for a specific type of laptop keyboard, such as a standard keyboard for an Acer laptop or a used Compaq laptop keyboard, you can just type in what you want into the search bar. You may also like to use eBay's category options to find what you are looking for. Choose to search by keyboard type, layout, brand, condition, or price range.
While looking for a suitable laptop keyboard to purchase on eBay, you can utilise eBay's helpful discussion boards. Discussion boards are a great way to get advice, talk about your favourite items to buy on eBay, and learn useful tips to getting the most out of your eBay experience. Several different discussion boards are available in the Community resources section, including the helpful Buying on eBay Forum.
Conclusion
People choose to purchase a laptop keyboard for many reasons. When looking to purchase a new laptop keyboard, it pays to know some of the do's and don'ts of buying them. It pays to consider purchasing full laptop keyboards or just a few replacement keys, keyboard layout, and compatibility of the keyboard. It is also recommended buyers do not purchase a keyboard purely based on price, or on how the keyboard looks. Apart from replacement keyboards or separate keys, buyers can also purchase additional laptop keyboards that can either plug into their laptop or be used wirelessly.
Buyers can take advantage of eBay's great selection of laptop keyboards for sale from reputable sellers located all over the United Kingdom. Many consumers enjoy buying on eBay because of the simple ways to search for any type of laptop keyboard, the secure online payment options available, and the useful buying tools that can help users to utilise eBay to its fullest potential.