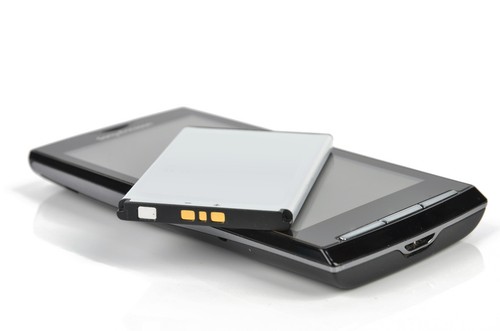 Mobile phone batteries are needed to run phones. Over their lifecycle, they can be recharged hundreds of times with little wear and tear, and they will generally last the entire lifespan of the phone itself. Of course, this will depend on the battery, and different phones will work with different types of batteries.
About Mobile Phone Batteries
A mobile phone's battery is its power source, and this power source is put under more and more strain as the years go by. Mobile phones are no longer being used to just makes calls and send texts: they are used as powerful mini computers and multi-purpose devices. They are HD cameras, portable gaming consoles, and mobile Internet browsing devices, and all of these functions drain power much faster than traditional calling and texting did in the past. Moreover, the growth of slim, sleek, and stylish phones have meant that batteries now need to be equally sleek and slim themselves.
Types of Mobile Phone Batteries
To satisfy these needs, Lithium-Polymer and Lithium-Ion batteries have been made. These power modern phones, and have all but replaced the older Nickel Cadmium and Nickel Metal Hydride varieties. These continue to be used to power cheaper, older, and less advanced phone models, but lithium technology is certainly the choice option for modern phones.
The Do's of Buying Mobile Phone Batteries
When buying a battery for any mobile phone, there are several things to do, and several things to avoid doing. Of great importance are the following dos.
Checking Compatibility
Always ensure that the battery is fully compatible with the right phone. As mentioned, different batteries work with different phones, so buying the wrong one will be a huge waste of money. This process is made easier when buying OEM batteries - that is, batteries that are made by the original manufacturer. These will be guaranteed to work with the intended mobile, and they will, therefore, carry no risk. When buying non-OEM batteries, however, or those that are made by third party manufacturers, it is important to make sure that the battery will actually operate with the right phone.
Buy Based on Quality
It is always important to buy based on quality, not price. Batteries are important, and potentially expensive, items, especially when used with expensive phones. Low quality and poorly made batteries will often burn out, leak, and swell, and this can lead to problem for the phone. High quality batteries will always fit, always work, and provide higher charge capacities. When shopping for batteries, it is important to read reviews of the various brands and makes available to ensure that the level of quality is high. Customer opinion is a hugely powerful resource, so take advantage of it.
Buy Official Replacements
If money isn't a problem, always buy official, OEM replacements. As mentioned, these will guarantee a high quality product and will often come with warranties as well. If there is an issue, the battery will be replaced or refunded. With OEM batteries, the likelihood of there being a problem will be extremely low. OEM batteries can be bought direct from the manufacturer.
The Don'ts of Buying Mobile Phone Batteries
To ensure the correct batteries are purchased, it is also important to take this summary of points to avoid when buying batteries into account.
Don't Buy on Price
Buying replacement batteries based on price is a huge mistake. Oftentimes the cheapest batteries will be the worst, and the will inevitably be the ones that are most prone to issues like leaking, burning out, and so on. Price can be considered only once a variety of quality options have been located. When comparing products, a buyer should first make sure that they meet their quality needs. Only when there are a range of comparable products should price come into the mix.
Don't Assume Batteries are Official
Non-OEM manufacturers will commonly design their products, and the packaging of these products, to look like the originals. When searching for official products, don't assume that any battery comes from the original manufacturer without doing some research first. While on initial glance they may look official, on close inspection they won't. One clear indicator of 'mimicked' and generic products will be price. These invariably go for lower prices, and so it is always important to question why a product that seems official is being offered at lower prices that the actual manufacturer sells it at.
Don't Neglect Customer Opinion
As suggested previously, customer opinion is a powerful resource in helping anyone find quality products and services in any industry or market. It would be foolish to neglect this resource. When buying batteries, customer opinion can be found in the form of reviews and ratings. It is prudent to always check customer feedback on any battery, no matter how good it appears. Many online retailers will have ratings systems for their products, often with customer reviews and even professional reviews available as well. However, not all will do this, so it is sensible to look elsewhere for information about any battery before buying, if this happens to be the case.
The Bottom Line
It all comes down to quality at the end of the day. Having said that, this will depend upon the value of the phone as well. Someone with an older model of phone may not worry or care so much about it. Someone with a brand new iPhone, however, is likely to be more protective. Remember that poor quality batteries will not only fail to work themselves on occasion, but may end up damaging the phone itself. When this happens it can actually void the warranty on that phone, meaning it will not be replaced. This can lead to great expense, and a great deal of frustration too. However, it can all be easily avoided by simply buying batteries that work well and have a good reputation amongst their customers.
Buying Mobile Phone Batteries on eBay
The process of buying mobile phone batteries is simple when using eBay. Rather than searching through a variety of online retailers, eBay allows the customer to quickly and efficiently review the different sellers and their products. Moreover, the issue of feedback, both for retailers and products, is made extremely simple via the eBay rating system that marks sellers out of 100. Any seller who provides poor quality products will be marked in the negative by their customers, and will therefore develop a poor overall rating. As such, it is very easy to quickly discover which sellers offer the best products with a few clicks of the mouse. When searching for batteries, consider shopping by category. To do this, go to the main eBay homepage, and then click on Electronics & Technology.. Once this page loads up, find the category markedMobile & Home Phones, and then the one called Mobile Phone Accessories on the following page. Now a list of categories will appear under accessories, so find the Batteries link and click on it. In order to narrow the search further, use the tabs down the left. It is also possible to search via condition, price, format, location, and so on. As an alternative, use the search function to get really specific. Just type some relevant keywords into the search box and only listings with those keywords will appear.
Conclusion
Choosing the right battery for any phone is essential, and the worst thing to do is simply to buy one based on price. This will at best offer much poorer charge capacities than desired and, at worst, cause serious damage to the phone that may void its warranty. However, this is easily avoided by either buying an OEM battery or, at least, doing enough research to find comparable generic batteries made by other manufacturers.