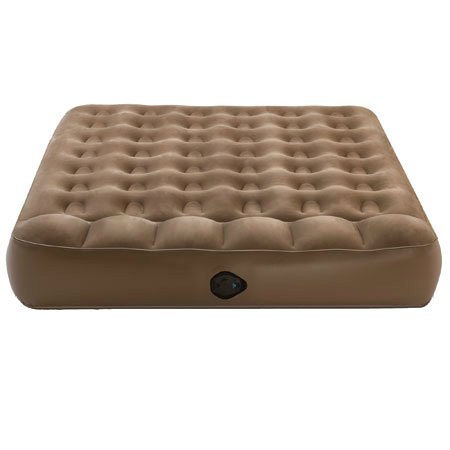 Extra beds take up valuable floor space, especially when they are used infrequently. Instead of turning a room into a permanent guest bedroom, consider making it a home office or a playroom with space for an air mattress. When family drops in unexpectedly, it will be a matter of minutes to break out the air mattress, inflate it, and turn it into a bed that even the in-laws can find nothing to complain about. A double air mattress can comfortably sleep two and will collapse down to a manageable size that can be kept stored in a closet until needed.
Air mattresses can also be taken along on camping trips and inflated to provide a more comfortable sleeping surface than a sleeping bag on the hard ground. Air mattresses come in different thicknesses and materials that are better suited to different uses. There are also automatic pump air mattresses and ones that require an external pump. Buyers should decide which style of air mattress best fits their needs. No air mattress is complete without bedding and other accessories. These items can easily be found at local shops as well as online. A wide selection of double air mattresses can also be found at unbeatable prices on eBay.
History of the Air Mattress
The air mattress, or a rubber mattress as it used to be called, was first introduced in 1989. They were used as a way to provide extra space on Atlantic ships where space was limited. Even the early models of air mattresses could be collapsed down and safely stored to free up more space. The basic shape and appearance of air mattresses has undergone very few changes since its invention. Many of the changes are in technicalities, such as the size and depth of the air mattress and the materials they are constructed from. The portability and ease of storage has kept it a popular choice as a guest bed, a travel bed, and sometimes even as the primary beds for the household.
Choosing the Right Double Air Mattress
When selecting an air mattress, it is important to make the distinction that a water bed cannot be repurposed as an air mattress. When a water bed is filled with air, it becomes convex, like a well-stuffed pillow. Air mattresses are flocked or ribbed to maintain the integrity of the shape. The structure used to maintain the shape of the air mattress may differ from manufacturer to manufacturer, but all serve the same purpose. Buyers should decide which style of support they find the most comfortable. Other customizable options include the thickness of the mattress, the material, and the style of pump used for inflation.
Thickness of Air Mattress
Thicker air mattresses will last longer before needing to be refilled with air. There are air mattresses called raised mattresses that are thick enough to be at the height of a regular mattress, box springs, and bed frame combination. These mattresses will be easier to get into and out of during use than their slimmer counterparts. However, they may also tip over more easily if there is shifting during the night. Other concerns with thicker air mattresses may be trying to find a sheet set that will fit around its girth. Thicker air mattresses may also not compress as tightly and may require a larger storage space than thinner air mattresses.
Material of Air Mattres
Modern air mattresses are typically made out of vinyl, though some air mattresses will have a microsuede finish to provide additional comfort and integrity. When purchasing an air mattress, it is important to buy an air mattress made out of a high-grade, durable vinyl. Look for an air mattress with at least a 20 gauge thickness. This will help prevent tiny leaks from developing during the life of the air mattress. When shopping for an air mattress, pay attention to customer reviews, as they will be quick to point out brands and styles of air mattresses that are prone to slow leaks.
Style of Pump
The main benefit of an air mattress is that it can be completely deflated after each use and then easily refilled. This allows air mattresses to be placed in rooms that need to be used throughout the day without the worry of maneuvering around bedding. However, constantly deflating and refilling an air mattress can be wearying depending on the style of pump used. For air mattresses that will be primarily used around the home when company visits, an air mattress with a built-in, automatic pump may be ideal. These air mattresses plug into an outlet and quickly inflate. Once they are filled, they can be unplugged and moved into the desired position. Because automatic air pumps require electricity, they are not a useful choice for air mattresses that will be taken on camping trips. Instead, an air mattress that requires an external pump will better suit a camper's purposes.
Accessories Needed for a Double Air Mattress
Buying a double air mattress is not the last step before company descends or a camping trip. In addition to purchasing the air mattress, there are accessories that will be needed to use the air mattress. If there are not sufficient sheet sets and blankets that will fit the double mattress, extra ones will need to be purchased. For non-automatic pump air mattresses, some form of air pump will be required. Unless planning on storing it in the cardboard box, some form of storage container will be needed. It is also a good idea to purchase a patch kit so that any punctures or leaks that develop can be immediately treated.
Bedding
For bedding, make sure whatever sheet sets that are selected have long enough sides to reach all the way to the ground and that there are blankets to go on top of the bed. A foam cushion or a blanket under the sheets will help prevent body heat from escaping.
Pump
There are both automatic and manual pumps that can be used to fill an air mattress. Automatic pumps will require a source of power, whether that is battery operated or a wall outlet. Manual pumps will take longer to fill the air mattress
Storage Bag/Box
Some air mattresses will come with carrying and storage bags. If it does not, look for something that will comfortably fit the air mattress, also consider finding one large enough to house the pump and any other accessories so that everything is stored together.
Patch Kit
Make sure that the style of patch kit purchased is compatible with the purchased air mattress. Follow all directions on the patch kit when making repairs.
Store the accessories with or near the double air mattress so that setup can be performed swiftly. Having a permanent home for the air bed as well as the accessories will make cleaning up and storing the air mattress an easy process. Make sure that the patch kit is kept stocked as patches are used.
Concerns with Air Mattresses
One of the primary concerns with air mattresses is their durability. With continual usage, air mattresses have a tendency to develop leaks. When the vinyl material is low quality or a thin gauge, leaks will happen more quickly and they may be harder to spot. However, there are a few tips to keep an air mattress in optimal condition for many years. When camping, make sure the air mattress is not placed on any sharp rocks or sticks. At home, keep animals away from air mattresses until the bed has been made up. The sheets and blankets will protect the mattress from claws.
Air mattresses do not retain body heat the way traditional mattresses will. During winter months, consider placing a sleeping bag, a foam cushion, or a blanket under the sheets to provide a trap for body heat. Consequently, for sleepers who frequently find themselves overwarm during the night, an air mattress might be the perfect for them as it would constantly circulate heat away from the body.
How to Care for and Store an Air Mattress
After every use, carefully fold the air mattress and place it in a secure storage bin. Improperly storing an air mattress can wear at the material and make it more likely to develop leaks. Keep sharp objects away from it both during use and storage. Vinyl air mattresses can be easily wiped down with a damp rag soaked in rubbing alcohol. Rinse them off with water and wait until it is completely dry before storing it to prevent mildew from growing.
How to Buy an Air Mattress on eBay
A search for "double air mattress" from the main search bar on eBay's homepage pulls up a number of different brands of air mattresses. Alternate search terminology includes "double airbed" and "double air mattress with pump". Searches can be modified from any eBay page, either by entering a new search option in the search bar or filtering through the different categories and options to better find the style of air mattress you are looking to purchase.
Many sellers of air mattresses will also carry the different accessories. So you might look for a seller who also sells air pumps and patch kits so that the items are more likely to arrive together. When deciding on a seller, look at their returns policy in case the air mattress does not fit the space or needs to be exchanged for another style that will hopefully provide a better night's sleep. It is also a good idea to look at where the items are shipping from, as local items will have a shorter shipping time and will arrive more quickly.
Conclusion
A double air mattress can easily be inflated to provide a comfortable sleeping place for two people. They are beneficial on camping trips, because they are easily compressed and can be stowed away while still managing to provide a more comfortable sleeping place than the ground. Having a double air mattress on hand means that unexpected guests will not be forced to sleep on a couch or the floor, as an air mattress can be quickly inflated, covered with bedding, and used for a night before being stored away. Any room can be turned into a bedroom for a night. Taller air mattresses will look and feel more like a traditional bed, however will take up more space during storage. A high quality, heavy-grade vinyl air mattress will last many years if properly cared for. Any holes that develop can be easily patched with a patch kit. Both air mattresses and patch kits are available for purchase at competitive prices through eBay.