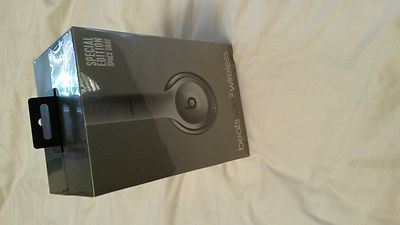 Undersold or wired up?
(Please note the prices on this article have come down since publication - see added message below)

The wireless titled beats headphones by Dr Dre are actually worth more than what people are buying or selling for on eBay. The Solo 2 beats headphones are a different set of wired headphones with a jack and only worth just over half the price of the wireless pair. Yet the wireless are still going for the merger price of about £150 on eBay brand new from people who received them free with their new mac this year (one of apples offers for students and teachers). I just saw a brand new wireless pair go for £111 at auction on eBay. Example: Beats Solo2 On-Ear Headphones selling for £118. At apple they sell for £169.95. On the other hand; Beats by Dr. Dre Solo2 Wireless Headband Wireless Headphones selling for £147. At apple they sell for £249.95. These are evidently 2 different types of headphones! They're worth a lot more than what people are selling them for.

Why am I bothering with this? Well, I got a free pair too and was thinking of selling them so I could get a cheaper refurbished pair to help cut the cost of my laptop. I was amazed to see them going for less than half the value brand new. I gave my pair away as a present. They are so good though I am tempted to get a pair myself as well at a reduced price.
Price fall
Prices have changed dramatically since I wrote the first article. Ever since the release of Dr Dre Solo 3 headphones the wireless solo2 headphones have come down to £169 and can't be found on apples website any longer. Now selling at auction on eBay starting at £79. Incredible! I'm going to go for a pair myself for sure now.