As a seller of thousands of Dr Martens a year, we have some common questions come up from customers, and we thought we would write a guide which will help with deciding on the fit of the product.
Most shoemakers use a last - made traditionally of iron or wood, but now often of plastic, on which to form the shoe. Some lasts are straight, while curved lasts come in pairs: one for left shoes, the other for right shoes. The fit of the shoe is determined by the 'Last' shape.
Fundamentally, in today's production offering, Dr Martens uses 3 main last shapes on their core styles, namely the "59" last, the "84" last and the "Comfort" last (available specifically in both Men's/Unisex and Women's). Each of these Lasts differ in their shape and fit, resulting in aesthetic differences, mainly to the toe area of the boot or shoe. The "59" Last is acknowledged as an amalgam of many lasts within the Dr Martens business, which originated in the mid 80's and has since become known as the classic Last shape for Dr Martens core Original styles (such as the 1460 boot and the 1461 shoe).
The "84" last is a more refined version of the "59" last, which has a sleek, tapered shape to the toe.
The "Comfort" last, in both versions of Men's and Women's, was introduced in 2006, which allows for a more generous fit to that of the 59 or 84 lasts, and provides the wearer that additional comfort. Aesthetically, the shape of the last and hence the shoe or boot, will be slightly wider and fuller when compared to either the 59 or 84 last.
The Comfort last allows a full footbed (insole) to be inserted into the shoe/boot, whereas the 59 and 84 last shapes allow for a rear heel footbed (insole) only.
The images below show a toe down comparison of these different lasts on the core products (1460 8 eye boot and the 1461 3 eye shoe). These images show the subtle difference in shape and width of each last.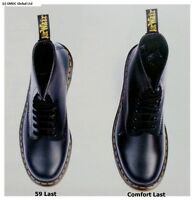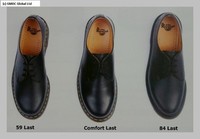 59 last Comfort 59 last Comfort 84 last
Last Last
On the listings that I do, I state the follow Dr Martens official denotation:
DMS = either 59 or 84 last (Unisex)
DMC = Men's Comfort (Unisex)
DML = Women's Comfort (Women Only)
I hope this guide helps you decide on the fit of your Dr Martens, and clear up any concerns you may have regarding the fit of the product.