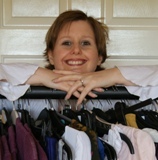 Bodyshape Information by Suzie © 2010
As a picture should save a hundred words I have created the below guide to explain how you can define your body shape to be able to purchase clothes which will look stunning on you and your shape
Not sure of your shape? Then click here for Part 1
Dress-Well © 2010
The dreaded Wardrobe Lurker (cue haunted house music - da, der, duoom), everyone has them, the skirt they bought from a boutique which you were "going to slim into"; the jumper purchased with long sleeves and a snuggly finish, which your friend (with the sore feet) thinks "you look beautiful in" and or that comfort wear, perfect for lounging around the house, which now you wear to get the kids from school, and as soon as you can…
Get rid of your wardrobe lurkers, if decent – sell them, if not, recycle it, just get it out of your wardrobe (even in the attic in a bin bag if you aren't ready to let it leave the house). They are depressing, de-motivating, and do absolutely nothing for your shape, or you – so why keep them?
Wardrobe lurkers to banish from your life
Curvy Cello Shape
As a cello, I understand that whatever you wear, you feel big, but if you wear the right clothing the cello has a beautiful shape, which looks fabulous. So avoid
- Skinny Jeans and whispy tops – they aren't for you – they add weight
- Tight hold it all in jeans– after 30 mins they will be painful & look awful
- Polo Necks – they will increase your chest, & do nothing for your figure
- Pencil Skirts, you have too many curves to squeeze into them
- Mini Skirts – shudders, avoid, just don't go there, please
- Ankle boots, as these make your thighs grow
- No satin or leather trousers – think inner tube on bicycle…
Hot Hour-Glass Shape
Since the beginning of time the hourglass figure defined sexy, though you probably find it challenging with assets like yours! So do not wear…
- Flappy pockets on the side on trousers – they widen your figure
- Bat wing tops – fine for Halloween as they are scary but no other time
- Frills, flounces, bows, chiffon unless you are doing barmaid fancy dress
- Flat shoes and trainers which lace up, they do nothing for your legs
- Big belts, as they will make your waist even shorter
- Ankle strappy sandals – they add pounds to your ankles and legs
- Cowboy boots – again think busty burlesque barmaid…
Voluptuous Vase Shape
Your sexy shapely figure is a dream to dress, don't be tempted to wear shapeless clothes in an effort to vanish, you will go rectangular! So do not wear…
- Ruffles anywhere on/near to your neckline else your boobs will look huge
- Anything shapeless/smock like- unless you are pregnant, then you are forgiven
- Sleeveless round neck tops – no support for your boobs, & they look huge
- Polo neck jumpers in any form, no cowl necks either
- Princess Collars and funnel necks – no geisha girl high neck styles
- Wedge Heels, your shapely ankles will not forgive you & they add weight
- Dresses or skirts with tiered frills– unless you want to look like a wedding cake
Classic Column Shape
Try and work with your proportions, you have a fabulous shape, and with the right clothing you will feel and look amazing, Be wary, as some clothes will make you look taller, and shapeless which you aren't, so please avoid at all costs
- Three quarter length Shapeless Beltless Jackets
- Straight Dresses (unless they have a belt)
- Low Dropped Waists (as you need no help in looking taller)
- Cropped tops
- Dull as dishwater colours – anything soft, subtle and pale
- Anything that you put on that gives you a straight up and down finish
Sexy Skittle Shape
With your long slim top half that widens to the bottom, you probably obsessed with your thighs, and hide them at every opportunity – worry not but avoid :
- No thin strappy tops or big baggy jumpers, they both look wrong on you
- Avoid jackets which finish on your bottom, they will widen your load
- Cropped trousers are to be avoided unless paddling at the beach
- Any trousers with stretch in them, they will cling to your thighs
- Calf length straight skirts or pencil skirts, they again cling
- Ankle straps on shoes, they will add to your weight on the calves
- Pockets to the sides in trousers – they will pull and stretch
- No clothing which is shapeless, and straight up and down, it wont work
Catwalk Cornet Shape
Your boyish sporty frame is a catwalk fashion designers dream; please don't hide it with sports wear as you can be girly. However do not wear…
- Shapeless Floaty Dresses, they emphasis your wide shoulders and no curves
- Platform shoes – as these will make your legs look large and heavy
- Scooped Necklines as they emphasise the width of your shoulders
- Shoulder Pads – trust me you don't need them, your shoulders have shape
- Cut away shoulders – these will make you look even taller and thinner
- Three Quarter sleeves – unless you like the malnourished look…
Gorgeous Goblet Shape
You have a set of legs which need to be seen – think of them like the stem to your tulip oh Gorgeous Goblet. So do not cover them up – and avoid
- Wide legged training bottoms, sports trousers, or flares
- Shift Dresses – they will remove whatever waist you have left
- Chunky knit sweaters – those boobs need no help in getting noticed
- Slashed high necklines – they will add weight to your boobs
- Thin wispy belts, and clumpy heels, will do nothing for you & are so wrong
- Double breasted jackets unless you are a bus conductor…
Brilliant Bell(e) Shape
Do you think your bum is wider than your shoulders and you can never find a dress to fit? Remember you have a small top half, and widen, so do not wear :
- Baggy old clothes, which hide your shape, you don't need to
- Floaty flimsy chiffon layered biased cut summer dresses are not you
- Balloon sleeves – they will not restore the balance between your top & bottom
- Skimpy strappy vest tops without a cardigan, shrug, or bolero
- Small delicate jewellery – does nothing for your frame, you need bold
- Wide v necklines and bare necks which will widen your bottom
- Trousers with pockets need recycling straight away
- Layers, fuss, or frills on your bottom half unless you are being a meringue….
Pretty Pear Shape
Swimwear is probably your worst nightmare, your flat tummy vanishes and your weight is all southwards, some of the things for you to avoid include :
- No dresses which end above the knee, if I can see your knees, it's a no for you
- Avoid naked legs and mini skirts, (think elephant in a tutu…)
- Ankle straps on shoes will shorted your legs, and widen your bum
- Biased cut skirts, which cling to your bum, hips and thighs
- Skinny jeans – they don't suit your leg shape
- Stilettos, - they will look so unbalanced with your frame
- Jodhpurs – Unless you own a horse, then you are forgiven
Beautiful Brick Shape
Brick – not glam for a body shape, so think more like a bright lego block, which describes your straight up and down body shape beautifully. Do not wear :
- Short skirts which end mid thigh – your widest point
- Straight line tops which end mid thigh
- T-shirts, sports tops, or tracksuit bottoms
- Boxy square cut jackets, you need curves girly
- Trousers in a stiff fabric which cling
- Heels which are wedged or heavy – your legs will look short and stumpy
- Box pleats – think of a house brick in a ra ra skirt….
Lovely Lollipop Shape
Try and work with your biggest two assets your chest, & those long lovely legs, you have a luscious lovely lollipop shape to show off, However do not wear…
- Polo Necks - (unless you want to be a giraffe)
- Chunky sweaters – they add weight and size to you bust, which doesn't need it
- High Waist Trousers – Your waist will merge into your bust
- Shift dresses that hang from you bust, and then fall to the floor without shape
- Jackets - they will make you look very top heavy
- Chunky Jewellery – trust me your bust needs no help to be noticed…
Ample Apple Shape
Apples are juicy, round and lethal when put in cider J - You have a fabulous bust, and with some careful dressing you can show it, & hide tums. Don't wear:
- Tight T Shirts, they cling to you boobs, tum and bum
- Big puffer jackets and overalls unless a safety requirement at work
- Tapered leg (thin at ankle, wide at top) jeans, or trousers
- Fleeces, will add to your middle, and do nothing for you shape
- Hair flat on your head (pony tails are not your friend)
- Pleats anywhere near your waist – they add volume you don't need,
- Men's jeans-they might fit, but they are baggy at the crotch & the wrong shape
- No make up – unless you have a tan from Daytona beach….
Have you cleared out those wardrobe lurkers?
Then see part 3 for your wardrobe must-haves
If you found this helpful please click on yes and vote for my guide, if not let me know
Suz x