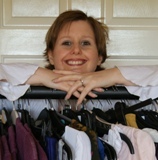 Bodyshape Information by Suzie © 2010
You now know your body shape -
If not click here
You know what not to wear - and what are your
wardrobe lurkers
Now the fun bit - what you can wear for your body shape
Dress-Well © 2010
Know your body shape?
Have you accepted your bodyshape?
Have you out your wardrobe lurkers?
Then have a look below, for each body shape, I have put together some essentials for your wardrobe!
Curvy Cello Shape - Serena Williams is a cello
Dressing head to toe in black will not work for you, that look suits Morticia Adams and very few others. Instead have the following essentials :
- Trousers, shop for thigh fit, then get the waist taken in, get wide leg finishes
- Absolutely no side pockets on your trousers, flappy pockets or combat trousers
- Long Jackets– not double breasted, with long lapels & single buttons
- Skirts, which have hidden support to waist, bums and tums, and then kick out
- Dresses – Halter necks are key, with wide sash belts, bright print can work well
- Blouses, nipped in to the waist – one set of lapels though showing
- Tops need a wide v neckline as you have broad shoulders & will reduce bust
- Scooped neck jumpers which drape over your tum, skin tight is a no no
- Shoes, show off your assets & your ankles and lower legs, wedges work well as stilettos will not support your thighs (think classless barmaid …) its not you
Hot Hour-Glass Shape - as modelled by Nigella Lawson
Working with your hourglass figure rather than against it is your challenge, again don't cover it up, your boobs are your friend, and your curves are very sexy:
- Skirts – Pencil skirts are just perfect for you, and very sexy
- Coats - a deep v-neck nipped in waist with a long finish, and side pockets
- Three quarter jacket sleeves suit you. Showing your wrists, softens your frame
- Blouses – Open neck and look for side zips, or buttons that don't pull
- Shoes – Avoid pointy stilettos, curved peephole heeled shoes are best
- Trousers are & will be a nightmare on your thighs, use longer tops to remedy
- Tops- fitted waist, wide to neck, with puffed shoulders suit you, no polo necks
- Cardigans need a deep v-neck, they should be the main thing in your wardrobe
- Dresses need to lift your boobs and lengthen your waist & cover shoulders
- Avoid large prints & chunky Jewellery (think Mrs Doubtfire at fancy dress…..)
Voluptuous Vase Shape - Like Kate Winslett
Working with your stretched hourglass figure rather than against it is your challenge, don't cover it up, your boobs are your friend, and your curves sexy:
- Shoes – No wedges else your ankles will look bloated curvy peep holes are best
- Jewellery – make sure its round circular designs, to reflect your figure
- Dresses fitted to the waist and shaped to your boobs are a must have
- Skirts – the pencil skirt is your new best friend, it looks fab on you
- Trousers – slanted (not straight) pockets and large belt loops are the best
- Tops – you can wear cropped sleeves, & do reveal your bust, it's a great asset
- Square necklines are great for an ample chest as they balance your figure out
- Blouses, puffed shoulders and sleeves are a great distraction from your boobs
- Jackets need curved lapels and buttons under your chest
- Avoid stripes & black at all cost, unless trick & treating; they are scary on you
Classic Column Shape - Think Nicole Kidman
Working with your tall elegant figure you need in your wardrobe
- Jumpers - Classic Round neck (full long sleeve) perfect for work
- Jackets - Angular points on hems, collars & belts, to give you a waist
- Dresses - with Attitude, bright, bold patterns, fluted sleeves in chiffon
- Coats – ¾ length finish with a belt, which will show off your beautiful legs
- Skirts – A lines are your new best friend, as they give shape to your waist
- Cropped Trousers –Show off your legs with flat shoes, to minimize your height
- Blouses – Box pleated, gathered & a pink tuck waist to give you shape
- Trousers – Kick flare bottoms are good, but ensure the length is right!
- Jewellery – Bold, Bright and Chunky works well, wear it with pride
- Shoes –Wide Firm Heel/Wedge – no stilettos (Imagine a gazelle in stilettos…)
Sexy Skittle Shape - Hello Halle Berry
Repeat after me, I love my thighs, they are not as big as I imagine them to be, (louder please) this is something to tell yourself daily, & believe it, Wear:
- Shoes, you need high high chunky heels, to balance your short frame,
- Low legged swimsuits will work well for you, and consider halter necks
- Wide leg trousers. Get the thigh fit, and alter the waist, they need to float
- Fitted knitwear (tank tops over blouses) will give you added shape,
- Coats need broad lapels, a fitted waist and a flared skirt, else they wont work
- Tops need shoulders and upper arm cover but can be fitted on your waist
- Vertical panel skirts in stiff fabrics (and lined) will help with your thighs
- Ruffles, bows and box pleats are great on your boobs,
- Puff shoulder sleeves will finish your blouse off beautifully
- I love my thighs, they are not as big as I imagine them to be – daily mantra
Catwalk Cornet Shape - Cameron Diaz's figure
Working with your designers dream figure you need :
- Coat – With wide lapels & a fitted waist - you can wear horizontal stripes
- Shoes – delicate heel to balance your legs, no platforms or wedges
- Flared skirt which will fill out your hips, & hide your tummy, overlaid fabrics
- Jeans – Skinny cut, straight fit, with narrow ankles,
- Asymmetrical patterns and diagonal lines to create curves on your hips, waist
- Blouses, open revere neck, with wide lapels and long sleeves
- Angular dress – with a dramatic shape and cut – not many can wear this well
- Cardigans need an asymmetrical wrap and pointy finish,
- No vertical stripes – horizontal are fab, but vertical only work on zebras…..
Gorgeous Goblet Shape your shape is the same as Catherine Zeta Jones -
Your legs are beautiful, long and thin, use them, and with clever dressing you can minimize the impact of your top heavy finish on such narrow pins –You need:
- High heels with a solid heel (not thin stiletto) for balance
- Dresses – empire lines love you – fitted under the bust & floating over tums
- Jeans – wear skinny leg jeans, but hide your tum with longer tops,
- Skirts – you need heavy fabrics which fits to the hips, then flares to the hem
- Trousers – if they are baggy please bin (I mean recycle them) Now!
- Swimsuits look good on you, M&S magic Swimwear is your best friend
- Jackets – create an hourglass with a pin tuck waist
- Resist all temptations-no clothing which hangs straight from shoulder to hem
- Top – empire lines (notice a theme) with a v-neck – small patterns are ok
Brilliant Bell(e) Shape - think Hilary Clinton
Invites to summer weddings will fill you with dread, avoid floaty dresses and instead wear a 2 piece suit, remember ruffles on a meringue not a Bell(e) :
- Shoes, go for cone heels (triangles) they will balance out your bottom half
- Jewellery – necklaces need to be bold, bright and seen, elaborate is good
- Skirts need kick pleats if knee length, and must have stiff upper fabric
- The sleeveless gillet, needs to end at your hips though, fury is fabulous too
- A line shirt dresses and wide chunky belts will give you an hourglass look
- Thigh length floaty kaftans suit you, sequins on neckline draw the eye up
- Blouses with a narrow open v neck are ok, they broaden your shoulders
- Coats- the funnel neck coat will suit you perfectly A line cut, kicking out
- Knitwear, you can wear Cowl Neck Jumpers well,
- Trousers need to be side fastening fitted loose to the thighs, not tapered
- At all times bulk up your top and narrow your bottom,
Pretty Pear Shape - Sandra Bullock has the same shape
Pears will get puffy ankles, and they hurt. Lie on the floor, bum next to wall and legs pointing upwards for 15 mins will sort it , You need in your wardrobe :
- Wide round slashed neckline tops to bring shoulders in balance with your hips
- Strapless dresses with a full skirt (see my shop discretion tape)
- Boots (knee length) for winter and chunky straight platform heels for summer
- Trousers – again fit to the thigh, then take the waist in, skim over not cling
- Coats with belts and wear them fastened, they will give you shape
- Skirts, extra long a-line ankle reaching are best for you
- Tops with puffed sleeves are fabulous for you –they draw the eye upwards
- Blouses, can be ruffled, pleated and ruche detail, chiffon works well for you
- Shrugs and short sleeve cardigans are a must have, to balance your profile
Beautiful Brick Shape -Kim Cattrall
Don't feel hard done to being a brick, it's a good thing as the changes in your wardrobe will have the most radical effect on your shape than anyone else :
- Skirts, need to be panel biased cut, with shape, you need movement
- Tops – empire line cut with a draping lose finish work best for you
- Coats need to be empire line and fit to your bust skimming over bums/tums
- Jackets with sash ties rather than buttons will look much better on you
- Round neckline tops, with trim to the neck will add shape
- Wrap dresses with high waists will draw the eye in
- Curvy heel and round toe shoes are for you, do not go for clumpy heels
- Trousers need to be wide legged and float over your thighs
- Stripes girly, you can wear them to their full effect in any thickness & colour
- Sweetheart necklines are for you - still feel hard done too?
Lovely Lollipop Shape Angelina Jolie
Working with your tall long legs, & better than average chest you need:
- Shoes – slim & straight heeled & must give you support, sling backs work well,
- Dress – must gather to the waist, or have something that emphasizes it
- Skirts – Fluted are the ones for you, as they give hips, & emphasis legs
- Tops – pick Wide Sweetheart Necklines to minimize your ample bust
- Bikinis – try Halter necks with Boy shorts for your perfect summer swimwear
- Trousers – Bell bottoms, kick flare will balance out your boobs
- Jackets – Double breasted under the boob buttons will lengthen your waist
- Top – Tank tops will work well over work blouses and give you a waist
- Coats – again button under boobs not on waist, else it will be tent like …
Ample Apple Shape - Think Jo Brand
I never thought I would ever encourage anyone to have Jo Brand as a role model, but Apples, she has clever dressing to perfection (most of the time). Though avoid black at all costs as it widens not narrows – You need:
- Fitted tops to your boobs, empire line cut, and skimming out over your tum
- Shoes – wedges are ideal to balance your frame, low and high
- Avoid denim jeans, wear cotton or linen wide legged trousers in jean colours
- Side fastening trousers will flatter your figure – front zip will emphasize it
- Skirts, need to be side fastening and flat fronted, with a kicky out finish
- Coats – duster coats are for you, single neck button open front are perfect
- Tailoured jackets, with a tie waist, will draw your apple curves inwards
- Blouses need a side zip, not gaping buttons – your boobs need support
- Wide turn back cuffs on blouses and tops suit you as does ruche detail to the front
- Very few dresses will suit your shape, 2 piece outfits though will,
Happy shopping ladies, hope that makes it a little easier to find what suits you and your body shape – any questions please ask Suzie
If you find this guide helpful please click yes below
Thanks Suz x