This fantastic product follows on from the success of the version one which was a great hit amongst all drivers.
So no longer do you have to risk breaking any tachograph rules or regulations, you can keep on the right side of the law by using this great product which keeps an eye on all your driving activities.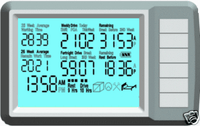 If you have never used a Driver Hour Guard product before please click on the link below for all the latest information and details of this product including the differences between the TS01 and TS02 and all the functions of the unit.
Driver Hour Guard Timer - Full details and instructions - Please click Here