Ducati Monster is a naked motorbike, which means that the entire frame and engine are exposed. This contributes to both structural efficiency and a stylish look. These Italian motorcycles seem intricate but are simple enough for customisation and shoppers find that the line includes bikes for everyone.
Ducati Monster Specifications

Almost all Ducati Monster motorcycles use V-twin engines, which are two cylinder internal combustion engines where the cylinders create a V-shape. The two cylinders are at an angle of 90 degrees, with the rear cylinder approximately vertical and the front cylinder approximately horizontal. Therefore, these engines also go by the name L-engine. This angle functions as a counterweight, providing primary balance to the engine. The frames of Ducati Monsters are tubular steel trellis frames that offer good shock-absorption. Moreover, Ducati Monster bikes have desmodromic valves that use a leverage system and cam instead of a conventional spring. Overall, Ducati Monster bikes are lightweight and well balanced.
Ducati Monster Models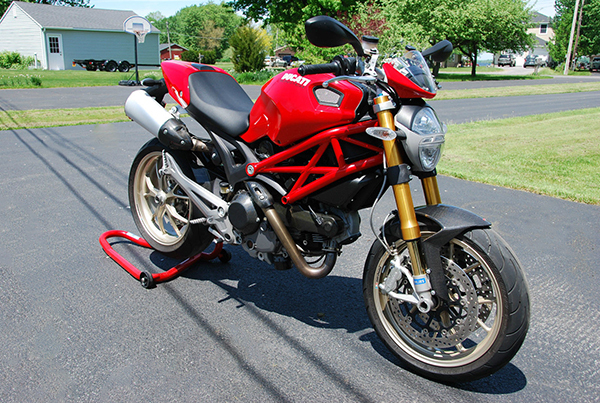 The first Ducati Monster came out in 1993. Since then the main concept has largely remained the same, although there are some alterations.
Model Name

Year

Features

M900

1993

Original Ducati Monster

M400

1994

Only for Italian, Japanese, and some other Asian markets

Used M600 running gear and 400SS engine

M600

1995

Lighter than M900, popular amongst women

M750

1996

M600 engine with the original 750 bore

M900 S

1998

Sport version of M900, with performance upgrades

Fuel-injected M900

2000

A more reliable version of M900, easier to start on cold mornings

S4

2001

Several performance upgrades

Water-cooled 4-valve superbike engine

Showa forks

Brembo 4-piston callipers

S4 Fogarty

2002

A high-specification version of S4

M800 - M1000

2003

Upgrades of M750 and M900

S4R

2004

Similar to S4, but with a larger cylinder

Desmodromic powerplant

Increased horsepower

S2R 800

2005

Smaller version of S4

S2R 1000

2006

More horsepower

M695

2007

Lightweight commuter bike

M696

2008

Redesigned look, hybrid trellis frame, lower seat

M1100

2009

Larger version of M696

M796

2010

New version of M800

M1100 EVO

2011

M1100 upgrade

M795

2012/2013

For Asian markets
Each generation of Ducati Monster bikes gets better in many ways, in terms of either performance or weight. The company constantly upgrades the bikes.
Understanding Model Variations
Ducati has its own language for denoting bikes in its range. The S in the model name refers to better suspension, while dark models are generally less expensive due to a lower-end suspension, matte-black fuel tank, and black plastic fenders. Cromo bikes have a chrome fuel tank, which is very bright in the sunshine, while metallic models come with a metallic paint job. City models for city commuting are often blue and have higher handlebars and lower gearing. Fogarty refers to Carl Fogarty and comes with top specifications and a special paint scheme.