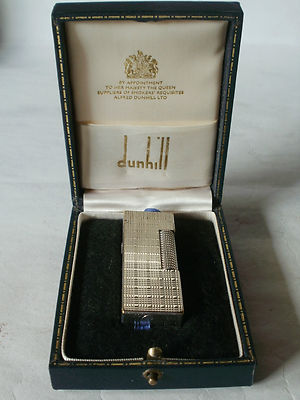 Introduction
Widely acknowledged as the best, most reliable butane gas cigarette lighter available, the Dunhill Rollagas lighter has been around since the mid 1950s. Many famous people have owned them, from Pablo Picasso's mistress Dora Maar to Harpo Marx to Noel Coward to Elvis Presley to Ronnie Kray. Even James Bond himself lit many a Bond girl's cigarette with a Dunhill.

However, despite their undoubted quality, longevity and reliability, there are pitfalls and hazards to be aware of when considering the purchase of a used Dunhill Rollagas lighter. Being a butane gas lighter, it is filled with gas which under pressure is liquefied. This is held in a tank within the lighter and only released when the lighter lid is lifted for striking. It remains within the lighter by means of small rubber seals at various points within the lighter body. Over time, these seals solidify and even perish, causing the lighter to leak gas - suddenly that bargain Dunhill you're bidding on doesn't seem to be so cheap when you receive it and realise it needs a service - something that Dunhill themselves will willingly perform for you .... at a cost. Your so-called bargain lighter has suddenly tripled in price at the drop of a hat.

This is easily preventable. A Dunhill lighter is a top notch quality piece of Swiss-Made engineering and as such, doesn't come cheaply, but once bought they are a joy to own. A tactile, heavy, quality item that will give many years of service as long as it is looked after and serviced. Many of those available on eBay are of this quality, but for the novice or inexperienced buyer, here's a few points to consider .....

1. Does it work ? - Look at the photos on the item listing, can you see a flame ? If not, then the likelihood is it doesn't work. When you are selling a lighter that could potentially fetch in excess of £100+, a small £2 outlay on a canister of gas from a local newsagent or tobacconist is negligable - Beware of the listing that says "don't have any gas to check it with" or "couldn't fill it with gas" or "it should work" or "can't see a reason why it shouldn't work once filled with gas " ..... Sounding familiar ? ... Keep reading ....

2. Does it hold gas ? - Despite showing a flame, there could still be a problem waiting for you. On average, I'm a 25-30 cigarettes a day smoker and my Dunhills last approximately 7-10 days before needing to be refilled with gas. Not 3 days, not 1 day, not a couple of hours - a full 7-10 days. It's easy to put gas into a lighter, light it, take a couple of quick photos, list it for sale and then forget it. It won't be checked again until you receive it as the winning bidder and find that it actually lasted 3 hours with gas in and requires a service.

3. Has the lighter you're looking at been recently serviced ? Does the seller have proof of this ? - Again, when Dunhill perform a lighter service, the lighter is returned to the owner with a receipt for the cost of the service. Most sellers will keep this as vital proof for a prospective buyer. Also there are some sellers who perform a service themselves, again, no problem here as most are experienced in this operation and the parts are readily available.

4. Does everything else work ? - A common problem with any lighter is the flint. When stored for a long period of time, Dunhill recommend that the flint be removed from the lighter prior to storing. There's good reason for this as flints will, over time, disintegrate and swell in their housing - have you ever seen a Dunhill with a broken or missing flint housing ? .... That's what's happened there, it's been stored for a while, not used, and the flint has swollen and cracked the housing. Often in these cases you'll find that the swollen flint has welded itself to the housing and requires drilling out. Great if your Dunhill was listed as "all ok, should work fine".

5. Ask questions ... Most sellers are more than happy to assist any prospective buyer with information about the items they are selling. You need to know if the lighter you're about to spend a good chunk of money on will last you as it was originally intended to or if it'll need twice the price you paid spending on it to make it work like it should. You need to know whether it's been serviced and tested. Does it strike first time ? When Dunhill designed the Rollagas, the brief was a lighter that lit first time, every strike and could be easily operated with one hand. Even the oldest ones should perform like that today.

6. Finally a note of advice for the buyers - In the world of Dunhill Lighters, you get what you pay for. A broken, non-working example can fetch as much as £50, so a fully serviced, working example isn't going be less, is it ? Look at what you are getting for your money and think hard about that apparent bargain before you bid or hit Buy-It-Now. Far better to spend a few pounds more and get something that's right, than try to do it on the cheap and end up buying someone else's nightmare.

Just to finish, a visit to Dunhill's own UK website is also worthwhile and remember, once serviced, any of the Rollagas range should provide many years of reliable service before needing attention again.