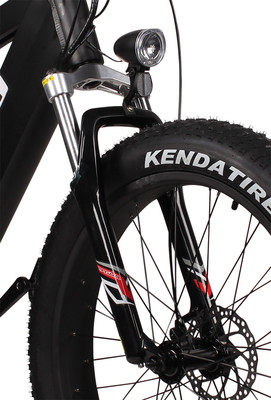 E-Bikes Facts
E-Bikes Facts - POD (Power on demand): On an e-bike with POD control, the speed of the motor is controlled only by a throttle. The rider may still pedal, but it is not required to pedal to activate the motor.



JUST TYPE THIS INTO eBay to find our e-bikes
SEARCH = Q7 1000w

E-Bikes Facts - PAS (Pedal assist): In contrast to POD mode, pedaling activates the motor. Some systems sense torque and increase aid as you increase effort. With PAS, there is no need to use the throttle, though some systems allow the throttle to work as an override when you want full power.

E-Bikes Facts - Newton meter (defined in e-bike terms): A unit of torque in the SI Units (International System of Units, a complete metric system of units of measurement for scientists) system. Used to measure and rate the rotating force produced by an e-bike motor. The most important factor in determining how well a motor will climb hills and accelerate.

E-Bikes Facts - Sealed Lead Acid (SLA): SLA batteries are mostly found in older e-bikes. SLA is still considered a large step up from ordinary lead-acid batteries in automotive and powersports equipment, since the "sealed" battery allows freedom to mount the battery without regard to orientation or worry about acid leaking out. Heavy (we are talking lead, after all) and lacking the energy density of newer chemistries, they were widely used in early e-bikes because of their low cost, easy system integration and ability to deliver the high current e-bike motors require.

E-Bikes Facts - Lithium-ion: The most commonly used e-bike battery type. Common lithium-ion chemistries used in e-bikes include lithium iron phosphate (LiFePO4) and lithium manganese oxide (LMO). Lithium-ion batteries are prized for their high-energy density, low self-discharge, and lack of "memory."

E-Bikes Facts - Watt: A unit of power in the SI system. Used to measure and rate the capacity of an e-bike motor to do work. A motor that is consuming more watts generally feels more powerful and usually reaches higher speeds.

E-Bikes Facts - Watt hour (Wh): A measurement of electric charge. Watt hours rate a battery's energy content. A watt hour is the amount of work required to produce one watt of power for one hour. When used to rate the capacity of e-bike batteries, watt hours are generally derived from the battery's nominal voltage multiplied by its capacity in amp hours. This measurement is useful because it allows easy comparison of the energy content of several batteries, irrespective of voltage: a 36-volt, 10Ah battery would be labeled 360Wh; a 48-volt, 7.5Ah battery would also be labeled 360Wh.

JUST TYPE THIS INTO eBay to find our e-bikes
SEARCH = Q7 1000w


E-Bikes Facts - Volt: A unit of electric potential in the SI system. Production e-bikes generally run at 36 or 48 volts. In general, higher voltage means better electrical efficiency.

E-Bikes Facts - -Amp: An amp, or ampere, is a unit of current in the SI system. Amps measure the amount of charge flowing in an electrical system.

Amp hour (Ah): A measurement of electric charge. An amp hour is the charge transported by a constant current of one ampere for one hour. A battery with a capacity of 10 amp hours can theoretically supply a constant current of one amp for 10 hours, two amps for five hours, and so on.

E-Bikes Facts - Throttle: A handlebar control similar to that found on motorcycles or scooters, it is used to vary the speed of the motor. E-bike throttles are usually twist-grip, thumb-lever or push-button types.

E-Bikes Facts - Brushless: Conventional electric motors have a rotating armature wrapped with wound copper-wire coils. The armature and windings generally rotate inside a case with fixed magnets. These motors use brushes to conduct current between stationary wires and the rotating shaft. A brushless motor is constructed in reverse. The copper-wire coils are fixed and the magnets rotate. The brushless motor does not need brushes (no wear and no dust from the worn brushes to contaminate the engine), but it does require controller circuitry to operate.

E-Bikes Facts - Hub motor: A motor that is incorporated into the hub of a wheel and drives it directly. The hub motor's axle is held fixed in either the front or rear dropouts, and its shell is spun by internal electronics. Most modern electric bikes use hub motors.

E-Bikes Facts - Direct-drive hub motor: The simplest type of hub motor. The magnets are fixed on the inside surface of the hub, and the windings are permanently attached to the axle. When power is applied, the hub is made to rotate around the axle. The advantages of a direct-drive hub motor include quiet (often silent) operation, few moving parts, and the ability to regenerate power into the battery (because the magnets are always moving over the coils). However, because the motor is always mechanically engaged, there is "cogging," a drag that can be felt while coasting. Direct-drive motors must also be larger (and usually heavier) than comparable geared hub motors to achieve the same performance.

JUST TYPE THIS INTO eBay to find our e-bikes
SEARCH = Q7 1000w


E-Bikes Facts - Regenerative braking: Sometimes referred to as "regen,"direct-drive hub motors are capable of recovering a small amount of energy back into the battery while the bike is coasting. When active, the motor's drag on the wheel increases markedly.

E-Bikes Facts - Geared hub motor: These are hub motors built with internal planetary reduction gearing. In contrast to direct-drive motors, they can be smaller, more efficient and produce more torque. Geared hub motors are mechanically disengaged from the bicycle wheel when not powered, so they avoid the coasting drag experienced with direct-drive motors. These advantages come at a price; geared hub motors are more expensive, can be noisy (for electric, but still very quiet compared to any internal combustion system) and have moving parts that can wear out.

E-Bikes Facts - Front drive: A front-drive bike has the hub motor in the front wheel. This is rarely used on production e-bikes, but is quite common for conversion kits.

E-Bikes Facts - Rear drive: A rear-drive bike has the hub motor in the rear wheel. The vast majority of production e-bikes with hub motors are rear drive.

E-Bikes Facts - Center drive: A center-drive bike mounts the motor or drive unit in the center part of the bike's frame. The most modern center-drive units supply power to the bicycle chain, so the motor gains the advantage of any available gear options from the rear cassette and derailleur.

E-Bikes Facts - Controller: The "brain" of an e-bike. Typically, the controller acts as a smart connection between the other components on the bike: motor, battery, throttle (if applicable) and the pedal assist.


E-Bikes Facts - Pedelec: A chiefly European term meaning an e-bike with only a pedal-assist function and a speed limit of 25 km/h.

JUST TYPE THIS INTO eBay to find our e-bikes
SEARCH = Q7 1000w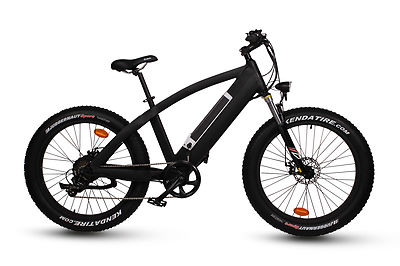 The Q7 e-bike spec

Frame:
Aluminium Alloy
Motor:
1000W Brushless Hub Motor
Battery:
48V 11.6 Ah Samsung li-ion battery
Charger:
AC 100-240V,2A Smart Charger
Charging Time:
4-6 hours
Front Fork:
Al Alloy Suspension,TGS
Wheel:
26 *4.0, KENDA
Brake:
Front Disc Brake, Rear Disc Brake
Derailleur:
Outer 7-speed, SHIMANO
PAS:
1:1 Intelligent Pedal Assistant System LCD
Loading:
150 kg
Range:
1:1 PAS mode, 60 km
Speed:
0-45 km/h
Ctn Size:
156*35*80 cm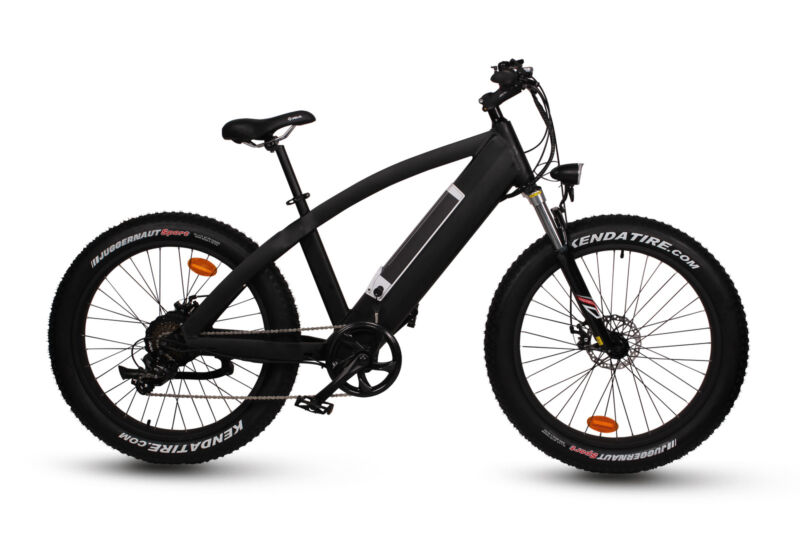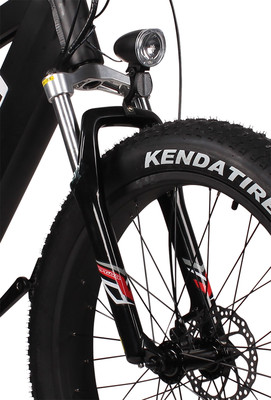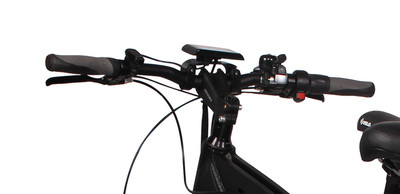 e-bike for daily commute - JUST TYPE THIS INTO eBay to find our e-bikes SEARCH = Q7 1000w
I love using my e-bike bike for my daily commute and here's why
Aside from the fact I'd look like a hairy bag of particularly lumpy spuds I just don't have the time.

The hour or so it'll take getting into skin-tight lycra, cycling to work, showering and changing simply isn't an option for me.

No, I tend to cycle the six miles to work in whatever I'll be wearing for the rest of the day. As editor this sometimes means I need to look reasonably professional – shirt, shoes, trousers.

This has led me to cycle less and less over the past two years. Instead I get a train and bus in. The added bonus is that I get to catch up on emails, or the latest tech gossip, although it does cost me £5 a day.

Aside from getting hot and sweaty (or wet) the other major drawback of a bike is grease. I've scarred a fair few threads from oily chains. Not a good look when you're about to head into an important meeting.

That's why when I was offered a chain-less electric bike to review I thought "this could be the answer to my problems".

E bikes haven't really taken off in the UK like they have on continental Europe. In Germany and Holland you see them being ridden by all sorts, even though the roads tend to be flatter than in the UK. Perhaps we're unsure of a load of tech in a transportation device that hasn't evolved much, in essence, over the past hundred-odd years.

The Electric Bike, arrived and I was a little disappointed. It looks like a normal bike, albeit with a carbon fibre belt as opposed to a chain. There's not a hint of the Starship Enterprise about it.

I was expecting a bunch of buttons, dials, twisty handgrips and screens, but the Sobowo eBike is actually dead simple.

There's a chunky, removable battery with a single, big button and four LEDs. It looks a little like a water bottle attached to the frame. Most people I've shown the Sobowo eBike to don't even realise it's electric.

Over the past few weeks I've come to appreciate its simplicity and non-threatening nature, though. You really don't have to be a tech-head to use this e bike.

The battery button has three simple settings, off, on and electric-assist. The latter gives you just a little support when the going gets really tough – for example when climbing a steep hill.

JUST TYPE THIS INTO eBay to find our e-bikes
SEARCH = Q7 1000w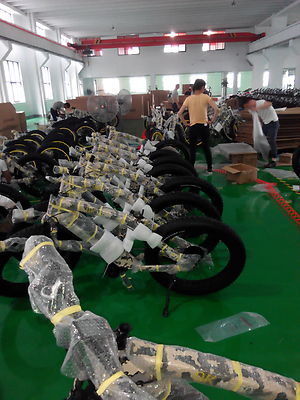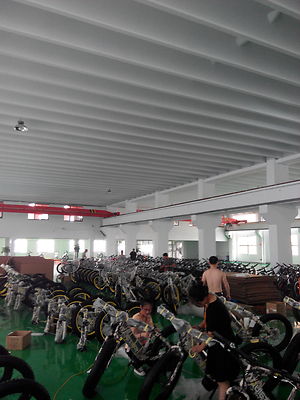 E-bike | Ebikes | electric bikes | UK Suppliers find us on ebay


JUST TYPE THIS INTO eBay to find our e-bikes
SEARCH = Q7 1000w

Electric bicycles to be a $11 billion industry by 2020
Electric bicycles to be a $11 billion industry by 2020

Starting to be real money Electric bikes are an extremely environmentally-friendly way to get around, so we're all for more of them! Regular bikes are even cleaner, but the advantages of e-bikes shouldn't be underestimated; a lot of e-bike riders might not bike nearly as much if they didn't have an electric motor to assist them, because they have a long commute, or they live in a hilly area, or because of some medical condition, or even sheer laziness. The reasons don't matter as much as getting more people biking!


Electric bike survey belowIt's good to see that the electric bike industry is growing. It's not going gangbusters or anything, but it is forecast to grow from $8.4 billion in 2013 to $10.8 billion in 2020. China is the main player in that market, with 9 of every 10 e-bicycles being sold going there.


However, the e-bicycle market is in a state of change. Western Europe's market is growing increasingly crowded with competitors and now accounts for more than 20% of global e-bicycle revenue annually. Meanwhile, North American players are finding new, younger e-bicycle consumers among those who ride for transportation rather than entertainment. Even the massive 28 million unit Chinese market is in a state of change as the government considers changes to the rules governing the market and consumers begin to recognize the value of lithium ion over lead-acid batteries. Navigant Research forecasts that annual sales of e-bicycles will grow from 31 million in 2013 to nearly 38 million in 2020.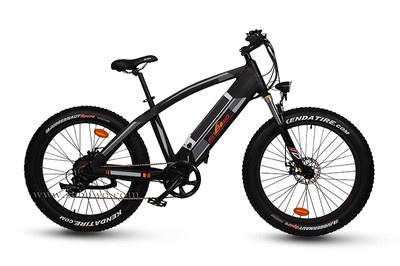 Can electric bicycles help solve big environmental problems?
Electric bicycles are already popular in Europe and in China, which has more e-bikes than cars on its roads. Now, manufacturers are marketing e-bikes in the U.S., promoting them as a "green" alternative to driving.


The industry — which is making a push to expand its sales in the U.S. — says e-bicycles will reduce greenhouse gas emissions, air pollution, and traffic congestion, while enabling Americans, two-third of whom are obese or overweight, to become more active. In Europe and China, most electric bicycles are sold to commuters, although it's not clear whether they are replacing conventional bikes, mopeds, or cars.


Yet if electric bikes end up replacing human-powered bikes, or if they are used only for exercise or fun, they could well add to pollution because they consume electricity, much of which comes from burning fossil fuels. Only if electric bicycles replace cars will their environmental benefits materialize — and that's the goal, say bike makers.


Before explaining why, let's make clear what we mean by an electric bicycle. These are not mopeds or motorcycles, but bicycles that can be pedaled with or without an assist from an electric motor. They're sometimes called "pedelecs" or "pedal assist" bicycles because in Europe the boost from the motor only kicks in if you pedal; in the U.S., most e-bicycles also come equipped with a throttle to turn on the motor without any pedaling required. Riding an electric bike feels a bit like riding a conventional bike with a brisk wind at your back; the motor helps you go faster and climb hills, but it's not the primary source of propulsion. Unlike mopeds or electric scooters, e-bicycles are typically permitted on bike paths, and they can't travel faster than 20 mph.


Unlike drivers of electric cars who are plagued by "range anxiety," electric bike owners don't have to worry about running out of electricity: They can travel under their own power, assuming they've got the energy to pedal a bike that weighs 45 to 60 pounds. Batteries typically deliver 20 to 40 miles of assisted riding, and they can be recharged in a few hours in ordinary power outlets.


While some companies are emphasizing the practical benefits of electric bikes — they're good for your health, good for the planet and a low-cost way to get from here to there – others focus on fun and style. They are targeting urban buyers in their 20s and 30s, without a lot of money to spend, for whom the allure of owning a car has diminished.