hi guys & girls...boilies, boilies, boilies, what better bait is there for catching lovely big carp, already rolled with a good base mix, lots of nice flavourings added also enhancers to induce that whacker to pick up your bait!!!
whether its nash, mainline, richworth, nutrabaits, hutchison, solar etc one thing for sure is that you will be using a excellent boilie...all these companys produce brilliant base mixes so if you decide to roll your own your already half way there...
years ago i decided to experiment with home made boilies going through all the easy options: soya flour, egg albumen, maize meal etc..then i would add various flavours (normally purchased from the supermarket) i even made boilies from lincoln biscuits!!!...i was racking my brains one day trying to work out what to use next when i came up with the idea of liquidising a packet of cheese & onion crisps...lol...
after lots of experimenting it finally dawned on me that i could just buy a good base mix then play with flavourings, i starting buying richworth mixes (still do today) the whole concept got easier...
1kg 50/50 original... 8mm tutti frutti flavouring , 2 teaspoons of orange dye, 1 teaspoon of corn steep powder, 10mm sweetener & theres a nice easy mix...
1kg low fat ultra mix...5ml marine mix enhancer, 10mm strawberry flavouring, 2 teaspoon of betaine, 10ml of sweetener...
of course since then many more mixes have hit the shelves, a real favourite of mine is the nash amber attactor bird food mix...this mix is superb, another is richworths fish meal mix, enervite gold etc.. ...plus lots of additives & enhancers.... belachan, growler juice, thiumatin b, multi stim, multi mino, n-buytric acid, robin red concentrare etc......
you can add just about any flavour to these ready made mixes, some of the best flavours are..maple, strawberry, tutti frutti, chocalate malt, peach melba, scopex, mega spice, monster crab, tiger nut, aniseed, esterberry, all the mainline response flavours are very good especially pineapple!!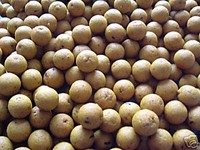 i dont only rely on my own boilies as i stiill buy boilies from the tackle shop, simply to always have something a little different in reserve!...several times i have switched to nashys scopex squid or mainlines active 8 & landed a good fish within a few hours after sitting there waiting for a take...its also happened visa versa when i have slipped one of my own eat me bait boilies on...i dont think theres any hard & fast rule, its whatever takes your fancy at the time...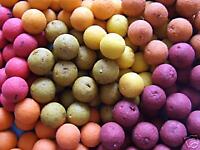 tight lines, let all your captures be big captures..regards carpysteve...