PLEASE READ-IMPORTANT INFORMATION!!
It seems some manufacturers are still labelling their large exercise wheels and balls as suitable for guinea pigs.
This is NOT the case!! They are suitable for rats!! and hamsters love smaller ones.

Some of us are on a crusade to get the manufacturers to sit up and listen and also make them aware and responsible!!

We find many wheels for sale on eBay listed as suitable so we politely email the seller and ask them to amend their listing to say RAT EXERCISE WHEEL! Private sellers are not always to know-after all, the packaging probably clearly states "suitable for rats, guinea pigs, rabbits (yes rabbits) etc

Please do not buy one for your cavy and should you see any for sale on ebay, please use the "contact the seller" button- Please be polite, they aren't to know. Hopefully I'll get there first as I get emailed when any "guinea pig wheels" are listed.

These wheels cause hundreds of cavies to suffer back, leg and foot injuries every year
I have worked in animal welfare all of my adult life and feel very strongly that the animals safety is of paramount importance.
Are there any listed now? CLICK HERE TO SEE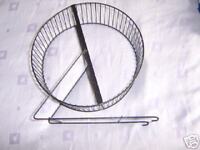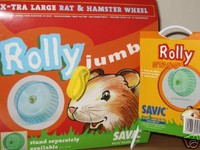 _________________________________________________________________
FEEL FREE TO COPY AND PASTE THIS INTO THE CONTACT THE SELLER BOX ON EBAY SHOULD YOU COME ACROSS ANY I HAVE MISSED
~~~~~~~~~~~~~~~~~~~~~~~~~~~~~~~~~~~~~~~~~~

Please please can you alter your listing to just RAT WHEEL, These wheels are extremely dangerous to guinea pigs.
These wheels and similar ones are responsible for causing HUNDREDS of guinea pigs to suffer from broken legs, spinal and foot injuries EVERY YEAR

We are lobbying anyone who we see selling these for cavies so are not singling you out. Even some manufacturers label the wheels as suitable. The guinea pigs posture is simply not compatible with a wheel. I hope you will understand this is not a dig at you. The animals welfare is of paramount importance to us and we'd like to prevent an injury occurring.
Meanwhile, female rats LOVE the wheels. Males are too lazy usually to bother.

Thankyou for taking the time to read this.
Regards
_______________


IF YOU HAVE FOUND THIS GUIDE TO BE HELPFUL, PLEASE CLICK ON THE YES BUTTON BELOW, THANKS
Lyn