I have been using this recipe for years and it has never failed to impress. As the title suggests, these are very easy to make and anyone can make these, even if you have never baked before because it was one of the first things I ever baked.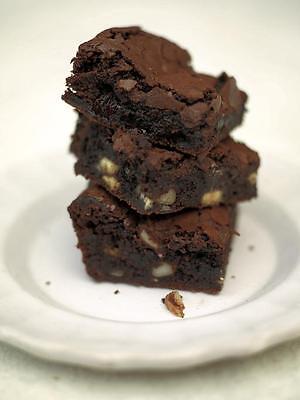 Ingredients
• 250g unsalted butter
• 200g milk (or dark) chocolate
• 80g cocoa powder, sifted
• 65g plain flour
• 1 teaspoon baking powder
• 360g caster sugar
• 4 large eggs

Optional 50g chopped nuts and/or 50g cherries
Method
Preheat your oven to 180°C/350°F/gas mark 4.
Line a 25 cm square baking tin with greaseproof paper.
In a large bowl over some simmering water, melt the butter and the chocolate and mix until smooth.
Add the cherries and nuts, if you're using them, and stir together.
In a separate bowl, mix together the cocoa powder, flour, baking powder and sugar, then add this to the chocolate, cherry and nut mixture. Stir together well.
Beat the eggs and mix in until you have a silky consistency.
Pour your brownie mix into the baking tray, and place in the oven for around 25 minutes.
Cooks Notes
The easiest way to know if your brownies are done is that you will see the top will become crisp have a matt look. At this point you can take your brownies out let them cool before you cut into squares and eat!

You can always take your brownies out a few minutes early if you are wanting a more gooey finish.. and enjoy them while they are still warm with some vanilla ice cream!
Note: I have completed this guide as a task for bzzagent (as user botoxjunkie)