Chocolate and mint, it's a winning flavour combination, especially during the winter. Today I'm sharing one of my favourite holiday treats, Easy Chocolate Cookie Truffles, that you can whip up in no time for a delicious chocolate and mint treat that is wonderful to share with your friends and family.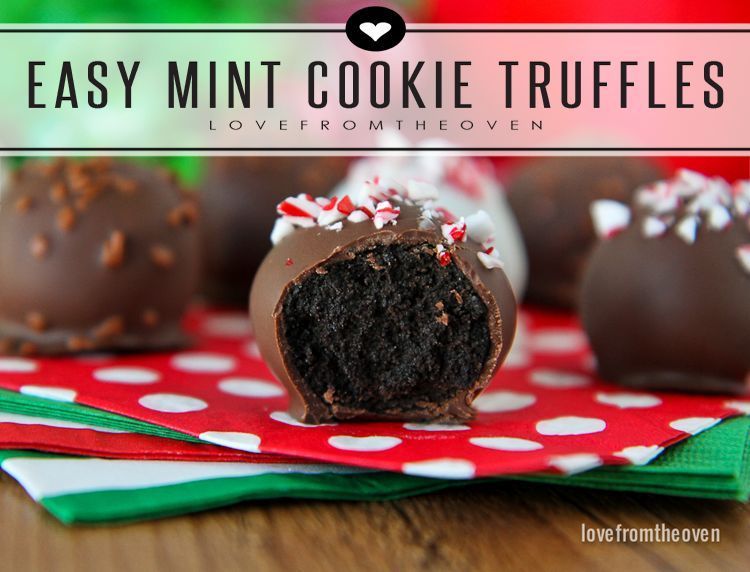 These delicious little bites of chocolate and mint are made with only three ingredients. Mint or Candy Cane Oreo cookies, cream cheese and chocolate. It doesn't get simpler than that! I like to make a batch coated in chocolate and a batch coated in white chocolate. Every time I bring these to an event or party, they are gone almost instantly. I brought some to a party over the weekend and the entire tray was gone before dinner was even served!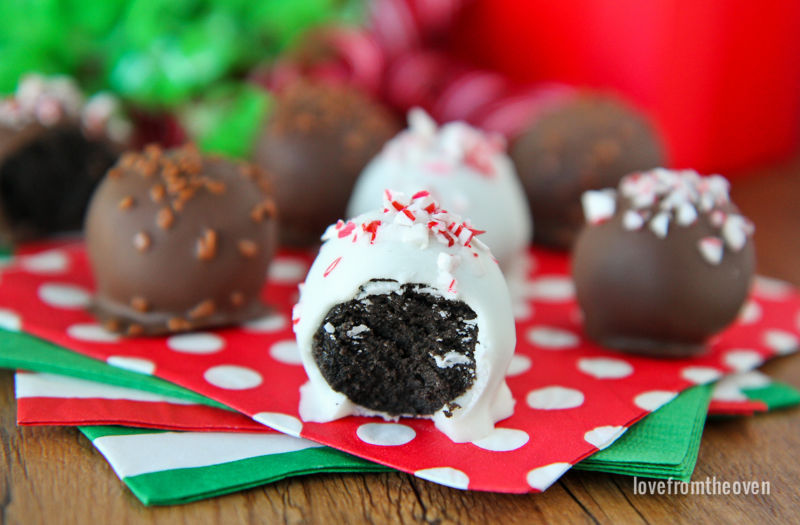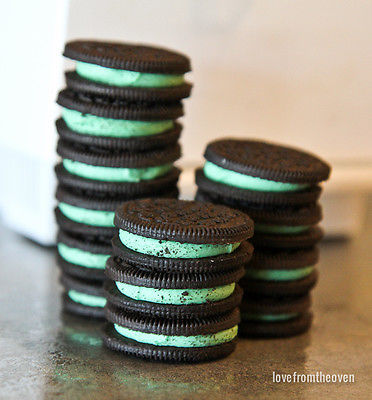 To make these I start with a package of Oreo (or store brand) sandwich cookies. The mint and candy cane versions are great for the holidays, but you can use ANY kind you like. I prefer to use the double stuffed versions, but this recipe will work with the original ones as well.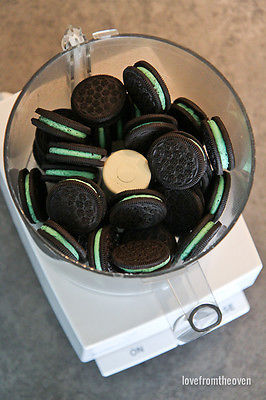 I put my cookies into my
food processor
, and grind them into crumbs. You can do this without a food processor, but the food processor is really perfect for this. Not only do I use it to make my cookie crumbs, but I then add my softened cream cheese directly to those cookie crumbs in my food processor and I pulse until the cookie crumbs and cream cheese come together.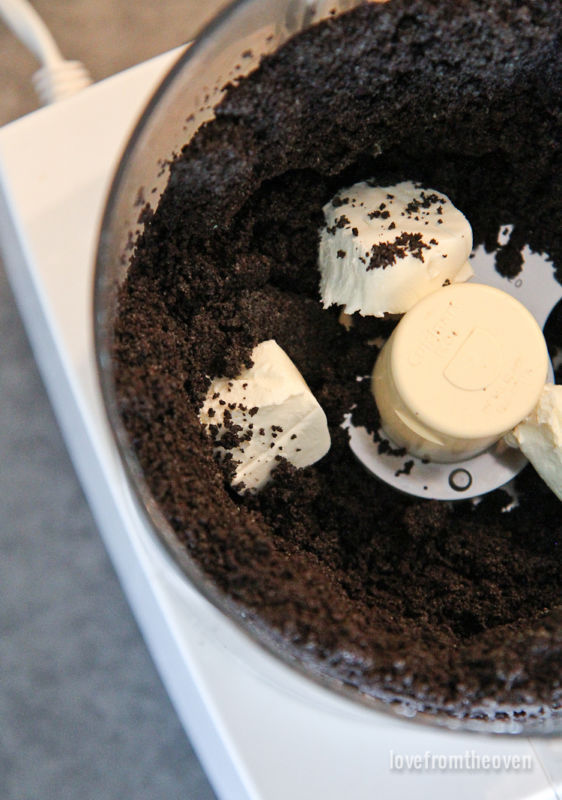 Once this mixture comes together I simply roll my truffles by hand. Mine are slightly less than an inch across, but you can make them whatever size you like. I transfer mine to a
baking sheet
as I roll them.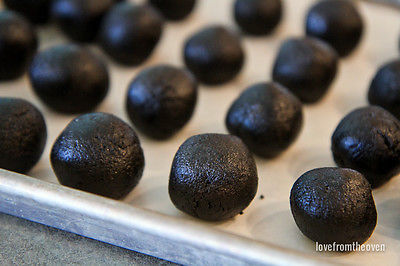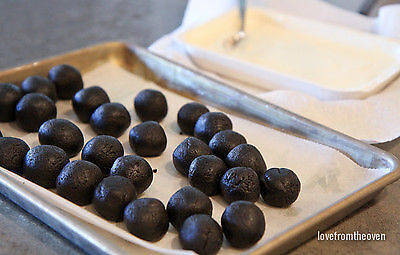 After that I place my truffles into the fridge for at least 20 minutes. During this time I prep my chocolate coating. You can temper chocolate for this, or you can keep it super simple and use a chocolate candy coating. I used
Candiquik
for my truffles, I love how easy it is to use. I always line my baking sheets with
parchment paper
prior to dipping my truffles. This makes it easy for me to just pop the truffles right off of the paper once the chocolate coating is set. I also like to use a
chocolate dipping tool
to make it a bit easier to dip them into the chocolate coating.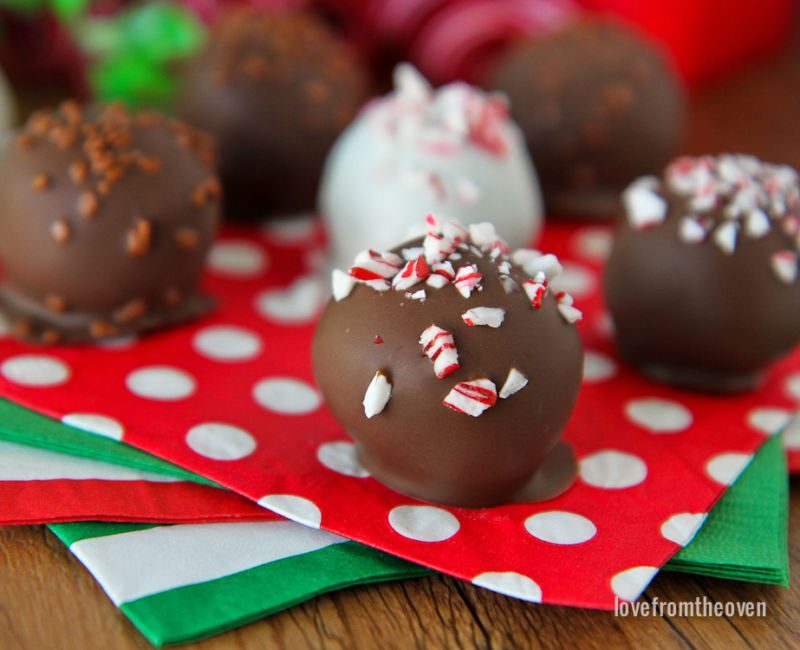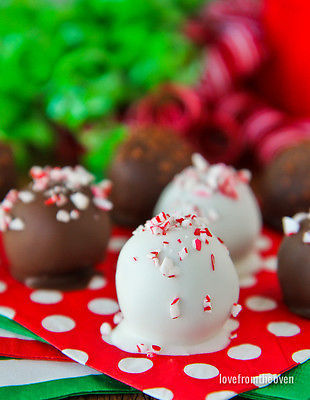 Your family and friends will love these during the holiday season, and they really are super simple to make! These are perfect for your holiday treat trays and cookie platters. I finished mine off with some crushed candy canes, but you can simply leave them plain, or top with sprinkles or even cookie crumbs.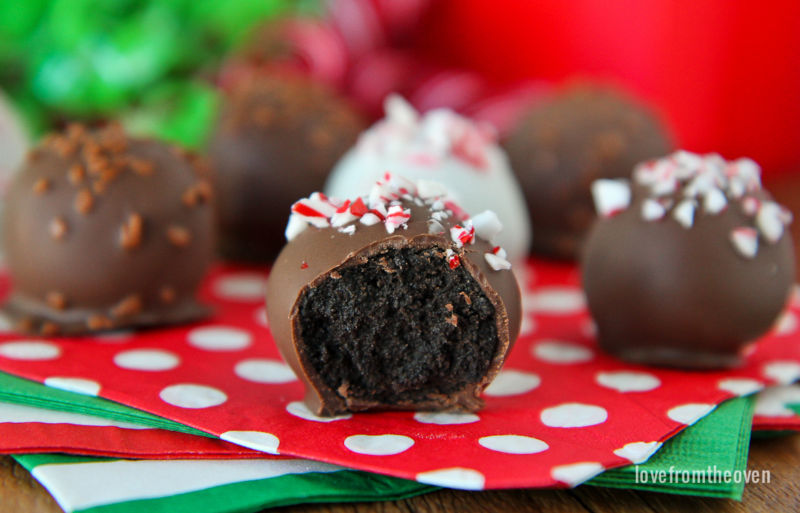 Cookie Truffle Recipe
INGREDIENTS
36 Chocolate Sandwich Cookies (mint, candy cane, regular or other varieties)
8 ounces cream cheese, softened (use the brick, not the tub!)
16 oz chocolate or vanilla candy coating
INSTRUCTIONS
1. In a food processor, process sandwich cookies until they resemble fine crumbs. Add cream cheese and process until mixture is well blended and holds together, it will become like one giant ball in your food processor.
2. Roll mixture into truffle balls, approximately 1" in diameter. Place on a baking sheet and transfer to refrigerator for at least 20 minutes and up to an hour.
3. Prepare chocolate coating according to package directions. Remove truffles from fridge and dip in chocolate coating, working one at a time, placing onto baking sheet lined with parchment paper after dipping.
4. If garnishing with crushed candy canes, sprinkles or cookie crumbs, make sure to sprinkle these one just after dipping the truffle and placing it on your baking sheet, prior to the chocolate setting up.
5. Store truffles in the refrigerator. They can be served once chocolate is firm, which typically takes less than one hour. Enjoy!