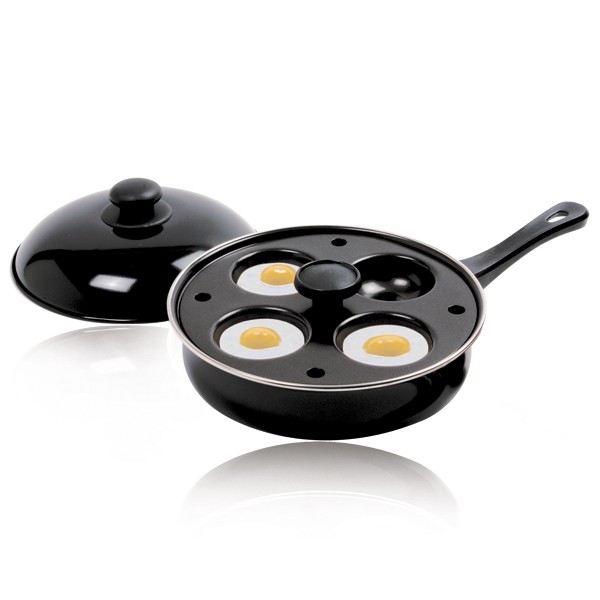 For those who dislike eating poached eggs cooked in a pan of boiling water, egg poachers are the perfect solution. Contemporary materials have changed the egg poachers of old past all recognition. Today many brightly coloured silicon poachers are available as well versions made in stainless steel, plastics and aluminium.
About Egg Poaching
There is evidence to show that human beings have been consuming eggs since the time of the pharaohs. An illustration that adorns a tomb in Thebes shows a pelican carrying a basket of eggs and Anthimus, the Byzantine physician was noted for his loving descriptions of the best way to cook them. Poaching was a common way of consuming eggs even in ancient times, and the human palette is still just as enamoured with it now as it ever was. Long before the development of the egg poacher, people would simply heat water to a simmer in a pan, give it a swirl and then drop in a raw egg (carefully shelled so that the yolk remained intact). This method changed with the advent of the egg poacher, which resulted in a pleasingly shaped and delicious egg, soft and sumptuous in the middle and firm and smooth on the exterior.
Types of Egg Poacher
There are several different kinds of egg poacher available. Which one is chosen will depend on how often eggs are prepared as part of the daily routine of cooking. Some are designed to poach a number of eggs at once (useful if there is an entire family to feed), whereas others are made for single eggs and have a more limited shelf life.
Silicon Egg Poachers
Silicon egg poachers have risen in popularity in recent years and today are by far the most numerous type of poacher on the market. They're tough, strikingly colourful, hygienic, easy to clean, and usually elegantly shaped (some of the "pod" designs cleverly look like half an egg-shell, while others resemble tulip flowers, although some are fashioned as rings which prevent the egg white from spreading). Silicon egg poachers are usually placed in a pan of boiling water where they float on top, absorbing the heat. They are heat resistant up to 230 degrees centigrade, which makes them durable and able to handle repeated use. Additionally, unlike some other materials, the smooth surfaces mean they are less prone to getting egg white stuck on them when the eggs are taken out and served. Effortlessly easy to clean by hand they can also comfortably withstand dishwasher temperatures; but take care – washing utensils that have been used to cook eggs can "taint" the contents of the dishwasher with an unpalatably "raw eggy" odour.
Stainless Steel Egg Poachers
Most of the stainless steel egg poachers available today take the form of a steel pan in which are nestled several "pods" for holding the raw eggs (one egg per pod). Water is heated in the pan until the contents of the pods are perfectly cooked (many have transparent glass lids so that the cook can keep a close eye on the proceedings beneath). Stainless steel is an exceptionally strong and durable material and is powerfully resistant to rust; it is, however, advisable to clean it by hand washing using mild detergents. Some experts believe that dishwasher detergents attack the surface of stainless steel utensils and they are certainly prone to unsightly "spotting" if left in the washer for the dry cycle. Shoppers should be aware that modern stainless steel egg poachers have taken advantage of various innovations designed to make a cook's life easier. As well as non-stick surfaces and durable build quality, many examples come with vents in the lids that allow a degree of steam to escape while the eggs are being cooked. This is an excellent way of regulating the temperature and means that the 'sweating' on the glass that is so often seen (something which can make it difficult to view the dish as it is being cooked) can be avoided. Another important feature to look for is poachers with low heat handles. Some of these are made out of bakelite – a plastic with allows minimal heat transfer – but can only endure oven temperatures up to a maximum of 180°C. For people using gas hobs, the bakelite handles are usually kitted out with guards made out of stainless steel that provide an extra tier of protection against excessive heat warming the handle. If aesthetic considerations are important, then the bakelite option can be passed over in favour of pure steel handles that are designed to transmit as little heat as possible.
Aluminium Egg Poachers
Aluminium egg poachers are readily available. Generally pitched at a slightly lower price point than their stainless steel equivalents, these poachers still provide a good finish and are relatively easy to clean. They are safe for preparation of food and cooking and offer a good a compromise between value and performance. Many also possess similar features to the steel poachers, such as vented lids and cool handles.
Plastic Egg Poachers
By far the cheapest, plastic egg poachers come in heat-resistant plastics that are usually microwave-safe. Easily cleanable and lightweight, they may be the least "fussy" option for making a poached egg – just slip it into the microwave and wait for a minute or so. There are even some plastic egg poachers that are electrically powered and will cook the eggs without being placed on the hob or the microwave. Perhaps the only drawback is that, unlike stainless steel and silicon, plastic egg poachers are liable to have a shorter "working life" because they simply can't withstand the same degree of use that the tougher materials can take.
Hanging Egg Poachers
Offering all the advantages of other kinds of non-stick egg poachers, a hanging – or clip – poacher's advantage is that it can be attached to the rim of a boiling pan of water. The base of the poacher is perforated so the water can heat the egg, allowing a quick and easy method of cooking. Once the job is finished, the poacher can be simply be unhooked from the side of the pan and the eggs gently removed and served to taste.
Electric Egg Poachers
For people looking to take some of the sweat out poaching an egg, the electric poacher might offer a satisfactory alternative to conventional methods. Some manufacturers provide stainless steel models of electric egg poachers. These often ship with compartmentalised containers that can have space for anything up to seven eggs. The eggs are sealed in by a plastic hood while the water boils and the user is alerted that the eggs are ready by a signal that is accompanied by an automatic shut off. The electric option is becoming increasingly popular, as it sidelines the need for the cooking hob and keeps the entire cooking process housed in one unit.
Find Egg Poachers On eBay
Finding an egg poacher which meets all customer requirements is a breeze on eBay, courtesy of its powerful search capabilities. Start on the homepage by clicking All Categories (next to the search box) and find Home Furniture &DIY on the dropdown menu. Click Search followed by Cookware, Dining &Bar from the Categories list on the left of the new page. On the new page, select Food Preparation &Tools from the list on the left and, when the next page appears, choose Egg Poachers. The complete range will then appear. Refine the search by selecting from the product feature lists on the left hand side (e.g. Microwave Poacher or Stove-Top Poacher beneath the Type heading, or the number of eggs under the Capacity heading, and so on). Customers can also choose to have their egg poachers purchased form the UK, the EU, or from Worldwide sources, and they can specify whether wish to use a private, business or Top-rated seller. It's also possible to choose the region the product comes from (UK only, EU or Worldwide) and the type of seller (i.e., private, business or Top-rated).
Conclusion
With so many options, buying an egg poacher could be a bewildering exercise. Fortunately, researching which product is most appropriate for individual needs is made straightforward on eBay. Either typing terms into the search box or searching in Categories will ensure that the perfect egg poacher can be found in a few clicks of the mouse.