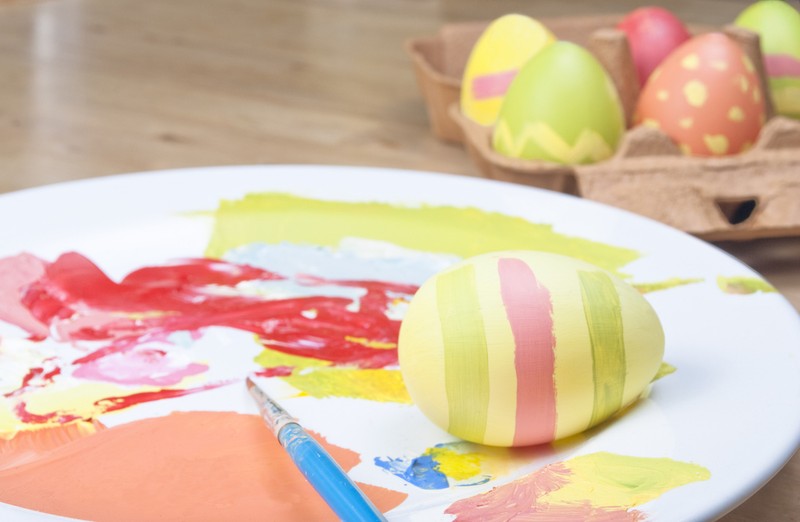 With

Easter

rapidly approaching, you might be looking for ways to keep your little ones entertained throughout the holidays. Of course, treasure hunts, chocolate feasts and movie nights are all great ways to celebrate this special time of year, but if you're feeling creative why not try your hand at crafts?
Egg Carton Chicks Part 1
What would Easter be without a cute little chick to coo over? This crafting activity can be done with old and young kids alike and is a fantastic way to upcycle those old egg cartons you've got lying around after a delicious Easter morning breakfast.
That's how it works:
Neatly cut out two egg cups. Place them side by side and fix two of the edges together by gluing a small strip of paper (approximately ½" x 2") over the join and down the sides of each cup – this will act as a hinge. Allow the glue to dry before painting everything a bright shade of yellow.
Next, get hold of some yellow and orange card and cut four rectangular shapes measuring around 1" by 1/2". Fold each rectangle in from the edge by about 1/4" (to form a little tab) then from the fold cut the rectangles into triangles.
Egg Carton Chicks Part 2
That's how it works:
Pop some glue on the yellow tabs and stick them to each side of the inner bottom egg cup so the triangular part is sticking out the sides – this will form the wings.
Repeat for the orange triangles but place one on the front of the inner bottom egg cup and one on the front of the inner top half – this forms the beak. Use orange card to cut out little feet and stick them to the bottom of the egg cup.
Close the egg cups together and draw on a little face using black marker before filling your little chick full of sweet treats and either keeping yourself or giving to a friend. Hey presto!
Egg Carton Daffodils Part 1
Put a spring in your step this Easter by making your very own bunch of egg-carton daffodils.
They're the ideal way to decorate your house and will keep your children entertained for hours as they all get to work on the bouquet.
That's how it works:
Gather your egg-cartons. It doesn't matter if they're different sizes but they should ideally be made from paper rather than plastic.
Next, remove the egg cups and cut petal shapes out of each one using round-bladed scissors. You might want to pencil on your design first to ensure the petals are the same size.
Once that's done, cut out the triangular dividers from the egg-carton as these make excellent coronas – the cup-shape found in the centre of daffodils.
Egg Carton Daffodils Part 2
That's how it works:
Paint all the shapes a bright shade of yellow (or use different hues if you're feeling creative) and leave to dry thoroughly.
When dry, pop a little bit of strong glue in the bottom of the egg cup and on the bottom of each triangle and stick the two parts together. Leave to dry.
To make the stem, take a pipe cleaner and wrap it in a length of green floral tape. Cut out a 2" x 2" piece of crate paper and glue it around the top to create the stamen.
Poke a hole in the back of the flower using a screwdriver (or something similar) before pushing the stem up and into the centre of the daffodil's corona.
Repeat as necessary before either popping them in a vase, tying them with a ribbon, wrapping them in brightly coloured paper to form an exquisite bouquet or even using floral foam to make a beautiful flower arrangement for Easter.
Add a caption
The egg carton caterpillar can come in many variations
Egg Carton Caterpillar Part 1
Want to make your very own caterpillar critter? Then you can do so with this super fun, family-friendly activity. And, when your caterpillar is ready to spread his wings we'll even tell you how to transform him into a beautiful butterfly.
That's how it works:
Cut out a row of six egg cups, turn them over and paint them in any colour or design you choose. Of course many caterpillars are yellow and green but they also come in red, black, purple and a host of different shades so let your imagination get to work – you could even use The Very Hungry Caterpillar for inspiration.
Egg Carton Caterpillar Part 2
That's how it works:
When you've finished painting and everything is dry, decide which end you want the caterpillars head to be before punching two holes (about an inch apart) into the top of the egg cup. You can then take a brightly coloured pipe cleaner and weave it through the holes to form the antenna. Glue the pipe colour down on the inside of the carton and trim and curl the ends until they look good.
Next, punch holes in the bottom sides of each egg cup and push singular pipe cleaners through for the legs. Again, you can secure them in place by sticking or taping them to the inside of the egg cups. If you want to turn your caterpillar into a butterfly at a later date it might be worth just folding each pipe cleaner around the inside of the egg cup so they can be easily removed.
To finish your caterpillar, carefully paint on a face making your little critter as cheeky-looking as you wish. Alternatively, buy some wiggly eyes from a craft store and stick down either with glue or using the adhesive on the back.
Caterpillar to Butterfly
And if you want to turn your caterpillar into a stunningly impressive butterfly, here's a unique, interesting and fun way to do it:
Dip your hand into coloured paint and make two prints onto coloured paper –one with your left hand pointed to the left and one with your right hand pointed to the right.
Dip your fingertips into various coloured
paints
and print spots onto your hand designs. These will form the wings of your butterfly so make sure each one is identical for visual effect. Leave to dry thoroughly.
When that's done, take your caterpillar, remove its legs and stick it vertically in between your two hand prints. If the bottom of your caterpillar is a bit uneven or you are having problem sticking it down securely, you could always use double-sided sticky tape or a bit or blu-tack.