The historical source of this exercise is found in the ancient Chinese empire. From a young age the ruling empresses were educated on how to enjoy the pleasures of life. One way was to strengthen their sexual energy with vaginal exercises using a
stone egg
: they were taught how to build this life energy – the Chi – in the vaginal area, how to tune in to the energy of the womb, which according to the Chinese Tao tradition is the source of female sexuality and femininity in general. In addition, the Chinese physicians knew that the exercise itself had healthful benefits, such as improving sphincter control and strengthening the pelvic floor muscles before and after giving birth, relieving menstrual pains, reducing the risk of prolapsed uterus, and more.
LSG Egg
is made of natural semi-precious stones, following the ancient authentic Chinese tradition. Chinese culture and literature refer to the lost Daoism art of "Pelvic Floor Kung Fu", using the "Female Deer Exercise" to lift small weights and make the "Pelvic Floor Kung Fu" muscles stronger. The result is youthfulness and longevity for women, as well as extreme orgasmic pleasure.
This semi-precious stone may also be worn as a
piece of jewelry
, while its potency remaining hidden in its feminine and artful form.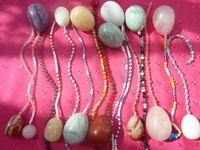 Ancient China craftsmen commonly used Jade to produce the stone eggs. Modern technology allows us to make
LSG Eggs
from a wide range of healing stones like jade, rose quartz, onyx, jasper etc.