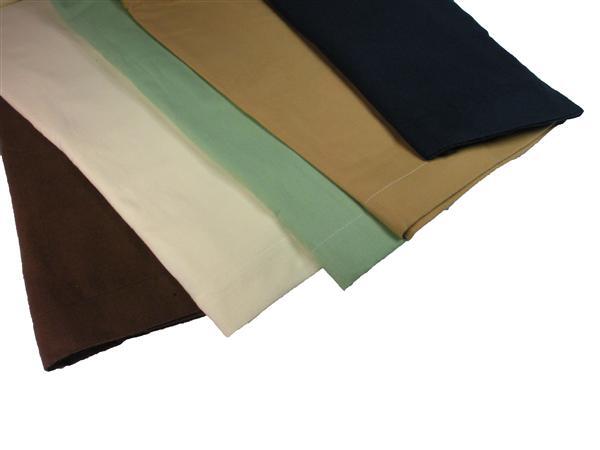 Egyptian cotton sheets are known to be some of the best cotton bed linen money can buy. When properly cared for, Egyptian cotton sheets have an extremely soft and luxurious feel. They are also highly durable and can last for decades. Because of these qualities, Egyptian cotton sheets are often used in high-end hotels and inns. While Egyptians had been growing cotton for thousands of years, it was not until the 19th century that the ruler of Egypt introduced South American cotton as a cash crop.
The cotton thrived, and Egyptian cotton has become known as the quality standard in cotton bed linen. When looking for Egyptian cotton sheets, buyers should keep in mind the origin of the cotton as some cotton sheets are labelled Egyptian but are not 100 per cent. Another factor to consider is the thread count. A higher thread count does not necessarily mean better quality. The price of the product is another important consideration and buyers should keep in mind that not all Egyptian cotton sheets cost a small fortune. Once buyers have an understanding of these factors, they can proceed to choose from a wide selection of Egyptian cotton sheets found on eBay.
Egyptian Cotton
Egyptian cotton is grown from one of two varieties of the cotton plant, gossypium barbadense and gossypium hirsutum, and Egypt has ideal growing conditions for these plants. A long warm summer and fertile soil allow for high quality cotton to be grown. Both varieties of cotton grown in Egypt are known for their long fibres, or staples, also known as ELS (extra long staple). Because of the long length of the cotton fibres, a thin thread can be produced, which, in turn, allows for a higher thread count, ensuring a higher quality product that can last a long time. Other types of cotton with shorter fibres are grown in Egypt and throughout the world. However, the shorter cotton fibres give a thicker thread. These thicker threads can mean a coarser fabric that may produce lint, pill, and wear unevenly, and eventually wear out.
Once spun and woven into cloth, Egyptian cotton is a highly absorbent material that becomes softer and more luxurious over time. Although not an exclusive label, buyers interested in quality sheets can look for the Egyptian long-staple on the product label.
After cotton is harvested, the fibres are taken to a mill. Egyptian cotton is usually milled out of the country. At the mill, the cotton is carded to remove dirt and shorter fibres. Mills with meticulous manufacturing processes will then also comb the cotton to remove more of the shorter fibres. The extra long staple cotton grown in Egypt that is taken to Italy for milling is a high quality product. The mills spin the cotton, weave, and dye the fabric. Even though fabric that is produced elsewhere is still Egyptian cotton, its quality may not be as good as the Italian-made sheets.
Thread Count and Ply of Egyptian Cotton Sheets
The thread count of a sheet is a way to measure the fineness of the fabric. It is the number of threads in a square centimetre (or inch) of fabric. The threads in both directions of the woven fabric are counted. The general assumption is that the higher the thread count in a sheet, the better quality; however, there are two other factors to consider. The weave of a fabric and its ply also influence the feel of a cotton sheet just as much as the thread count does. Buyers can find Egyptian cotton sheets in the following weaves, each with its advantages and limitations.
Weave

Description

Standard

a standard cotton weave

Percale

gives a crisp feel

may need a lot of ironing

minimum 100 thread count

Sateen

gives a smooth, silky feel

has a higher thread count than percale

Pinpoint

softer than a standard weave

not as soft as sateen

durable

Twill

produces a distinctive diagonal weave pattern

more resistant to wrinkles
Buyers frequently see jacquard in the description of Egyptian cotton sheets as well. Jacquard is a reference to the way the fabric was woven, not the weave itself. It may have a pattern or design woven directly into the cloth.
While a higher thread count means a thinner fibre was used, the ply of the threads used also influence the heaviness and the quality of the fabric. A single-ply thread is composed of only one thread, while two-ply thread is composed of two yarns twisted together. Some suppliers double the thread count of a fabric by counting the ply of a thread. A fabric with a single-ply 100 thread count is comparable to a two-ply 200 thread count fabric.
The extra long staple of Egyptian cotton allows thinner threads to be made. This not only allows for a higher thread count in the sheets but also means the fabric is less fragile than others, making for a better quality product. Most high quality Egyptian cotton in a sateen weave has a thread count of about 600. Egyptian cotton sheets with thread counts of more than 1000 may be made of multiple-ply thread. Buyers need to choose both a thread count as well as percale or sateen fabric.
Egyptian Cotton Sheet Sets
When considering Egyptian cotton sheets, buyers need to take note of the type of sheet being purchased. Sheets can be sold separately or in sets with duvet covers and pillowcases. Sheets are sold by mattress size. Buyers should note if their mattress is extra deep or if they have a mattress topper to ensure they buy a sheet that fits. Most fitted Egyptian cotton sheets note if they fit on a deep mattress of not. Sheet sets, either flat or fitted, generally come with two matching pillowcases and sometimes duvet covers may also be included.
Colours and Styles of Egyptian Cotton Sheets
Because Egyptian cotton is highly absorbent, it has a high capacity to absorb dye. Yarn dyed cotton is coloured before the fabric is woven and, therefore, holds colour a long time, delaying fading. Most of the sheets found in quality hotels and inns are white or a plain colour; however, there is a wide range of colours and patterns for the home.
100 percent Egyptian Cotton vs. Cotton Blend Fabric
Some sheets labelled Egyptian cotton are blended with other fibres. These products may be a blend of Egyptian cotton and polyester or other fibres. Sheets made from 100 per cent Egyptian cotton are of a much higher quality than sheets that are made from a cotton blend. This information is usually found on the label of the sheet or sheet set. Moreover, only products made from 100 per cent Egyptian cotton can have a logo marking them as such, which is a registered trademark since 2001.
Organic and Fairtrade Egyptian Cotton Sheets
Most cotton is grown with pesticides in order to protect the cotton plants from pests. Organically grown cotton is always labelled as such. In addition, the fair trade label indicates the cotton was purchased for a higher price in return for the support of higher social and environmental standards on the part of the exporter. Buyers who are interested in supporting organic and fair trade businesses must remember to look for these labels.
Buying Egyptian Cotton Sheets on eBay
For anybody who wants to buy Egyptian cotton sheets, eBay is a good place to shop because it offers a wide variety of cotton sheets in a range of prices suitable for all budgets. You can start looking for the perfect Egyptian cotton sheets for your bed by searching the listings from eBay sellers. This is a straightforward process, as all you need to do is type in what you are looking for, such as "Egyptian cotton sheets&" to get a list of all Egyptian cotton sheets for sale. Or you can add more key terms to your search to refine the results, such as the size of the mattress. For example, by appending "king size&" to "Egyptian cotton sheets", you can get a list of only king size Egyptian cotton sheets.
Once you find a cotton sheet that you are interested in, read all the available information, including postage, payment information, and any policies regarding returns and refunds. If any information is missing or if you would like to see more photos, you can contact the seller. To know more about the seller, in every item listing there is a section with relevant information. There you can find badges, such as top-rated seller status, and feedback from prior sales.
Conclusion
Practically synonymous with top-quality bed linen, Egyptian cotton sheets are the highest quality cotton bed linen available. Many guests that have slept on Egyptian cotton sheets in hotels and inns have gone on to purchase sheets for the home. High quality Egyptian cotton sheets that are made from 100 per cent Egyptian extra long staple cotton last at least 10 years with proper care. They also become softer over time, ensuring a comfortable night's sleep.
Egyptian cotton sheets are available in many of the high street shops that sell bed linens. When making the decision to purchase Egyptian cotton sheets, there is a whole range of choices available. Buyers need to understand thread count and weave in order to buy the sheets that feel best. Looking for 100 per cent Egyptian cotton sheets milled in Italy is likely to ensure a high-quality product. Choosing a sheet or sheet set based on mattress size and colour is the final step. Buyers looking for Egyptian cotton sheets can start their search on eBay to be able to choose from a wide range of colours, sizes, and prices.