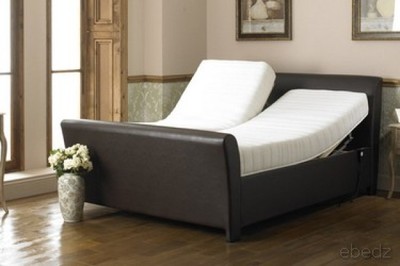 Electric / Adjustable Beds

People who suffer from back pain should be especially choosy about the type of bed and mattress they sleep on. While there is very little research in general about what types of mattresses and beds are best for the back—and no real medical research about electrically adjustable beds—we do get a lot of questions about whether or not an adjustable and or electric bed is a better option than a flat mattress for people with back pain.
As the name suggests, an adjustable electric bed can be adjusted to a number of different positions.
For individuals with certain types of back problems, sleeping on an electrically adjustable bed that is at a slight incline (e.g. 30 to 45 degrees) may be comfortable, with the upper body positioned higher up than the lower body (as when sitting in a recliner) and some support under the knees to bend the knees at a slight angle. The combination of upper body incline and the knee support can help take some of the stress off the lower back.
An electric adjustable bed has the potential to help anyone who feels more comfortable in an inclined position (such as sitting on a recliner with the feet up) rather than when lying on a regular flat mattress
Back pain is the most common type of chronic pain problem, and is the most prevalent medical disorder in industrialised societies. Not surprisingly, individuals with chronic back pain problems frequently report significant interference with sleep disrupted or non-restorative sleep.
As a consequence, individuals suffering from chronic pain often find that their problems are compounded by the additional difficulties that come with insomnia and sleeping disorders. Of those who report experiencing chronic pain - approximately 65% report having sleep disorders. Research has demonstrated that disrupted sleep will, in turn, exacerbate the chronic back pain problem. Thus, a vicious cycle develops in which the back pain disrupts one's sleep, and difficulty sleeping makes the pain worse, which in turn makes sleeping more difficult, etc.
Here at eBedz, all our electrically adjustable beds enjoy high quality construction, are fully adjustable and have a choice of mattresses including Pocket Springs, Latex, Memory Foam, Reflex Foam plus combinations of Pocket Sprung and Latex, Pocket Spring and Memory Foam. Other options include massage units, stylish headboards and useful Drawers.

For expert advice and honest opinion please call our customer service team.
01392 210 667
eBedz is an established family run business dedicated to supplying high quality beds at very affordable prices, we have over 40 years' experience within bed sales, both online and in a face to face environment and are proud to call ourselves experts in our field. Our training is of the highest standard and we provide very thorough and practical advice as well as exemplary after care. Please note our feedback and feel free to call us with any enquiry.