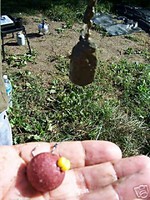 Got to be one of the best products of 2006.
Enterprise tackle sweetcorn hairstops available in yellow or Niteglow range.
Im convinced they have improved my catch rate this year as they leave a normal bottom bait more criticaly balanced and are ideal when fishing, like i was, over slit and mud.
One of the things i was worried about was them flying off when you are casting at distance but that never seems to be a problem and i never lost one on the cast.
Worth a try i promise!