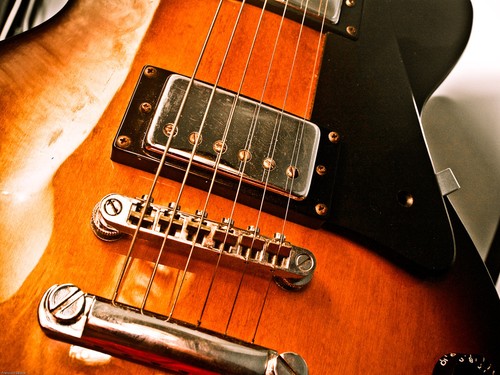 The Epiphone Guitar has a rich and colourful history. This iconic American brand has been making musical instruments since 1873, and their distinctive designs have been favoured by many a famous guitar player. Big names like the Beatles, Chet Atkins, Noel Gallagher, and Roy Orbison are just a few of the famous names that have all been aficionados of the Epiphone guitar.
About Epiphone Guitar Parts
Like all musical instruments, Epiphone guitars need regular care and maintenance to keep the body and parts in top condition and the sound quality high. Replacing worn parts or upgrading parts to achieve a different sound quality is a normal part of a guitar's lifecycle. Getting the right replacement parts requires knowledge of the different types and models of Epiphone guitars. It also requires an understanding of how variations or damage of guitar parts can affect the tone and sound quality of the instrument.
Epiphone was taken over by rival company Gibson in the late 1950s, and there are certain guitar models of the Epiphone and Gibson brand that have interchangeable parts. This makes finding parts for some models a little easier. However, owners of vintage Epiphone (Epi) guitars may have to perform quite extensive searches to track down suitable parts.
Types of Epiphone Guitars
Since Epiphone began manufacturing guitars in the late 1920s, they have produced a number of models for every popular type of guitar. These include acoustic, bass, electric, electro acoustic, and electric bass. Archtops and steel-string flat tops feature as well, along with guitars made specifically for left-handed musicians. Some of the highly sought after Epiphone models include the Casino, Les Paul and the Masterbilt.
Choosing Epiphone Guitar Parts
When looking at buying new or used parts for a guitar, owners need to decide whether genuine replacement parts are necessary. If the Epiphone is a collectible vintage piece, then genuine parts will be necessary to maintain the integrity of the instrument and retain its monetary value. Buying an old guitar just for spare parts can be a good choice. The guitar can be cannibalised and used for numerous spare parts.
Luthier Tools
Luthier tools are specialised tools for maintaining and repairing guitars. If the buyer is intending to replace the guitar parts themselves, they may need some of these tools. Specific implements include; clamps, fretting tools, planes, files, sound post setters, crack repairers, wrenches, and tighteners. There are also measurement and balancing tools like Fret Levels, and special cleaning tools. Whatever the guitar repair task, there is a tool to assist.
Replacement and Upgrade Parts
Any part of a guitar can be replaced, repaired, or restored. Most commonly, the parts requiring replacement are the bridge, necks, strings and tuners.
| | |
| --- | --- |
| Bridges | Normal wear and tear can result in a loose, cracked, or warped guitar bridge. As the bridge holds the string positions, any problems here can badly affect the tuning and tone of the guitar. The exact same model of bridge should be sought for replacement. |
| Machine Heads / Tuners | The machine head holds the mechanisms that tune the strings. Worn out and damaged parts in this area can significantly detract from the sound quality of the guitar. Tuners can be bought separately and in sets. |
| Necks | Cracking along the neck, warping of wood, or problems with loose and worn frets are good indicators that it may be time to replace the guitar neck. Balancing the cost of repairing the individual items (and potential on-going problems) against the cost of a new neck is one way to judge whether this will be cost-effective. |
| Pickups | Changing a pickup is a common way to upgrade the sound of a guitar. The right pickup can make a cheaper model 'Epi' sound like a much more expensive model. |
| Pickguards / Scratch Plates | Over time, pickguards can become badly scratched from the picks used when playing the guitar. Usually, these can be quite easily replaced. Materials used are thin plastic, vinyl and acrylic. Custom-made pickguards are widely available. Points to keep in mind are that any replacement pickguards should not be overly thick and heavy as this could affect the tone of the guitar. Designs generally complement the headstock design. |
| Strings | The most commonly replaced part of any guitar played on a regular basis are the strings. Normal wear and tear can cause the strings to snap. Musicians may also want to replace the strings to try for a different sound quality. There are different types of strings, each of which can derive a different tonal quality when played. Types include roundwound, flatwound, groundwound, and halfround. Strings also come in different materials that impact on the guitar tone. Materials include nylon, steel, bronze, nickel and gold, and silver plate. Strings can be purchased separately or in sets. |
| Frets | Loose and uneven frets can cause an undesired hum when the guitar is played and affect tuning. Continuing problems with frets may indicate that a guitar neck needs replacing. Fret wire can be purchased in pack sets or by requested individual lengths. |
| Control Knobs and Switches | Volume control knobs and toggle switches can wear out and become loose or snap. These can all be quite readily replaced. They can also be switched to a new design/material to upgrade the look of the guitar if desired. These are usually available for purchase as individual items. |
Accessories
A number of accessories are useful for keeping the Epiphone guitar in top condition, and getting the right sound quality from the instrument. Owners that want to do the repair or upgrade work themselves will need accessories like the right kinds of guitar tools, possibly some instructional material:
| | |
| --- | --- |
| Amplifiers | Epiphone have been making amplifiers to accompany their electric guitars since the 1930s, and there are many working models to choose from. |
| Guitar Cases | Guitar cases are essential to protect the instrument from unintentional knocks and scrapes. Genuine Epiphone guitar cases can be found for purchase online. |
| Plectrums/Picks | Branded guitar picks (plectrums) can be bought new or as vintage collectibles. Combined with a pick holder, these can make inexpensive gifts for the Epiphone enthusiast. |
| Repair Books | Buyers without a lot of experience in maintaining and repairing the Epiphone guitar may find it extremely useful to have a book or two on how to repair guitars. Owners of valuable vintage Epiphones can find guidance on maintaining and restoring their guitars. |
| Straps and Strap Pins | Genuine Epiphone guitar straps are available, from new to vintage. Do not forget to check whether strap pins may be needed as well. |
| Tuners | Electronic tuners are useful, particularly after replacing guitar strings. These help retune strings to the correct pitch, and Epiphone makes several different models of tuners. |
Finding Epiphone Guitar Parts on eBay
eBay has a wide selection of parts available for Epiphone guitars of all types and across a wide range of models. Several menu paths lead to guitar accessories and replacement parts, and here are the key paths. To track down replacement parts for an Epiphone guitar, click on the All Categories link on the eBay Home Page. This will display all the major buying and selling categories on the site. Scroll down to the Musical Instrument category and select the Guitars link. From the Guitars page, select the Accessories link in the top of the left-hand column. Now filter the results by selecting the Parts check box under the Item Type heading. Filter the results again by scrolling down to the Brand heading, and click the Epiphone check box. The resultant list now displays parts just for Epiphone guitars.
Summary
Epiphone guitars require maintenance like all guitars, and a wide range of replacement parts are available on eBay that will help owners to keep their instruments in top condition. Given the security of the online marketplace, eBay makes for an ideal site from which guitar enthusiasts can buy essential supplies.